Now that Christmas is over, local goverments want people to correctly and safely dispose of their Christmas trees.
Various municipalities are offering free recycling programs for real trees starting this week. Some will continue until the end of January. However, officials are urging people to check with their local authorities for schedules and locations for collection before leaving Christmas trees on sidewalks or other public spaces.
Various municipalities already announced that they will offer residents a safe and free way to get rid of their trees at special locations.
Most of them will grind up trees and turn them into mulch to reuse them in public parks, gardens and as organic fertilizer for public areas.
Nine municipalities already confirmed that they will receive trees: Cartago, Desamparados, Moravia, Curridabat, La Unión, Goicoechea, Montes de Oca, Coronado and Central San José.
The Municipality of San José started collecting trees on Monday and opened four recycling centers that will be open until Jan. 10. The centers will be closed only on Dec. 31 and Jan 1.
This is a list of municipal options for recycling your Christmas tree at no cost: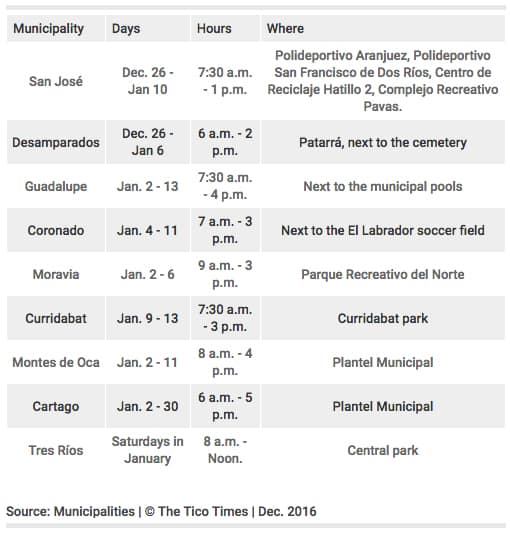 Save