Daniela Umaña, 26, started out in marketing: she grew up in Turrialba, moved to San José six years ago to study advertising at the Universidad Latina, and then worked at the Porter Novelli publicity firm. She then followed an impulse to create her own business based on local art, support of local NGOs to promote environmental consciousness, and the design of an eco-friendly image.
"I love animals and love this idea of helping the world by taking care of the environment. I had to benefit a cause; I didn't want to make just another brand," Umaña told The Tico Times in reflecting on Slothy Summer Wear.
She began using paper bags hand-painted by her sister and donating a percentage of income to sloth sanctuaries and animal shelters in Turrialba. The Tico Times sat down and spoke with Umaña about her life and work at our offices in Barrio Amón. Excerpts follow.
When did you decide to get immersed in the fashion world?
I began about two years and half ago with the idea. I'm that type of girl who grabs a piece of cloth and takes it to the tailor to have a piece made… I'd go to Kilotelas and search for cloths to take to the tailor. Suddenly, when I went to the beach, my friends would ask me who had done the bathing suit and I'd tell them I had. They told me I could start by selling the bikinis to them.
During the first year I was working only on making them with the [family] tailor…. but I had no idea about all the different types of Lycra, elastics and threads. I had no idea into the world I was getting into. Last year, I said… I had to go to sewing courses to learn about all of this. I would not be able to tell someone to do a certain thing if I had no idea of the complexity it entails.
From the beginning, I told myself that I'd make it big. I left my job. I left everything behind and was determined to do this seriously. Thankfully, I had my parents' support.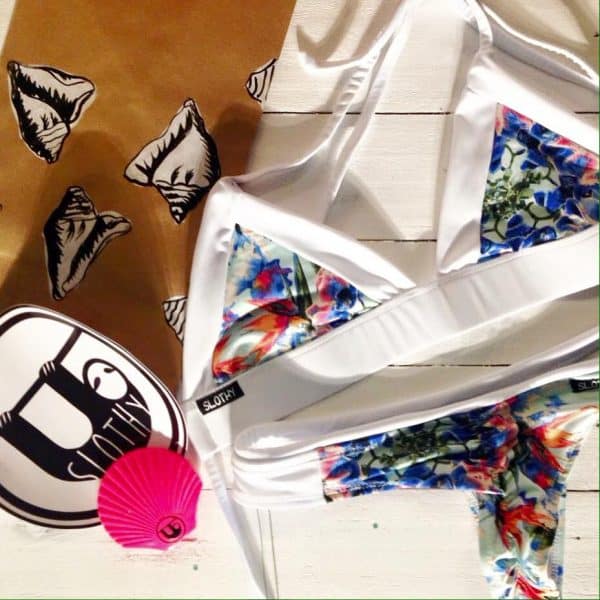 Why did you name the brand Slothy Summer Wear?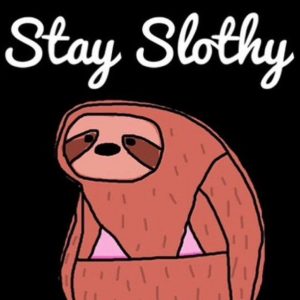 I've always been deeply in love with sloths. I lived in Turrialba most of my life and it's the typical [Costa Rican] rural town: the park, church, school. At that park there'd always be a sloth, so it would be the attraction for the children. It was the best! My parents have always fostered dogs and cats and my grandmother also has a farm in Guapilés, so I've always had that attachment to animals and nature.
One day I sat down with my sister and we decided to name the brand. We were thinking about sloths, but we wanted something that didn't sound boring… one day my sister said, "Slothy." I found the meaning in the urban dictionary and it meant a very cool and beautiful girl. It was perfect [for the brand]. I wanted the clients to feel secure and comfortable when wearing Slothy… I also love it when my clients give me feedback telling me that it's really comfortable. That feedback makes me really happy.
How do you create the paper bags?
The paper bags have a completely separate process because my sister does it the way she wants. She has various patterns and I let her do whatever she likes. I love weird things. For example, I find it awesome when you buy a Slothy and get it with a paper bag with an avocado print. She also did one with a fried eggs print. Besides that, I've always loved the idea of using paper bags and not plastic. Slothy didn't want to follow that trend of "going green" just to be cool. Slothy has been using paper bags and painting them since day one.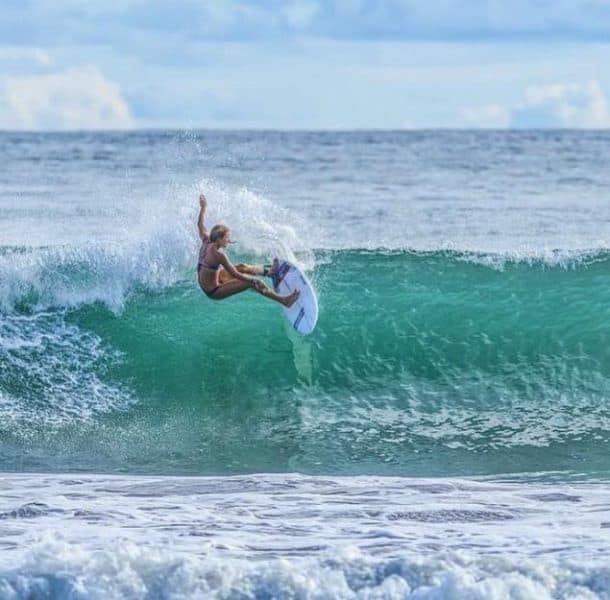 How does Slothy Summer Wear promote a natural, healthy lifestyle?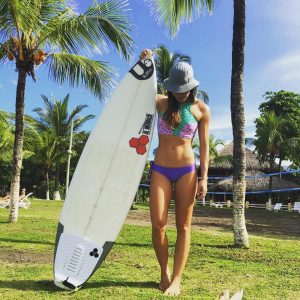 I always wanted to make a brand in which the bikinis were less expensive than the international brands, but with the same quality. All of the prints and designs have to be comfortable when wearing them. I've loved that a lot of my clients didn't buy bikinis three or four years ago and now they buy Slothy because they fit them well. I've thought of the details for women who aren't the models that most brands use. We don't have that [models'] body type. Most of them are my girls, and I want people to know that they're normal girls. They've got natural bodies and, in that sense, Slothy is more realistic. Right now I've got four [Slothy] girls; two of them are professional surfers and the other two surf on a regular basis. They're very into healthy eating, fitness and love animals. Slothy Summer Wear is for natural girls and women who identify with the brand.
Our "Weekend Arts Spotlight" presents Sunday interviews with artists who are from, working in, or inspired by Costa Rica, ranging from writers and actors to dancers and musicians. Do you know of an artist we should consider, whether a long-time favorite or an up-and-comer? Email us at kstanley@ticotimes.net.