If you've got any room left in your belly after the delectable tamales most of us will eat this holiday season in Costa Rica, you might find yourself searching for the perfect Christmas Eve (or Day) feast – but what's open, and what will strike the right festive note? Here are a few of our top picks for a special meal and activities to enjoy with your family.
Barceló Hotel
The Ánfora restaurant at the Barceló San José Palacio Hotel in San José will offer a delicious and varied Christmas buffet. The appetizers include cucumber salad with yogurt and strawberries; purple cabbage escabeche with vinegar; grilled pineapple dip with almonds; grape salad with pecans and spinach; cabbage salad with crispy bacon; mushrooms cooked in balsamic vinegar; smoked salmon; marinated boneless Kalamata olives; shrimp and corvina Tex Mex ceviche; crab salad with avocado and starfruit infusion; sliced Serrano ham; and a varied cheese selection, and we're only naming about half of the options.
The main courses include lobster bisque, a pumpkin and pejibaye cream, pork leg with beef gravy and plums, smoked turkey served with blueberries; roast chicken cooked a la naranja and marinated in garlic and star anise; trout fillet with almonds and secchi tomato; filet mignon cooked in wine with caramelized mushrooms and mint; cheese-filled chicken breast with spinach and tomato cooked with a delicious honey mustard sauce with dill, all with a variety of sides. Desserts include Catalan cream, a frozen mango shot with kiwi, a fruit cup covered with syrup, chocolate chip cookies, cheesecake, pistachio tiramisu, profiteroles and the traditional Christmas cake.
The special menu is offered on Dec. 24 at the Restaurante Ánfora, San José Palacio, San José Costa Rica. Costs go from $40 with tax included for adults and $20 with tax included for children. Reservations: 2220-2034 ext. 715.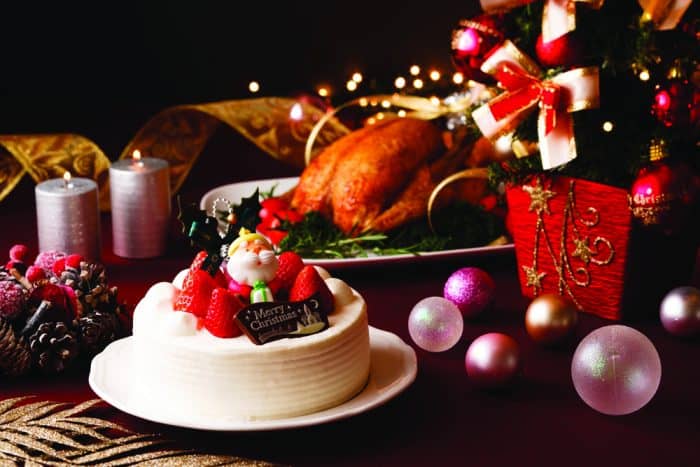 Hotel Alta las Palomas
Located near the beautiful Alto de las Palomas in Santa Ana, you'll enjoy a wonderful view while dining at the Restaurant La Luz. The menu includes appetizers alongside a mixed lettuce salad served with cherry tomatoes, cucumber, and purple onion, accompanied by pumpkin soup. For the main course you've got three delicious options: corvina with a white wine sauce, roasted pork leg with plum sauce, or a beef tenderloin with a demiglace or "half glaze" sauce accompanied with sautéed vegetables and potatoes cooked in herbs. To round off your meal, choose from two dessert options: a vanilla ice cream cup flambéed with red berries or a chocolate lava cake served with vanilla ice cream.
The special menu is offered on Dec. 24 at the Restaurante la Luz, Alto de las Palomas, Santa Ana. 6 p.m. – 10 p.m. $50 plus 23% tax for adults and $25 plus 23% tax for children. Reservations: 2282-4160 or reservations@thealtahotel.com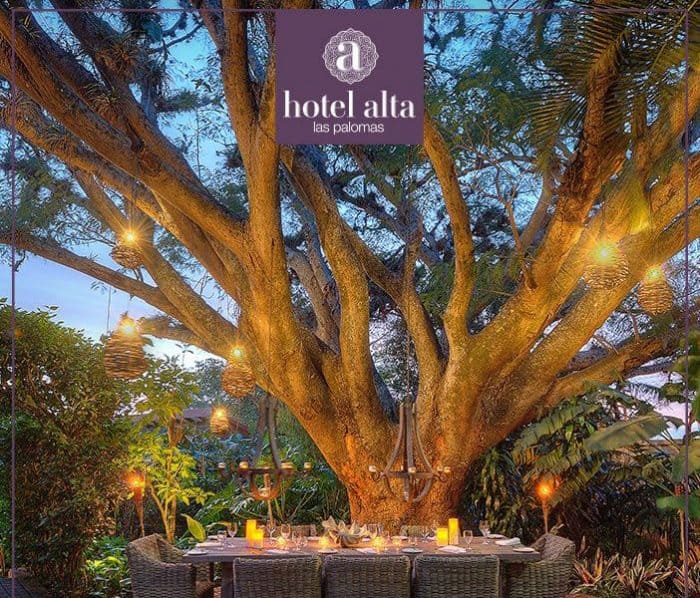 Villa Caletas
Villa Caletas, in Jacó, will offer two special Christmas menus for Dec. 24 and 25, overlooking the Pacific.
For Christmas Eve, diners at Villa Caletas will choose from three appetizers: grilled vegetables timbal with Parmesan crisps, fresh lettuce and blue cheese foam; oyster mushrooms filled with fresh au gratin seafood; or a leek cream with York ham. For the main course you can choose turkey breast filled with spinach pesto, Bayles and plum sauce served with sweet potato and vegetable spheres; steamed sea bass fillet with a clam foam, cream and garlic served with rice, pistachios and vegetable bundles; or a beef tenderloin with butter and grain mustard, tarragon, and pasilla chile sauce served with potatoes au gratin and vegetables. To end your meal, choose apple strudel, Christmas cake or a strawberry sorbet.
For Christmas Day the menu consists of various appetizer options including a bouquet of mixed green lettuces with a salmon tartar, a grilled peach salad with Serrano ham, arugula, ricotta cheese and honey and lime dressing, or a leek potato cream with mild spicy mussels. For the main course you've also got three different options: turkey rolls filled with plum and apple relish, rosé wine and raisin sauce; Mahi Mahi fillet with ginger and served with rice, vegetables and mango chutney; or a beef tenderloin served with garlic mashed potatoes and grilled vegetables. Choose Christmas buche with apple and rum ice cream or a mini crème brulèe for dessert.
The special menu is offered on Dec. 24 and 25 at the Villa Caletas restaurant, Jacó, Puntarenas. Costs are $58 with taxes included. Reservations: 2637-0505, 2630-3020 and concierge@villacaletas.com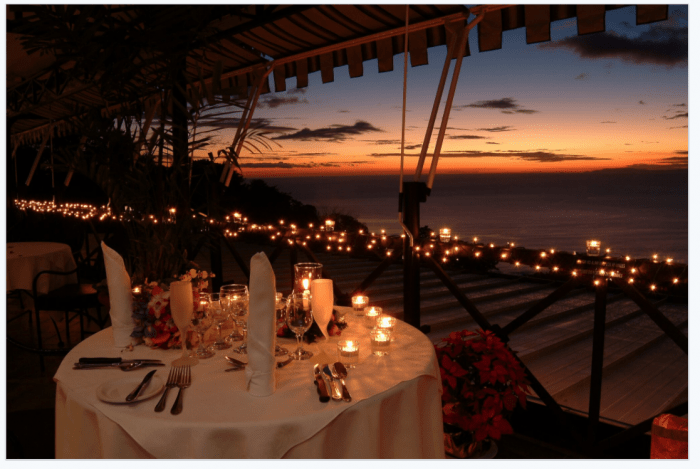 Britt Shop Chocolates
Looking for a sweet treat in between those decadent meals, or a perfect Costa Rican stocking stuffer? Britt's new exclusive and traditional gourmet products are inspired by Christmas: limited edition products include mint chocolate cookies, alfajores, peppermint bark, chocolates with a rompope filling, dark chocolate pearls with mint, and Britt's iconic Holiday Blend season coffee. All of these products are packaged with a special Christmas wrappers.
Britt's chocolates are available at Britt's shops and chocolate shops in Multiplaza Escazú and the Juan Santamaría Airport. For more information visit Britt's Facebook page.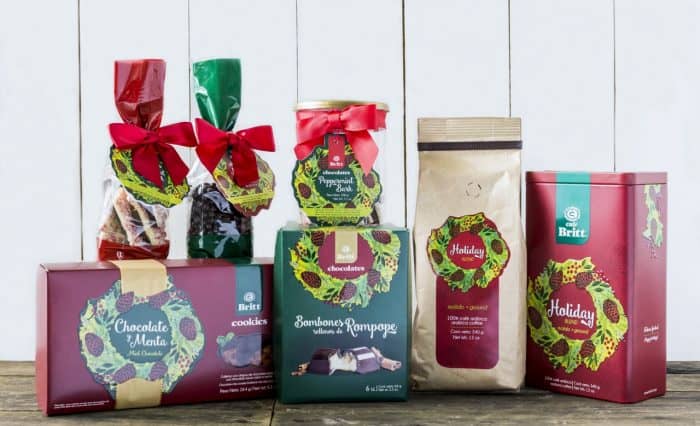 Cocina Josefina
During this holiday season, enjoy the new tradition of the Cocina Josefina, showcasing San José cuisine in the heart of San José at the Steinvorth building. This new gastronomic experience gathers various renowned small restaurants from the city: Cumpanis, Olivia's, The Whisk, Café Miel Garage, and Manos en la Masa. Each of these restaurants will be offering bakery products with Italian, Turkish and German specialties. These food options will also be accompanied with special cocktails prepared by Liz Furlong and a glass of organic wine courtesy of Auto Mercado; Café La Mancha will be open so you can buy a freshly prepared coffee.
Cocina Josefina will be held at the Steinvorth building on Avenida 1 in San José. Sunday, Dec. 18. 11 a.m. – 2 p.m. The entrance fee is ¢10,000 and tickets are on sale at each restaurant. The ticket purchase includes a sample tasting from each stand, German beer sample and organic wine from Auto Mercado. Unpurchased food will be donated to shelters and home in need through the organization Plato Lleno. For more information, visit Cocina Josefina's Facebook event.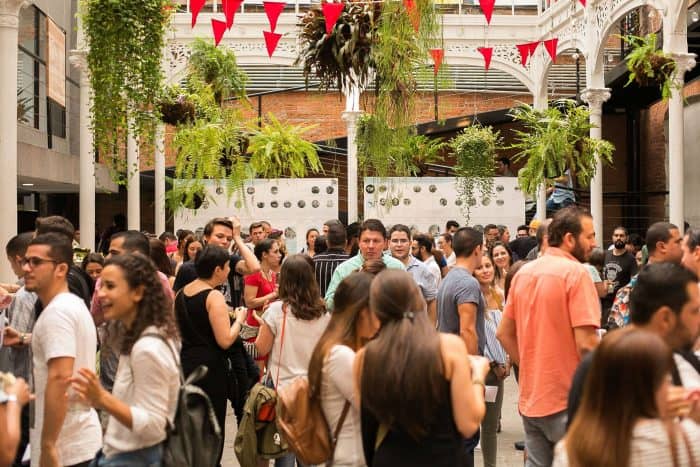 Feria Verde in Barrio Aranjuez
The traditional Feria Verde in Barrio Aranjuez will host its first evening Christmas Festival. Enjoy a beautiful afternoon with your family and friends at the Polideportivo de Aranjuez. Activities for children, yoga classes, vegan cooking classes, gourmet products and national design products will be take place as attendees enjoy music by Akiria, Cardamomo, Alejandro "Pana" Pacheco and many others. While enjoying the music you can relish a delicious Christmas menu with the same products sold at the fair.
The Christmas Festival will be held on Dec. 17 at the Polideportivo Aranjuez, Barrio Aranjuez, San José. 12:30 m.d. – 5:00 p.m. Entrance is free. For more information visit Feria Verde's Facebook event page.