DJ Esteban Howell has come a long way since his piano lessons as a kid. After performing in music venues across Central America and Mexico over the last 15 years, he has become one of Costa Rica's best known electronic dance music DJs.
Today, he's using that passion to teach others. Eight years ago, Howell founded DJ LAB, a school dedicated to training Costa Rica's next generation of EDM DJs.
The Tico Times visited the DJ LAB in Barrio Escalante to talk to Howell about his work, how DJs approach creativity, whether or not deejaying is an art form, and the school.
This interview has been edited for brevity and clarity. Excerpts follow:
Why did you decide to become a DJ?
I was always doing something with music. Since I was a child I had musical training in piano. When I was at the university studying architecture, I went to listen to some DJs [and] what caught me was the music. Nobody was playing that here in Costa Rica. That's what made me think I want to do that.
There have always been DJs in Costa Rica but not electronic music DJs. I mean, there were DJs at the bars, discotheques, etc. but they played commercial music, the music on the radio. But electronic music wasn't played on the radio and still generally isn't.
The music was what caught me. I could imagine myself playing it. It was an impulsive decision. I didn't have contacts or equipment. I just listened to two or three international artists and I said, Wow, this is what I want to do.
I always played the piano in a really personal way and becoming a DJ was a way to make that public: to become an artist.
How do you approach art and creation as a DJ?
I think art is a unique product. Art can't be reproduced. There can be copies of it but the original one is unique. If you ask me if what we do is art, I would say no. What we do is a musical performance. It's really close to art. I wouldn't say its unique and irreproducible because I'm working with music other people can use. But it's unique as a performance. It has an intention, its own style and a personality, my personality.
I understand creation as the materialization of an idea that is more or less original. There's no such thing as 100 percent original. There's always an influence from something or someone else. The amount of that influence changes according to the person. You can say, I like this idea, I'm gonna take it, but only up to this point. Beyond that, I'm gonna give it something new.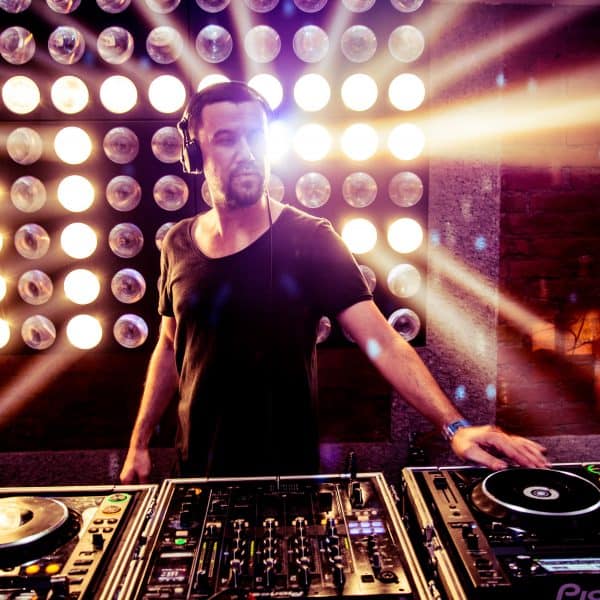 What is the best thing about working as a DJ?
I love to play and listen to music. To me, being a DJ is not a job. People associate the concept of a job with something rigorous and hard, something where you have to obey someone.
It's rigorous because I want it to be the best it can be. But it's extremely fun and I can do it for hours. It can be tiring, I'm not going to lie, but it's something I do for pleasure. So, the best thing is to play that music, make people happy and, of course, see new places and meet nice people in the process. It becomes really personal. I love it.
I think that what I do can make someone feel free. It allows people to take a step back from what's happening around them, from what's happening in their life and be in the now. Just let people dance and lose themselves for as long as they can. Nobody is going to judge you for the way you dance in these places. It's more like, move freely. Do what you want. Close your eyes and don't worry about if someone is looking at you. I'll dance but I prefer playing music.
And, of course, it's relaxing. All these components come together for few hours and you feel like, ahhh, relaxed! Tired but relaxed.
What is the market like for DJs here?
The national market is really tiny. For me, the best places are Antik, Vertigo, Hoxton, and there are other little places were you can have a great time, but they aren't the big venues. I've been playing at Vertigo and it's the top of electronic music here, but I feel like I've hit a limit with the place.
In Tamarindo and Puerto Viejo, there are really nice places to play but they are tiny and it's not profitable for them. It's hard for them to charge $10 a head and there aren't that many people interested. Now that I've been playing for a while, I'd love to start traveling more.
There's no music industry here in Costa Rica. I'm sick of all this talk about "supporting national artists." I mean, that sounds like begging. National artists don't need to ask for support. They need to sell their work, to show it in the right way so people would be willing to invest in them. People don't appreciate the value of artistic work.
Tell me about DJ LAB?
This is my most significant project. DJ LAB has been giving classes for eight years. We've had amateur guys who are now playing at great events and many of them are even playing abroad. People of all ages playing all kinds of music.
It's had an important influence on the DJ culture here in Costa Rica. There are different kinds of classes. There are individual classes for people who want one-on-one training with me and also group classes divided into three stages: basic, intermediate and advanced.
There are five people teaching here. The DJ class is taught only by me but there is also music production, and visual design for events.
Our "Weekend Arts Spotlight" presents Sunday interviews with artists who are from, working in, or inspired by Costa Rica, ranging from writers and actors to dancers and musicians. Do you know of an artist we should consider, whether a long-time favorite or an up-and-comer? Email us at kstanley@ticotimes.net.