See also: Fire destroys Black Star Line building, a Limón landmark
On Friday, April 29, at 6 am, devastating images came rolling into my Facebook and WhatsApp feeds of the burning UNIA/Liberty Hall Building on Calle 5 in Puerto Limón. I panicked. I could not reconcile the incredible social, cultural and spiritual loss of this historical landmark with its implications for the Limonese community.
Then the positive words of one of my husband's most famous songs, "Building," came into my mind, countering my disbelief: "We go from seed to tree, me and my people building."
As I reached out to friends and family in Limón and San José, trying to make sense of this fire, I had to infuse hope into the situation. By the time I read the press release from President Solis' office, I began to feel that the destruction could become a blessing in disguise. The Costa Rican government fully supports rebuilding the 94-year old structure made of wood and zinc.
The significance of Limón's Liberty Hall cannot be taken lightly, as its historical legacy is resounding. Marcus Garvey (1887-1940), known as the "Negro Moses," was born in St. Anne's Bay, Jamaica. With a background in printing, Garvey was also an electrifying orator who drew millions of people of African descent into his organization, the United Negro Improvement Association (UNIA), established in Jamaica in 1914. With his motto of "One God, One Aim, One Destiny," Garvey encouraged black people to embrace their African heritage, take charge of their realities and dream of a future where they would never again face subjugation.
Garvey is credited as being the leader of the largest organized mass movement in Black History through the UNIA. He was the originator of the "Black is Beautiful" and "Back to Africa" revivals in the 1960s and '70s in the United States. Yet, where did Marcus Garvey, international hero and icon of a critical Black sensibility, get his start? Puerto Limón, Costa Rica.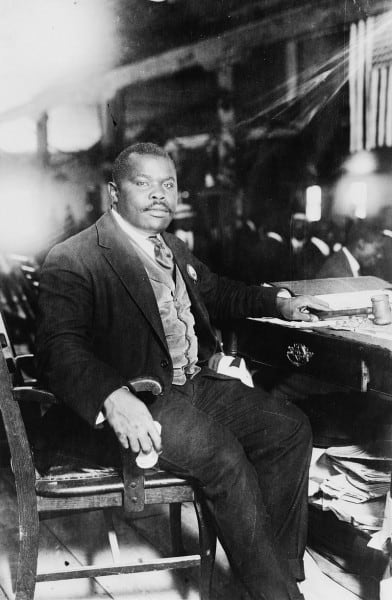 He arrived in Limón from Jamaica in 1910 and began publishing a small newspaper. Though he went onto establish the formal headquarters of the UNIA in Harlem, New York, with the Liberty Hall as the pulse of the organization's activities, 23 branches of the UNIA were established in Limón and the surrounding Caribbean coast.
Garvey's newspaper The Negro World gained consistent entry into the Limón population who participated in global dialogues on race, class and self-identity. By the 1920s, the newspaper's circulation was between 50,000 and 200,000, and the Limón branches were deeply involved in the commentary of regional events. There were over 700 branches of the UNIA in the United States and the Caribbean, yet few of their buildings remain today.
In 1922, Limón's Liberty Hall was built on Calle 5 as a cultural center for UNIA activities. It was host to countless events, including cultural celebrations, academic conferences, community planning sessions, spiritual gathering/honoring of ancestors, international "mash-ups" for activists and scholars from around the planet and a space to educate children about their legacy found in the richness of Limón's past.
Friday's 5:15 am fire took almost an hour to be put out by local fire fighters. Approximately 75% of the building was destroyed and the remaining structure will be completely removed. The Limón community continues to voice its shock. One Facebook post said, "Limón is crying," alongside images of the burning building.
My friend Kendall Cayasso Dixon, an educator, and journalist at Prensamerica International First, sent me a personal response; "My reaction when I arrived at Liberty Hall was sadness. I could not hold up my tears and felt frustrated that I could not do anything at the moment," she wrote. "But I truly believe that God is showing us a better way with this situation that happened today. I assure you 100% that now the AfroCosta Rican community will work together to build back our home; build back our identity," she werote. "The community is sad, but we were like this back in 1991 when we had the earthquake and today we still standing. As we came out of that one, tomorrow we rebuild – United we stand, divided we fall! Let's make Marcus Garvey proud!"
I am grateful for Kendall's words, which sum up the sentiments of many of the people in Limón who bore emotion witness to the ending of a cultural era.  However, this community is resilient.
Community activities took place on the second floor of the building, which had a wrap-around verandah painted with standout Caribbean green. The bottom floor housed the Black Star Restaurant, which boasted some of the best food in Limón. The losses to that business are also profound, as it was a frequent meet-and-share space for travelers and locals; a place to break bread in true Limón style. The Liberty Hall Center's director, William Monge, admitted that they do not have insurance because they lacked a fire alarm system and access for those with disabilities. There have been several renovations with the government's support, and Liberty Hall was named an architectural landmark in 2000.
What is needed to move forward is a full assessment of the damage and a call to the local community of architects to envision a new space which commemorates Garvey's activism and the celebration of AfroCosta Rican culture within an innovative, contemporary meeting space for conferences and other events.  The challenges are profound yet, already there are exciting ideas about building a new Liberty Hall which merges its 20th century origins with the 21st century.
I am hopeful that this fire will ignite (pun intended) a cross-generational conversation where talent, vision, history and passion produce an inspirational new space on the corner of Calle 5 in Puerto Limón. Marcus Garvey once said that "a people without the knowledge of their past history, origin and culture is like a tree without roots." I have every faith that the people of Limon will lead a national and international movement to support rebuilding. Their tree has fallen, yet they know all too well that the roots remain deeply entrenched in their community. It is time to plant another seed that will bear fruit for the generations to come.
Read more of Natasha Gordon-Chipembere's columns here.
Natasha Gordon-Chipembere, a writer, professor and founder of the Tengo Sed Writers Retreats, moved to Heredia, Costa Rica with her family from New York in June 2014.  She is now accepting applications for Tengo Sed IV Writers and Yoga Retreat in Jan 2017. She may be reached at indisunflower@gmail.com. Her column "Musings from an Afro-Costa Rican" is published monthly.