CORCOVADO NATIONAL PARK, Puntarenas — "That's extremely rare!" said our guide, beside himself with excitement. "That's extremely, extremely rare! I've been guiding hikes here for 23 years, and I've never seen that!"
I came to Drake Bay (again) and took the boat to Corcovado (again) because I was showing my friends around the country and they wanted to go. I skipped the snorkeling trip to Isla del Caño, because I did that just a month ago and I had to stay at the hotel to file a couple of stories. But I decided to blow $100 on one more trip to Corcovado, just in case we saw something "extremely, extremely rare" that would give me something to write about.
I'll tell you what it was in a minute, but to provide a little background … Sir Francis Drake is believed to have sailed into Drake Bay in 1579 … no, wait, let's not go back that far. Let's just go back to a week ago Friday.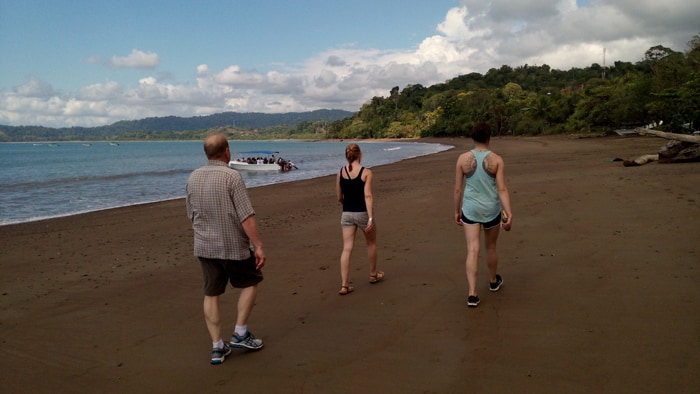 My friend Murphy, his wife Cindy and her daughter Mia were here from Nevada. We were staying at my brother Paul's place in Puerto Jiménez, the Fishack. But on Friday Murphy wanted to go to Drake Bay, so I led the way in the Blue Demon, with Murphy & Co. following in their rental car.
The scariest thing about driving to Drake Bay is negotiating the little bridge where there are two planks for your tires, and if you miss those planks I don't know what happens because I've never missed them, but I assume that you would break through the weak parts of the bridge and plunge into the creek below.
Both vehicles survived the bridge, and the rest of the river crossings were easy because it's been so dry. Paul says this is the driest month of the driest season of the driest year on record, because of a super-duper El Niño event that has made things really, really dry.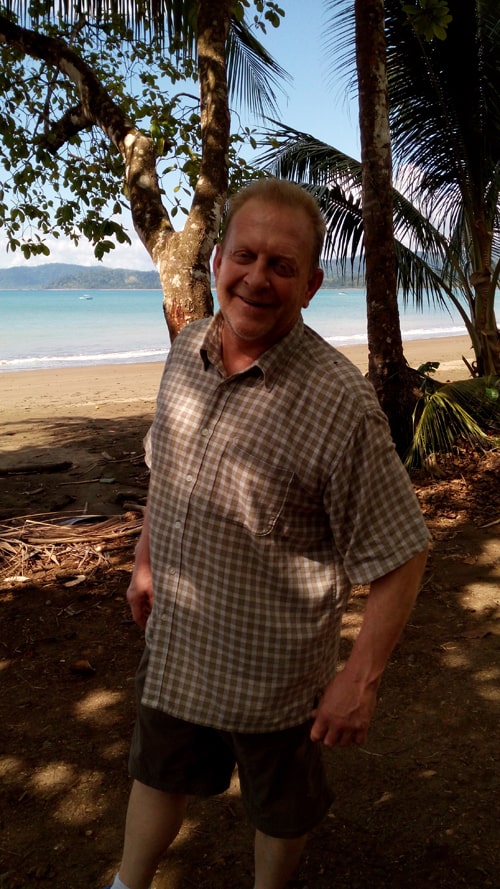 We made a lot of jokes about Paul's pronunciamiento — "This is the driest second of the driest minute of the driest hour of the driest day of the driest week …." Yet this was good news for the multiple creek crossings, because they were, well, pretty dry. And this is in one of the wettest places on earth.
We finally reached the "end" of the road in Bahía Drake, in other words the beach. I put "end" in quotation marks because we got conflicting advice on whether we could drive further. I got out of my car and asked an old lady selling trinkets for directions to Jinetes de Osa, our hotel, and she pointed out its red roofs, 500 meters away, saying we should just drive across the beach to get there.
But Murphy and I called a lady at Jinetes de Osa, and she said we couldn't drive, we had to park on the beach and walk. She offered to send someone to help us with our bags.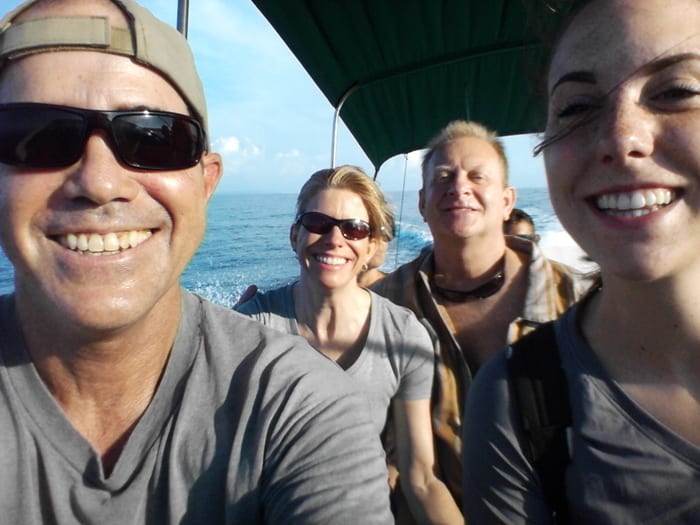 Another man said we couldn't park on the beach, we had to park in Doña Emilce's yard for ₡3,000 a day. So we parked, paid and waited for the guy to meet us.
The guy from Jinetes showed up (oddly riding a motorcycle, if we expected his help carrying bags), and said we should just drive across the beach. He was a serious young man with odd red spots in his eyes, but he was sober. I said we were just told this was prohibited, but he said it didn't matter, everybody did it.
So I left the Blue Demon in Doña Emilce's yard and moved my bags (and the all-important, loaded beer cooler) into Murphy's car, and we followed the red-eyed guy across the beach to the doorstep of Jinetes de Osa.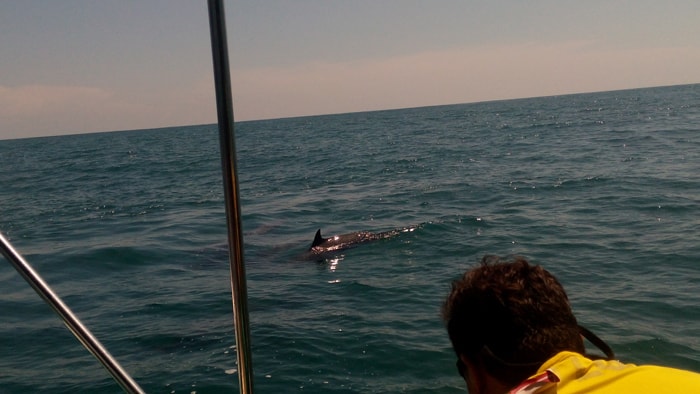 We were met by a clear-eyed guy named Carlos, who quickly explained how confused this hotel was about our plans.
Carlos was under the impression that first we had booked only one night, and later changed it to three. No, Murphy explained, we had always booked three nights, but first it was for Saturday-Sunday-Monday, and then we changed it to Friday-Saturday-Sunday.
Carlos was under the impression that first we had booked rooms for five people. No, Murphy explained, there were never more than four people: Murphy, Cindy, Mia and Karl. But Carlos kept referring to five people, though there were only four in front of him.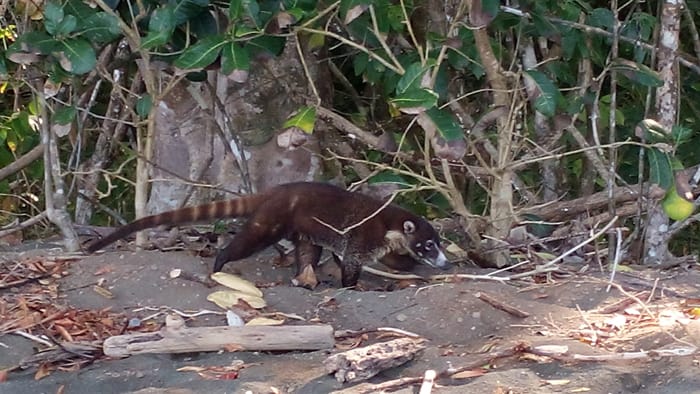 Given these changes, Carlos said, the best he could do was give us a 15 percent discount on three superior rooms, which would cost us $115 each (with no air conditioning, as it turned out, although A/C was one of the primary reasons we booked here).
At this point, we were so hot and tired we probably would have agreed to pay double that. And how could we turn down a $25-a-room price increase when it was a discount?
We were shown to our rooms, and mine had three beds, as if for me to try a different one every night. After liberating some beers and enjoying how the fans made the warm air move faster, we decided to walk into town to eat.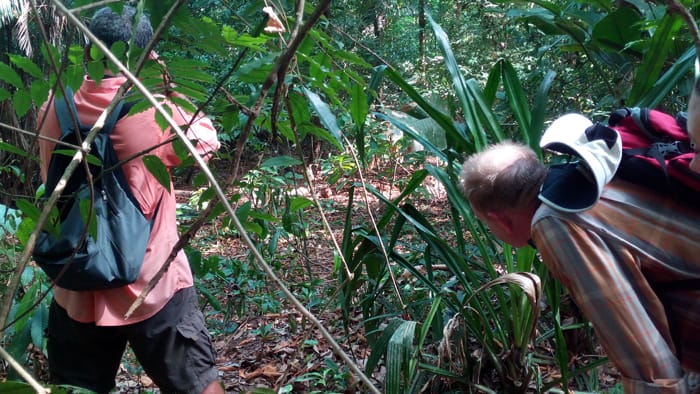 I sat down at the first restaurant we came to, but Murphy and Cindy looked at the menu and weren't impressed, so we moved on in the oppressive heat up the punishing hill. Twice we went into restaurants and examined the menus, and again Murphy and Cindy weren't impressed.
The menus were heavy on rice, beans, beef, chicken and fish. I don't know what they were expecting, barbecued goat stuffed with roasted pheasant stuffed with Beluga caviar? For under ₡6,000?
Twenty minutes later, after touring the entire town, we came back to the first restaurant we had visited and sat down and ordered. Murphy ordered fried fish and they brought him fried chicken. But Murphy never complains at restaurants because he believes that waiters faced with difficult customers will sabotage your food.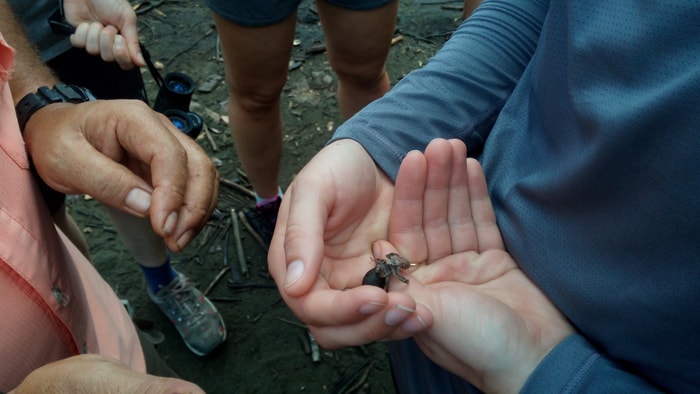 The next day Murphy, Cindy and Mia went on the boat ride to Isla del Caño for snorkeling, and they saw sharks and got sunburned and Murphy sustained blister injuries from his fins and Mia got stung by jellyfish. But the main thing the girls talked about was how good-looking the guide was.
After the snorkeling, they were dropped off for the included lunch — at the exact same restaurant we had visited the day before that served chicken instead of fish. They laughed and declined, and the tour guides were puzzled, saying lunch was included. Murphy said, "We have to meet someone."
We ate dinner at the in-house restaurant and I ordered pescado al ajillo, fish with garlic. But, in a repeated theme, what I was served looked like three little round pieces of steak with garlic on top.
"What is this?" I asked the waitress, who spoke surprisingly good English because she was from Virginia.
"That's tuna," she said.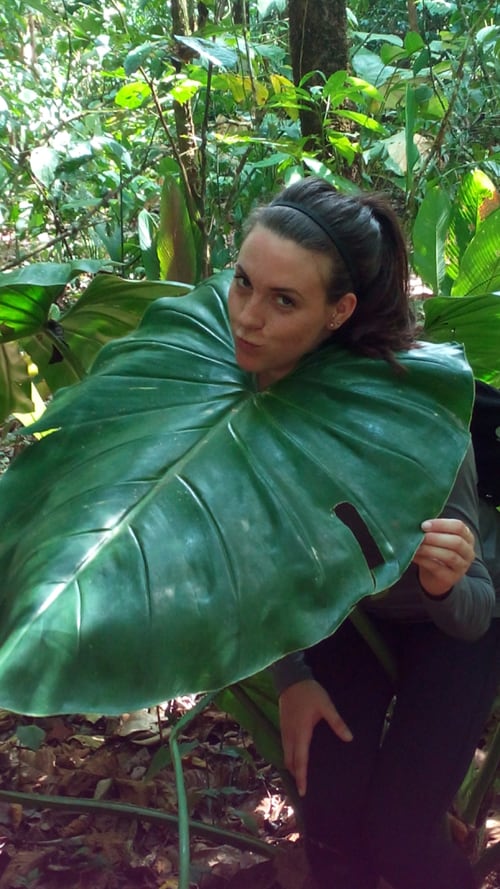 "It doesn't look like tuna," I said. "It looks like beef."
"It's tuna," she said. "I asked the chef to make sure."
In other words, even the waitress thought my "tuna" looked so much like beef that she double-checked with the chef to make sure. Because a tuna and a cow don't have much in common, except they both have two eyes.
I cut into it and took a bite, and it tasted pretty good — pretty good beef. I gave some to Cindy and Mia, and they also thought it tasted pretty beefy. It didn't taste bad, so I ate it, but I saved a little piece — with some gristle — for the waitress to show the chef. She came back and said he insisted it was tuna.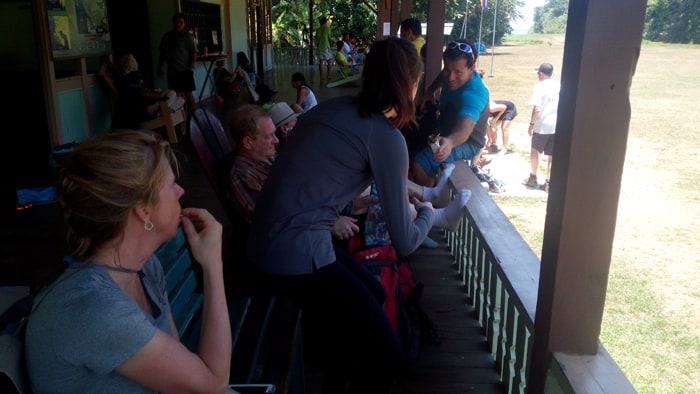 We decided to split the difference and call it sea cow.
(By the way, despite any hiccups with our reservations or food orders, I will say that we were very pleased with our experience at Jinetes de Osa, and I would recommend it to anyone.)
Anyway, the next day we all decided to take the boat to Corcovado, and after about an hour and a half on the boat we waded ashore. Our trusty guide, Fernando Campos, 53, took us up the beach, where we quickly spotted a lone coati. Later we saw a couple of agoutis. Neither of these sightings was anything unusual.
Other than that, in the next hour of hiking we saw practically nothing. "The forest is totally dead," Fernando said with some surprise.
We came to a dry riverbed, and Fernando walked ahead to scout around while we rested. Murphy said, "He's probably walking ahead to tell the people to let the animals out of their cages for the tourists to see."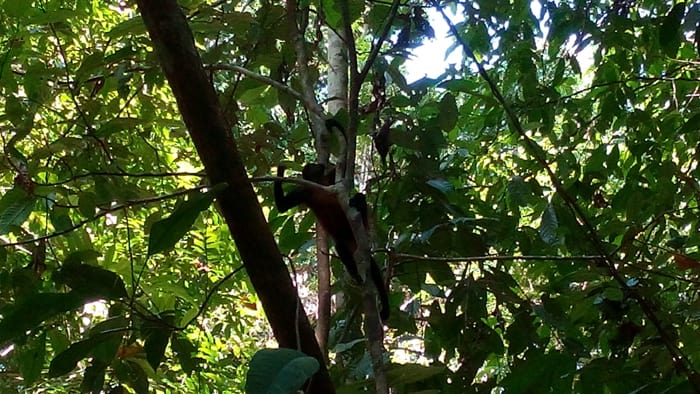 Sure enough, when Fernando returned a troop of spider monkeys appeared in the trees alongside the riverbed. This was nothing unusual, but then Fernando started remarking about how low one of the monkeys was climbing. "They almost never come down so low," he said.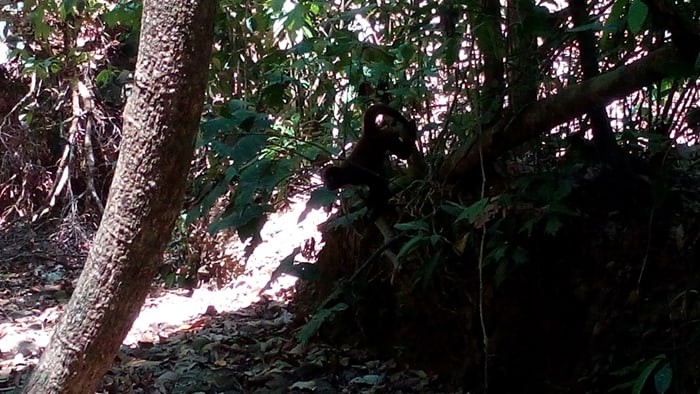 And it kept coming lower. Fernando was transfixed by this sight, saying it was very unusual. And then the monkey dropped out of the tree and onto the ground just a few meters from us and took a drink out of a puddle in the otherwise dry creek.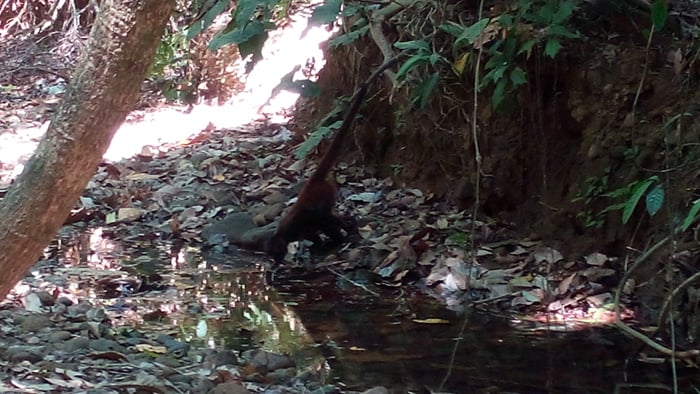 That's when Fernando started exclaiming in whispers that this is extremely, extremely rare, and that in 23 years of guiding tours here he's never seen that.
"What they never do is to come down because it's very risky for them," he explained later. "Second, they don't need to, they normally get all the water they need from the leaves that they eat. … Maybe because he's very thirsty, maybe there's no moisture in the leaves. It's a very, very unusual, unusual behavior."
Murphy said the people who released the monkeys from their cages had probably trained that one monkey to drink out of puddles on the ground.
Now that our luck had turned, a Frenchman in our party spotted a three-toed sloth hanging from a tree less than 3m from the ground, in other words very low.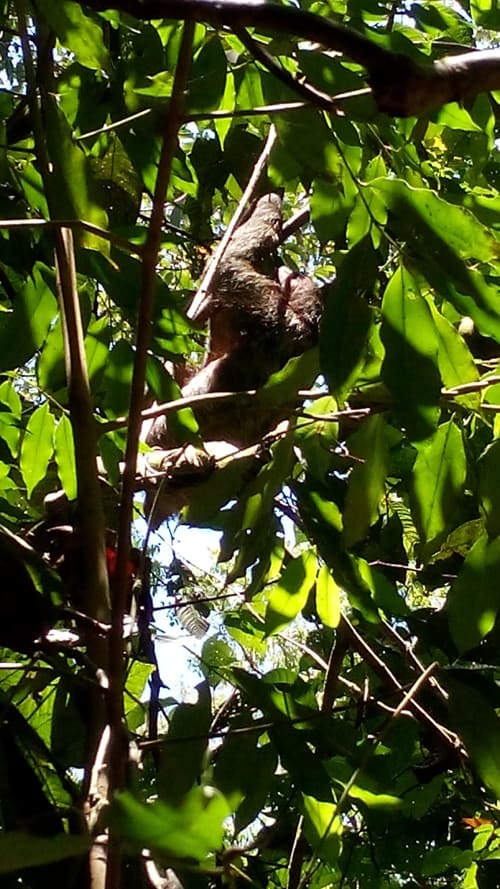 Fernando said the sloth sleeps 19 hours a day. "Take all the photos you want," he said. "He's not going to move. Look, he moved!"
We could clearly see its homely face, and all three of the toes on one foot, at first clinging to the tree, and then ve-e-ry slo-o-owly moving to a higher place on the branch.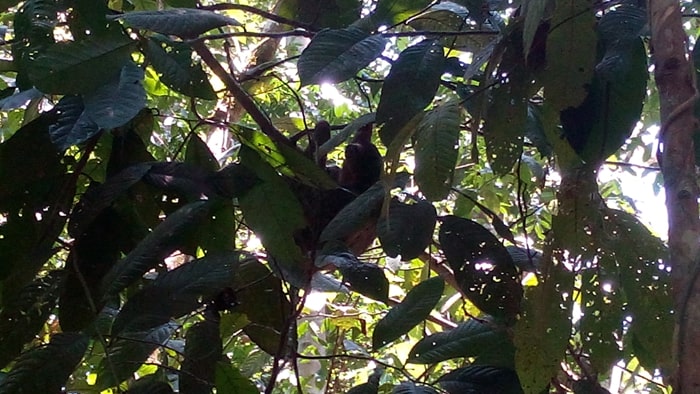 "That animal is super-ecological," Fernando said. "He stays in the tree, and then once a week he comes down to the ground and defecates."
Murphy said the people with the animal cages had probably hung the sloth there at the last minute, and the Frenchman was paid off to spot him.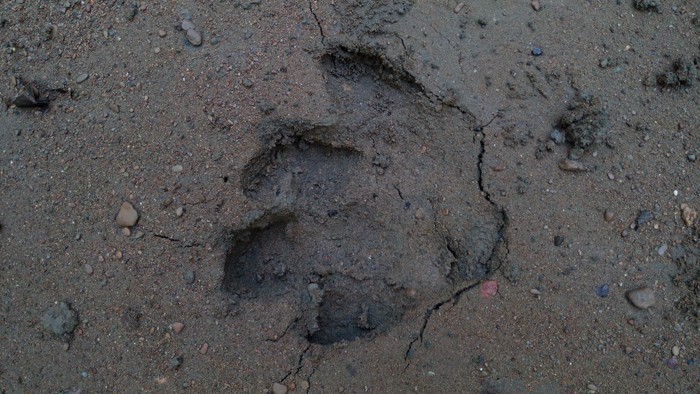 One of the first things I had said to Fernando this morning was, "We're going to see a tapir, right?" He nodded confidently, saying, "I know where they are."
He said the tapirs liked to rest in shady places during the heat of the day. And sure enough, just before our hike was over, Fernando led us within a few meters of a tapir dozing in the shade.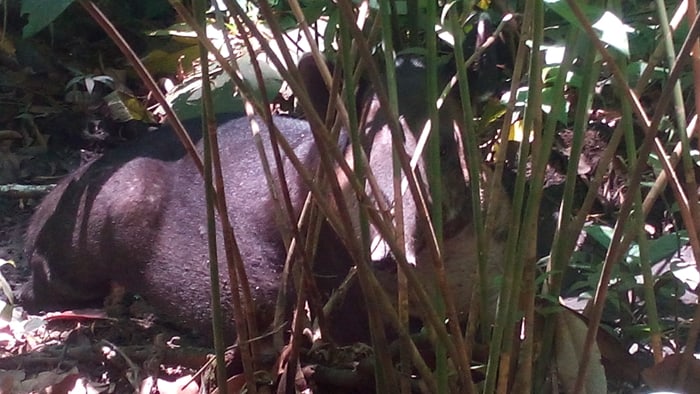 Murphy said the people with the cages — oh, never mind.
IF YOU GO
Getting there: You can get to Drake Bay by air, sea or land. There's an airport in Drake Bay, you can take a boat from Sierpe, or you can drive there with your own 4-wheel-drive vehicle, if you don't mind the scary two-plank bridge or the four creek crossings, which can be dodgy in the rainy season.
Rates: We paid $115 each for three rooms with no A/C at Jinetes de Osa. The Corcovado tour cost $100 each.
What to bring: Hiking boots or tennis shoes for Corcovado, plus flip-flops or sandals for getting on and off the boat in the surf. Be prepared for bugs and rain, and bring a hat.
For more info: www.jinetesdeosa.com
The Tico Times checked into Jinetes de Osa anonymously and paid full price.
Contact Karl Kahler at kkahler@ticotimes.net.