Angel Lara has been surrounded by art since birth. The artist, 32, spent much of his time as a child at his father's sculpture workshop, was surrounded by all kinds of artists, and began creating his own art at the age of 4. Lara studied at Castella High School, graduated in painting and dance, but his primary passion has always been sculpture.
Lara has created sculptures for the Omar Dengo Foundation and Earth University, among other organizations, and has had exhibits around many places around the world. At the moment, he has an exhibit at the Contemporary Museum of Contemporary Art and Design, presenting a completely new proposal.
The Tico Times visited Lara's exhibit to talk with the artist about his career and this new project. Excerpts follow.
Tell me about this exhibit, "Phi-Lotus."
"Phi" means the golden segment, organic growth, everything in the universe; and lotus is because the sculptures are lotus flowers. I'm really happy with the versality of this project. Its possibilities are almost endless. It is made up of 150 pieces.
I have been developing this project for about five years: four years of production, a year of investigation and development of the modules, and six months on the production of the exhibit itself. This has been my longest project ever. It came from the idea of creating a tree filled with flowers, but that wasn't feasible. Then it developed into this new, independent project. I showed people the first ones and they really liked them, so I [worked toward] showing them on a bigger stage, like this one.
I want to do bigger pieces, to do sporadic and itinerant interventions around the metropolitan area, within view of the public. Where before there was nothing, you suddenly see an installation piece. The fact that people see the pieces and interact with them is very important.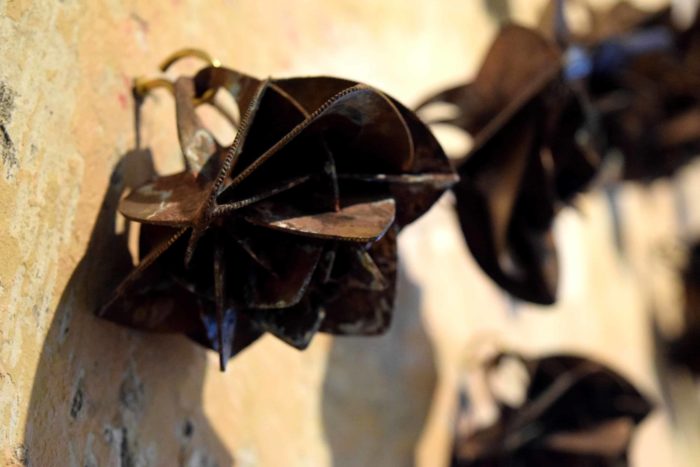 What inspires your art?
Costa Rica has a lot to do with my work. I love nature, and I also have done research about Costa Rican culture and art. There are also mentors and people who inspire me: many of them are from outside Costa Rica, but to me the best sculptor in Costa Rica is José Sancho. I love his work and I have been guided by his work because he does it all. He does Marble carving perfectly, making use of any object, design models. He creates a whole range of things and does everything perfectly.
What other type of art do you like, and what do you like about sculpture?
I like oil painting, but it's a slow process and I also like to do big paintings. So there are a lot of unfinished paintings at my workshop. Those generally end up being the most interesting paintings because they are more elaborate and mautre: when they are finished, they end up with a completely different meaning from the one they started with. I did some exhibits with my paintings right after I fiinished high school. When I was studying dedicated a lot of time painting, so I did one sculpture for every ten paintings. Once I was able to get all the materials I needed, I started doing more sculptures, and painting started falling behind.
For me, working with different types of materials is the most entertaining thing. This new project allowed me to work with materials I hadn't used before, such as cardboard, and get away from traditional materials. I mean, they are still sculptures, but with other materials that are not usually used here in Costa Rica.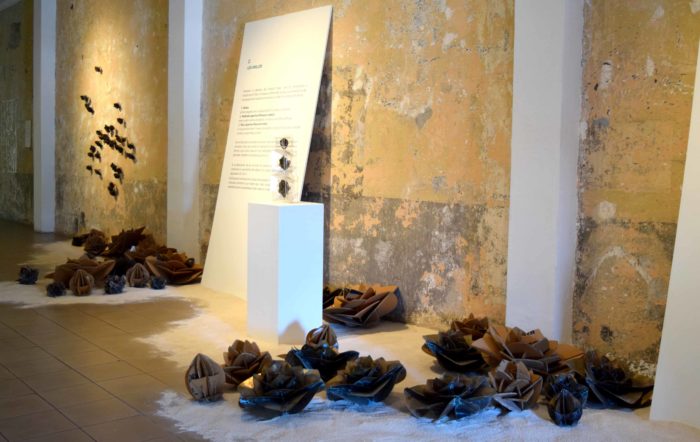 What would you tell a sculptor who's just beginning his or her career and doesn't know where to start?
First, to define whether you want a [traditional] professional career or a career as a sculptor. That's the first decision you have to make. I have been fortunate to be able to balance both. It was always clear, because since I was six I listened to my father's friends saying things like "[Our work isn't] selling, we have to look for more options."
So I have always been clear that I have to do something in order to make money to do the projects I want to do. For many people, this is very difficult. Some people say that art does not have anything to do with sales or money, and partly not, but partly yes, because I mean, I also need to eat, I also pay electricity, water and gas. I manage very tight budgets because as long as I invest in more projects it will means I have to produce more and have to cut other expenses.
In the end, no matter the budget, no matter what occurs, the budget will always come up short compared with the desire to experiment and create new things. So,  we must understand that very clearly: selling is not bad, it is a necessity, but learning to sell and learning how to sculpt is very different.
How would you like to be remembered as an artist?
Well, let's leave people to decide that. History will decide what's going to happen with your work and with you as a person. No matter what you do. To me it's really important to do something. All people are important, but to the extent that they do things [to improve] their space on earth. To me, people cleaning the streets are super important. To me they are the people we should respect the most, because they do what nobody else wants to. That's what I want: for people to respect who I am and what I do. That will only be decided over time. Let's see what happens in a hundred years.