When Óscar Ramírez took over the Costa Rica men's national team last August, he did so without much fanfare.
Instead of being a "splash hire," Ramírez's introduction was more like a pebble dropping into a raging river. Amid the chaos of Paolo Wanchope's embarrassing exit from La Sele's bench after he tried to knock out a security guard, the short and stout 51-year-old assistant coach Ramírez was basically a foregone conclusion to take over.
After the Wanchope incident and the arrest — as part of the largest scandal in the history of football — of former Costa Rican Football Federation (FEDEFUTBOL) president Eduardo Li, it's like the sport's leaders just shrugged their shoulders and gave the car keys to Ramírez, hoping he wouldn't crash and burn.
If La Sele's impressive 3-0 beatdown of CONCACAF rival Jamaica Tuesday shows anything, it's that the man they call "Macho" isn't some last-minute proxy. He's a detailed strategist who is more than worthy of being in charge of Costa Rica's most talented roster in history.
FEDEFUT president Rodolfo Villalobos said at a press conference earlier this month that the amount of talent playing overseas, combined with his trust in Ramirez's vision for the team, gives him confidence that the next few years could be special for La Sele.
"This is our golden generation," Villalobos said. "There's a really strong union between the coaching staff and the players. We're happy because we know going forward we can build on that unity and reach our highest goals."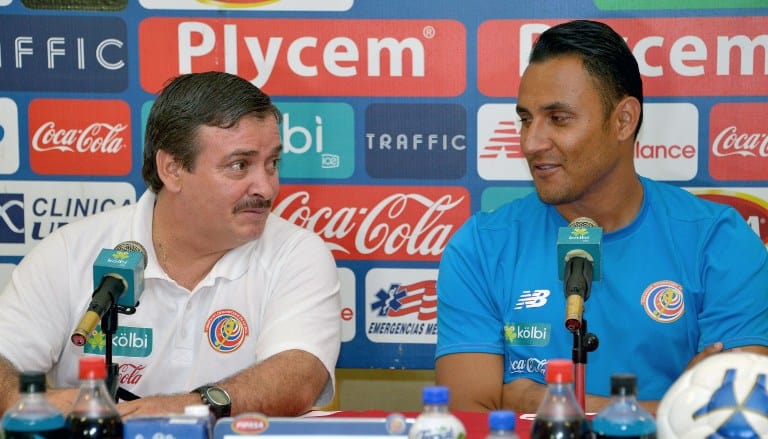 The Xs and Os
Strategically speaking, the quick turnaround from Friday's 1-1 tie to the domination shown Tuesday night back home goes to show how creative Ramírez can get with his lineup variations and his changes in defensive rotation. After La Sele's backline was uncharacteristically beaten in the first half in Jamaica, Ramírez switched things around and stalled Jamaica's deep volley efforts that tried to isolate its speedy forwards in one-on-one matches on the edges. The backline was not only quick to shut down any threat from the Reggae Boyz forwards, but they moved the ball to the mid- and front-levels with fluidity, showing immediate improvement on one specific area Ramírez harped on going into the second leg of the World Cup qualifying series with Jamaica.
On the road to Russia, Ramírez will continue playing around with his defense to see what works best. Italian-league defender Giancarlo González, who shined in the 2014 World Cup, has been a shell of himself recently and it may have been that "Macho" was trying to send a message by benching him after a poor showing in Friday's tie game.
With Oscar Duarte, another European club player, in place of González, the middle of Costa Rica's defense looked spectacular on Tuesday. Herein lies the great luxury that Ramírez has: He can interchange very good talent with talent of equal quality. Ramírez has been given free reign of exchanging lineups and playing mad scientist with the deep talent pool he can choose from.
When Ramírez said at a press conference before the two-game series against Jamaica that he wanted to take advantage of the Reggae Boyz' speed, it looked like a failed plan in the first 45 minutes of the first leg. But once his players got accustomed to the Jamaicans' quickness, which is nearly impossible to simulate in practice, Ramírez was able to put them into position to attack.
Sure La Sele has more talent than Jamaica and there's a clear advantage in playing at home in front of a sold out crowd of football-crazed Ticos, but maybe the most apparent takeaway from Tuesday is just how good Ramírez is at adapting to opponents and turning disadvantages into strengths. Going into a high stakes tournament, like, say, the Copa America three months from now, that ability to adapt and manipulate game plans will prove necessary. 
Costa Rica's backline was clearly overwhelmed by Jamaica's speed in Kingston as González and Ronald Matarrita struggled to hold down the right flank and got beat three or four times Friday. Four days later, thanks to a small tweak in the lineup, La Sele's defense actually used Jamaica's speed against it. The addition of Johnny Acosta to the defense, which so many fans and analysts were bemoaning before the two games, proved to be a key tool that Ramírez used to clog up Jamaica's offense.
"To have the discipline that Johnny has isn't something that's easy to find," Ramírez said. "I think it's important for the press and public to realize how important he is for us. I'm in charge of choosing the best and he's among that top level talent we have."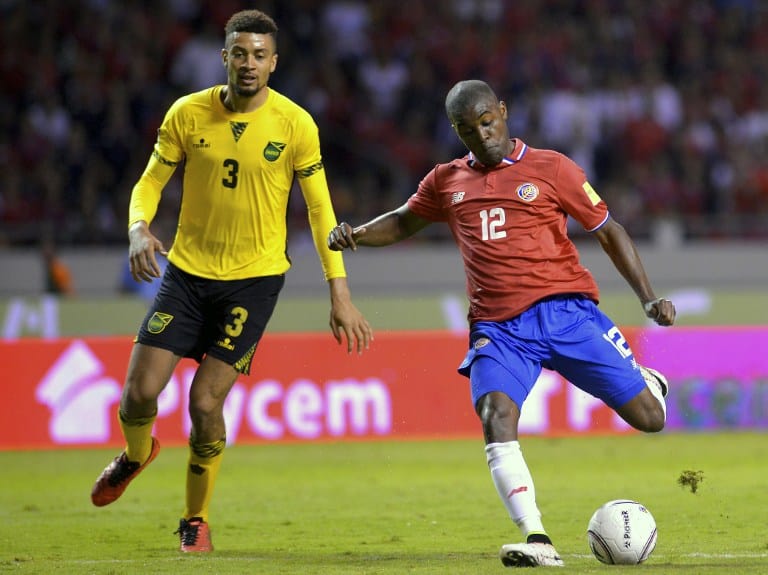 Offensive fireworks
On offense, Costa Rica proved it can exert its will over a good defense like Jamaica, which has multiple defenders playing at the highest ranks in Europe. When they're at their best, as they were Tuesday, it's with the ball at the feet of their playmakers, like Joel Campbell, as well as midfielders Bryan Ruíz and Celso Borges.
Ramírez said after the win that he's heard the criticisms that his five-man backline leaves the team lacking in offensive firepower. Instead of being concerned with flashy, forward-focused play, he said, he wants to see how players gravitate to certain areas of the pitch.
"It's talked about a lot here in Costa Rica that we can't be that offensive with just two forwards," he said. "But with Bryan and Celso behind that line, they have this discipline where they know how to get to their spaces, which gives us something really important. Sometimes the challenge isn't how you position these players but how they each arrive to their collective spaces."
Ramírez's strategy, though defense-first, actually allows his top players a lot of room to operate and make plays of their own accord. Multiple times Tuesday night, it was Ruíz and Campbell who were shredding through wide gaps in the Jamaican backline and facilitating others. He talked to reporters after the game about how important it is to not just have star players who can score at any moment, but a host of key players around them who are also capable of beating a defense.
"When there's dependence on just one player to score, it makes things complicated," he said. "But this team has multiple players who can make a difference and that's very important."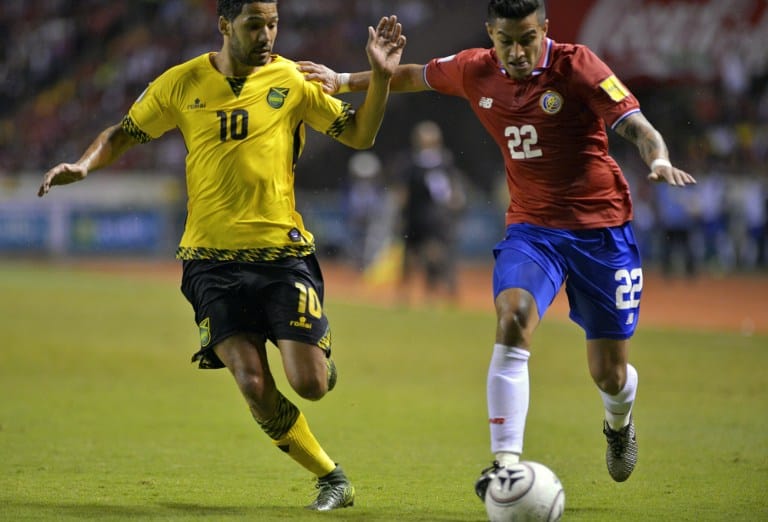 The curious case of Matarrita
One of the biggest juxtapositions going forward is the case of Matarrita. He is an impeccable facilitator, giving Ramírez exactly the kind of sudden transition from backline to front that he is looking for. Still, the skinny 21-year-old left back has to play with more strength on defense. He gets beat too easily, which is something Jamaica took advantage of in the first game, because he's not yet used to having to fight for space against better athletes. That's an understandable predicament for a young player who just left the Costa Rican leagues within the past few months.
He's on his way to being a worthy successor of the current stars of this team when fixtures like Ruíz, Borges and Cristian Gamboa retire. Currently, the only medicine for him is experience and it's hard not to think Ramírez knows that considering he's started him in every significant game they've played on his watch.
Matarrita is young and not as physically imposing a defender as a player like Kendall Waston. When he learns to use his speed and tenacity in a measured way, not a reactive way, then he'll excel. Hopefully for Ramírez and Costa Rica, that evolution will happen by the summer of 2018.
La Sele will be on a huge stage when the team travels to the United States in June to take part in the Copa America, one of international football's most competitive tournaments. It will only be Costa Rica's fifth appearance in the competition among South America's top teams. In this year's bracket, the special Centenario edition, they've drawn into the "Group of Death" again with Colombia, Paraguay, and host U.S.
For La Sele's generational squad and its unheralded coach, the tournament becomes just one more opportunity to prove how truly special they can be together.