RIO DE JANEIRO — Thousands of Brazilians took to the streets Wednesday at the end of an extraordinary day in a worsening political situation as an enormous political corruption scandal threatened two of their most powerful leaders.
Many were protesting the decision by President Dilma Rousseff to make her predecessor Luiz Inácio Lula da Silva her chief of staff. Others, in smaller numbers, defended her Workers' Party government. The protests came just days after hundreds of thousands of Brazilians had called for Rousseff's impeachment and an end to corruption in massed street demonstrations across the country.
Lula, as the former union leader and two-times Workers' Party president is known here, is being investigated for his alleged role in a multi-billion-dollar scheme in which kickbacks and bribes were paid on fat contracts at state-run oil company Petrobras.
On Tuesday, the Supreme Court accepted testimony from the former leader of Rousseff's Workers' Party in the Senate in which he alleged that dozens of politicians were involved in this and other corruption schemes, and alleged that Rousseff and Lula had attempted to interfere in investigations. Brazilians were stunned at the allegations which also cited Aécio Neves, a leading opposition senator who stood against Rousseff in the 2014 election. Neves has denied the claims.
The move to appoint Lula was widely seen as an attempt to protect him from the investigation because ministers and lawmakers can only be tried by Brazil's Supreme Court. Lula was being targeted by Sergio Moro, a federal judge at a lower court who is beloved by anti-government protestors for his crusading role in the Petrobras investigation.
The situation became even more inflamed in the early evening when the recording of a telephone call between Rousseff and Lula was released.
In the short call, Rousseff told Lula that she was sending the papers confirming his ministerial role "in case of need." Prosecutors said this, and other wire taps of phone calls made and received by Lula that were also released, showed attempts to interfere in investigations.
A statement from Rousseff's press secretariat said the terms of office being delivered to Lula were for him to sign because it was not certain he would able to attend an official ceremony planned on Thursday.
Police said more than 5,000 people demonstrated near the presidential palace in Brasilia. Thousands more protested in São Paulo – where a huge banner in Brazilian colors was unfurled on the same central Paulista Avenue where at least half a million took part in a protest last Sunday. Police estimated 5,000 at another demonstration in Porto Alegre.
Smaller protests, some with just a few hundred people, broke out at least 18 Brazilian states, according to the G1 news site. There were also outbreaks of pan-bashing and car horn blaring in different cities.
An online petition protesting Lula as a minister began circulating along with calls for a general strike on April 30.
"How wonderful," tweeted João Woerdenbag Filho, a rock signer known as Lobão. "We know that the Workers' Party will leave as the biggest villains in the history of Brazil."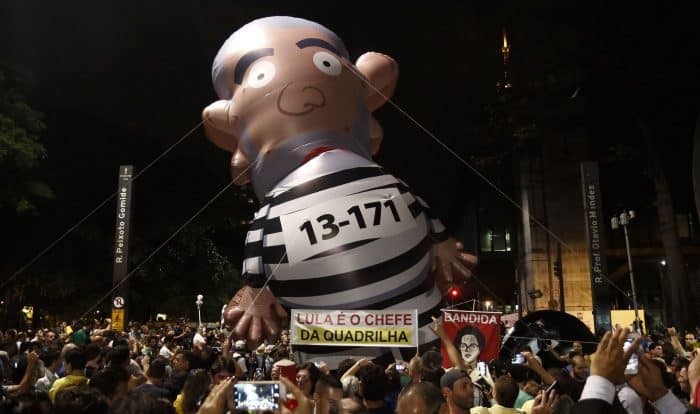 But as Brazilian media began publishing the phone transcripts and recordings, others argued that the Car Wash investigation had lost its neutrality and had taken sides in an increasingly polarized battle.
Nana Queiroz, a journalist and feminist activist in Brasilia, wrote on Facebook that Moro had made it "clear that he has a side and a bias in this story instead of being an impartial judge, as his job demands."
Many were stunned when newsreaders on TV Globo's nightly news program read out selected excerpts in somber voices.
"Comedy and tragedy occasionally go together. How embarrassing!" tweeted the Rio columnist and author Luiz Simas.
There were flashes of tension during the night. Police used pepper spray and stun grenades when a group of protestors in Brasilia approached the Congress, Brazilian television reported. The CBN radio station posted a video of a young couple who were shoved and hit by protestors in São Paulo for apparently disagreeing with the demonstration. Brazilian media reported that police separated pro and anti Lula protestors outside his house on the outskirts of São Paulo — even though he wasn't there.
Many of the phone calls showed Lula railing against the investigation in a blur of four-letter words. But in one conversation from March 4, he appeared to ask Jacques Wagner, the outgoing Chief of Staff and former Defense Minister, to suggest to Rousseff that she attempt to influence a Supreme Court judge.
"Democracy is a free society that demands that those governed know what those who govern them do, even when they seek to act protected by the shadows," Moro wrote in his decision to release the wire taps.
"All the judicial and administrative means available will be adopted to repair the flagrant violation of the law of the Constitution of the Republic, committed by the judge who was author of the leak," Rousseff's statement said.
Pro-government demonstrations against what the Brazilian left argues is an institutional coup are planned in a number of Brazilian cities for this Friday, March 18.