Municipal elections in Costa Rica will be held Sunday, Feb. 7 and the race to lead the capital San José — the country's most populous city with the biggest budget — is a crowded one. Thirteen candidates are vying for the spot, among them several political newbies and one, Johnny Araya, who is extremely familiar with the post of San José mayor. After throwing in the towel during the 2014 presidential campaign, Araya — who previously served as mayor of San José for more than 20 years — is back to try and regain the spot, this time as the candidate of the recently-formed Alliance for San José (PASJ).
Though voter turnout has historically been anemic for municipal elections, especially in San José, the mayor's seat comes with considerable power. The mayor of San José controls a budget of around ₡60 billion (more than $100 million). She or he is responsible for making sure that the some 300,000 people who live in San José have a functioning, orderly and rich quality of life, and that the more than 1 million people who flow through the capital daily for work, study, business or other reasons have a functioning and attractive capital.
The mayor, who proposes plans and budgets, and the municipal council, which approves (or not) those plans and budgets are charged with maintaining city streets and sidewalks, managing wastewater, collecting trash and providing security in the form of the municipal police. They're also in charge of building, maintaining and promoting libraries, parks, municipal theaters and senior centers, and providing and promoting cultural activities.
"In these elections we have the opportunity to vote for the people we think will do the most to improve people's quality of life," said Juan José Echeverría, former president of the Institute for Municipal Development.
Here's who's running for mayor of San José (in alphabetical order):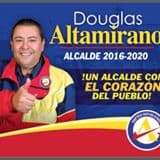 Douglas Altamirano
Age: 54
Party: Social Christian Republican Party (PRSC)
Who is he? A businessman and member of the current municipal council in San José. Altamirano was originally elected to the council for the Social Christian Unity Party (PUSC), but he and some other PUSC politicians, led by former President Rafael Ángel Calderón Fournier (1990-1994), left the party last year and formed the PRSC.
Altamirano says he wants to make it possible to carry out all municipal paperwork online; improve basic and emergency health care by purchasing 10 ambulances and setting up a mobile clinic; increase the municipal police's vehicle fleet and create a municipal police academy; devote resources to repairing at least 60 percent of San José streets; and transform the city's dilapidated Mercado de la Coca-Cola.
You can read his entire plan here.
—

Johnny Araya
Age: 58
Party: Alliance for San José (ASJ)
Who is he? The first mayor of San José, elected in 1998, Araya is trying to return to the post he held for 22 years and left in order to run for president in 2014 as the National Liberation Party (PLN) candidate. Araya left the PLN and joined a new party after he was suspended by the party's ethics committee for dropping his presidential campaign a month before the runoff election against current President Luis Guillermo Solís.
An agronomist and career politician, Araya began working in San José city government in 1982 when he was elected a member of the municipal council.
If elected, Araya wants to provide housing solutions for lower- and middle-class citizens; promote public education and build three technical colleges in needy areas; create a day labor hotline where unemployed or subemployed residents can connect with people who need yard work, cleaning and other basic jobs fulfilled; create new senior centers; increase the number of municipal police; and promote changes at the national level that would allow municipal police to function as transit police.
Araya also proposes investing in clean energy projects and modernizing the public transportation system and infrastructure.
You can read his full plan here.
 —

Marco Antonio Arroyo
Age: 58
Party: Costa Rican Renovation (PRC)
Who is he? A civil engineer running for his first-ever political post, Arroyo's bid for mayor revolves around cleaning up and modernizing the city of San José. As mayor, Arroyo says he would ramp up recycling services for homes and businesses; create an employment center; promote the construction of an aerial train; fix all of the city's sidewalks as part of an emergency plan; and make sure all districts in the city get their fair share of funding. In terms of security, Arroyo says he would focus on improving security in San José neighborhoods.
 —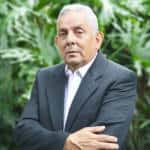 Roberto Barrantes
Party: Solidarity Party (PS)
Age: 71
Who is he? Styled as the candidate of the "people's party," Roberto Barrantes is focused on homelessness, "dignified" public housing and security. His plan for the city includes providing support for "micro" businesses for the city's poorest. Barrantes said new businesses should not be taxed until they can "economically support themselves" as a way to generate jobs and encourage entrepreneurism. He also wants to launch hydroponic gardens and an "adopt a fruit tree" campaign to help low-income families feed themselves and generate extra income. Barrantes also wants the mayor to provide public progress reports every three months.
You can find out more about Barrantes and his plan on his website.
—

Vanessa Calvo
Age: 46
Party: Libertarian Movement Party (PML)
Who is she? Calvo is a lawyer and businesswoman who thinks the municipality should intervene to help businesses facing red tape with the central government. If elected, she says she'll promote tax amnesty for elderly residents who can't pay property taxes, set up scholarships for outstanding students who attend private schools and English schools, use street theater to promote civic campaigns and start a bike rental program in San José.
She also wants to set up free Wi-Fi in public places, build public bathrooms and create a digital hub were people can consult bus and train schedules.
In terms of security, Calvo would establish closed-circuit monitoring systems at bus and train stops.
You can read all of her proposals here.
 —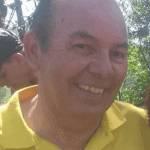 Fernando Castillo
Age: 59
Party: United Forces for Change (PFUPEC)
Who is he? The president of the United Forces for Change party, Castillo works as an evangelical pastor. If elected, Castillo proposes opening 75 soup kitchens to feed needy children and 10 clinics to serve homeless people, alcoholics and drug addicts. The PFUPEC declares on its Facebook page that it is a "political party with firm biblical convictions."
—

José Manuel Echandi
Age: 51
Party: National Integration Party (PIN)
Who is he? The grandnephew of former President Mario Echandi (1958-1962), José Manuel Echandi has a long political history dating back to his appointment as Costa Rica's ombudsman in 2001. After his post ended, the San José native was elected as a lawmaker for the National Union Party, where he emerged as a strong advocate for the Central American Free Trade Agreement.
Echandi has unsuccessfully run for president twice under the banner of different conservative political parties. He is now a member of the minor National Integration Party, which currently has no representatives in the Legislative Assembly.
If elected mayor, Echandi plans to focus on security, employment, the environment, health, developing better sports programs and improving services for the elderly. You can read more about his plan here.
 —

Guido Granados
Age: 68
Party: National Liberation Party (PLN)
Who is he? A lawyer and entrepreneur Granados is the husband of current San José Mayor Sandra García Pérez and also served as a lawmaker from 1982 to 1986. He also served on city council from 1978 to 1982. He has served as a member of the board of directors of the National Oil Refinery (RECOPE) and the Public Services Regulatory Authority (ARESEP).
His campaign is based on four principles: human sensitivity, environmental sustainability, economic development, and ethical and moral principles. If elected, Granados plans to develop projects aimed mostly at the elderly, women, minors, disabled and homeless people. He also seeks to promote sports and recreation, reduce the city's ecological footprint, repopulate the canton and ensure transparency in municipal government.
Upon accepting his nomination in August, Granados said he made the decision to run for mayor in May 2014, right after the PLN's defeat in the presidential runoff election.
You can read Granados' full governing plan here or visit his website.
 —

Israel Guillén
Age: 61
Party: Broad Front Party (FA)
Who is he? A longtime left-leaning political activist and Broad Front operative. Guillén wants to enhance public involvement in municipal government, including in the budget and planning process. Guillén also wants to reorganize public transportation in San José, creating a system of bus terminals and a bus route around the city center.
Guillén wants to reestablish municipal trash collection (San José has contracted out its trash management to Mexican firm PASA since 2010) and create a municipal compost center. On the public safety front, Guillén proposes improving public lighting and amplifying the system of security cameras around the city.
You can read Guillén's entire plan here.
 —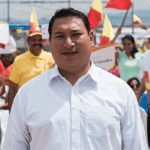 Daguer Hernández
Age: 31
Party: Citizen Action Party (PAC)
Who is he? Daguer Hernández is a lawyer and current member of the San José municipal council. He has been involved in municipal government since 2006.
Hernández's plan focuses in large part on quality of life issues in San José, among others. He's sure to attract some young voters with his promise to provide free Wi-Fi in public parks and libraries in San José. The platform calls for more aggressive recycling programs, including an "environmental executive" who would coordinate public education about recycling and waste management with door-to-door recycling pickup along certain routes. There would also be "micro" recycling centers where locals can leave their unseparated recycling in repurposed shipping containers for pick up. Hernández also wants to create a bike-sharing system in San José and promote more urban cycling.
Hernández's plan to help re-populate San José evidently includes the living and the deceased. He wants to open a new municipal cemetery and clean up some of downtown San José's neighborhoods, from the underutilized Chinatown/Paseo de los Estudiantes to the seedy Paso de la Vaca sector near downtown.
You can find out more about Hernández and his governing plan on his website.
—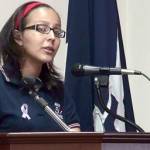 Laura Morúa
Age: 30
Party: Worker's Party (PT)
Who is she? Morúa is a party activist and union leader in the National Association of Public and Private Employees (ANEP). She is one of just two female candidates in San José's mayoral election. Morúa, who is pregnant, wants to provide free daycare so that women can work.
You can find out more about the candidate on her Facebook page.
 —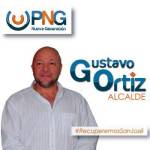 Gustavo Ortiz
Age: 56
Party: New Generation (PNG)
Who is he? A lawyer and businessman, Ortiz is seeking his first public office. In addition to his private practice, he is the founder of Fundación Libertad y Esperanza, a nonprofit social services group.
His campaign proposes goals divided into four principles: social and human development, public infrastructure, culture, and citizen opportunities. As short-term objectives, Ortiz proposes four specific goals: improving transparency and preventing corruption; improving citizen safety in public spaces; reducing red tape in municipal services; and increasing assistance to the poor, elderly and homeless.
Find more information at the PNG Facebook page. (As of this writing, the PNG website was down.)
 —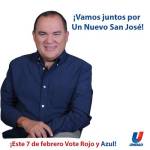 Jorge Eduardo Sánchez
Age: 53
Party: Social Christian Unity Party (PUSC)
Who is he? Sánchez, a lawyer, has served as a lawmaker for the PUSC three times (1990-1994, 1998-2002, 2006-2010). He is running on a "tale of two cities" platform. The PUSC candidate said after his nomination in July 2015 that erstwhile National Liberation Party mayor and presidential candidate Johnny Araya left San José "dirty and unsafe" after his two decade run at the city's helm. Addressing poverty, homelessness, affordable housing and a municipal-level job training center are among Sánchez's priorities for the next four years.
Besides poverty and safety, Sánchez's proposed agenda is not shy about taking some bold steps when it comes to addressing the city's "chaotic" street traffic. Sánchez proposes a law that would give the city imminent domain-like powers to expropriate land in favor of urban development plans and to improve the city's roadways and sewers. He calls for widening sidewalks, keeping buses out of downtown San José and for taking a decidedly not pura vida approach to illegally parked cars.
You can read Sánchez's entire governing plan here and visit his Facebook page for more information.
Vote on February 7!