Costa Rican singer, songwriter, poet, and folklorist Abdénago Torres Melendez; better known as "Nago de Nicoya" is a one-man force of nature when it comes to sharing Costa Rican with the world. His unique contributions were recognized on Jan. 22 the International Council of Organizations of Folklore Festivals and Folk Arts (CIOFF), an association that forms part of UNESCO, gave him a silver medal for his pioneering work. Torres is one of the founders of the CIOFF in the Americas, and is the honorary president of CIOFF Costa Rica. He is the very first Costa Rican ever to receive this recognition, and fourth in the Americas.
We visited Nago, who is the father of Tico Times creative director Haime Luna, at his home at Sámara Beach in the northwestern province of Guanacaste. He kindly offered us a cup of coffee and, always with a smile on his face, told us his story and played us some songs on his guitar.
"People never expect that in a little town or in a little country, a person who is seen as 'less' can actually do something," he said. "People think that only those from the big cities will do something important. I was born in a little town, a community of traditions. But sometimes you are inside a community full of beautiful traditions and you don't notice it."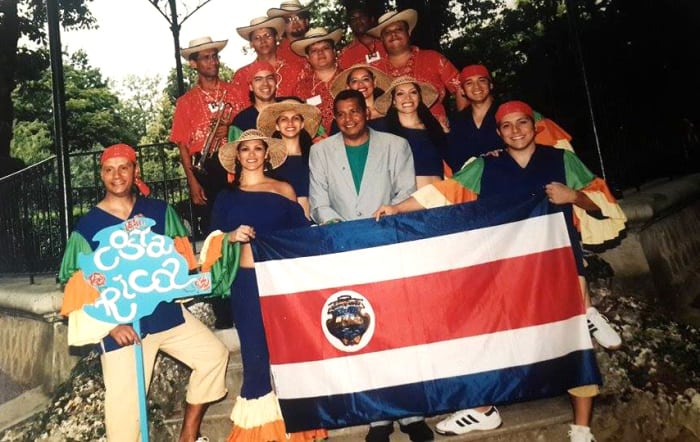 Nago, instead of singing the traditional rancheras and other rhythms from Guanacaste, wanted at first to become an opera singer and a piano player.
"What I liked was to sing opera, ballads, not what I grew up on," he explained. "Anyone would say I had to sing 'Caballito Nicoyano' or other 'rancheras', but no, I liked the opera, because that was what I felt inside. But later, things switched. I became the recovery of the culture of my people."
"I left [for San José] really young expecting to get into Castella High School to study piano and opera, but there were no spaces, so I had to study at Monseñor Sanabria Highschool. There, I created an orchestra and started doing raffles to raise money for instruments. I started to sing: ballads, rock music."
During his high-school years, Nago also founded a rock band named The Beast Boys and, as a soloist, sang ballads in other languages such as French and Portuguese. He says this surprised people because of his rural background: "You see, you don't have the right to do something just because you come from a specific place."
After a while, Nago decided to take the culture of his people and transmit it to the world, and to tell the stories of a Costa Rica that many ignored.
"I took off that costume I was wearing [in denying my roots], and said 'I want to be me. I don't want to sing those songs in other languages anymore. I want to sing to my people, to sing what I feel.' Because, otherwise, I wouldn't have been able to transcend," he recalls, describing how he began to dress for performances as a Samareño with bull horn, water gourd and caites, traditional leather sandals. "I sang about what I had always had, but hadn't noticed."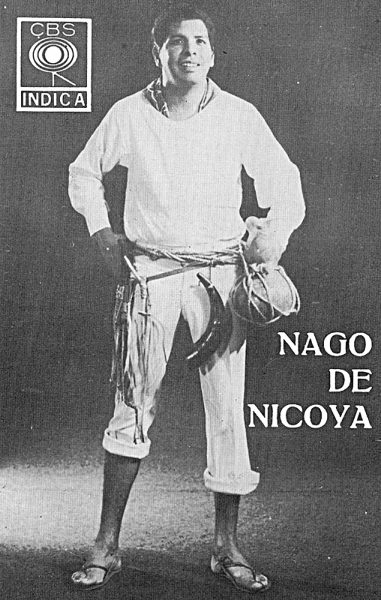 This shift opened the path for Nago to create the folkloric group CURIME during the 1970s, made up of approximately 75 people. This would one of Costa Rica's most significant musical groups: it traveled all around the world, spreading Costa Rican culture through folkloric music. Many of its former members now direct their own folkloric groups around the country. CURIME's success opened doors so that future Costa Rican musicians to travel and share their work.
Nago says one of his best songs was "Mundo de Amigos" ("World of Friends"): "Voy a recorrer el mundo, voy a navegar los mares, voy a caminar la tierra para encontrar mas amigos. Mundo, mundo, hermoso mundo de amigos." ("I'm going to travel the world, to sail the seven seas, to walk the earth to find my friends. World, world, beautiful world of friends.")
He also likes to speak about the song "Costa Rica 500 años" ("Costa Rica 500 Years"), which speaks about the story of Nicoya, a cradle of Costa Rican and American history. Nago proudly recounts that the song "was used in a World Congress of historians held in Nicoya many years ago." It features contemporary instruments mixed with indigenous instruments and narrates the events that followed the arrival of the Spaniards.
"When I founded CURIME and we started traveling around the world, I discovered that's what I actually [dreamed of] since childhood," Nago said. "When I was a child I pretended that I had a big group of artists, like a circus. I dreamed about having that circus and being part of it. And, actually, I did. With Sarita Montiel, and other artists, and me singing there.
"Deep inside you, there's always something you haven't discovered. [That's what happened to me with folk music.] It's about beginning to discover yourself, and starting to like yourself. You have to feel it, because as long as you feel it, it will stay alive."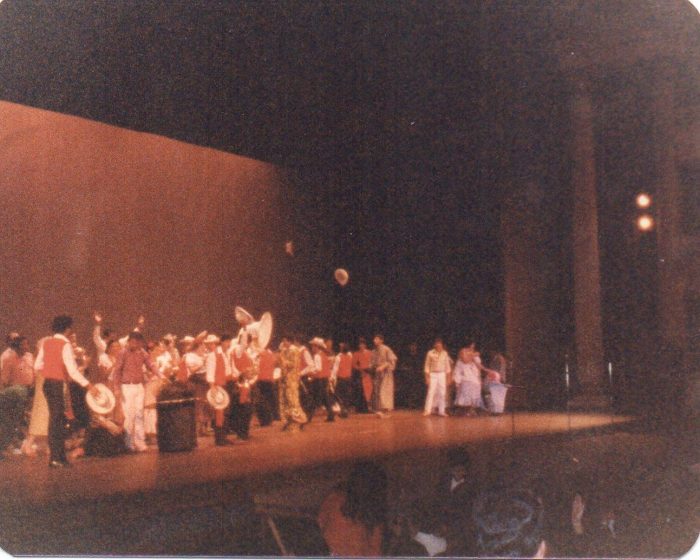 Nago also worked at the Ministry of Culture from 1972 to 2008, where he had to "dream," as he says, in order to develop ambitious projects around the country. Reaffirming his work as a pioneer of Costa Rican culture, he "created many cultural centers (Casa de Cultura) and culture committees nationwide. I visited the towns, I created the Matambu Reserve; I proposed the creation of the Miners' Park and Barra Honda National Park, and even proposed turning Sámara into a National Park, but, sadly, that didn't happen.
"I got to the Culture Minister dreaming of doing things for the others," he said with evident satisfaction. "I wanted to use all the deficiencies I had when I was a child as a reference to make things easier for the others [to avoid them experiencing the same deficits]."
Now, "Nago de Nicoya" has received what he says is the biggest recognition he could imagine. It represents his love of his people and his country, and his diverse experiences visiting locations worldwide.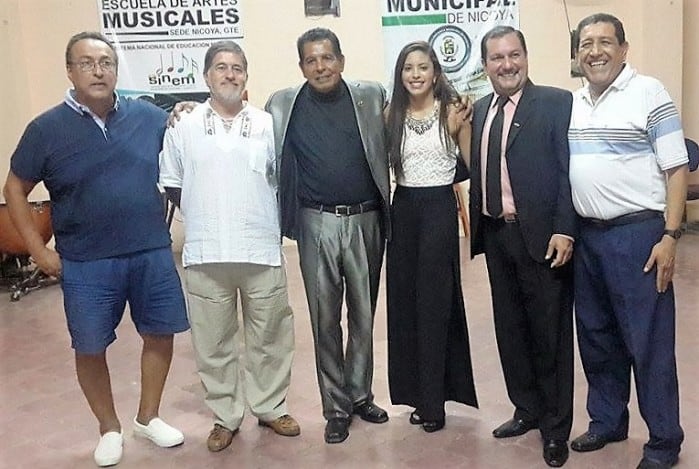 "I don't do things expecting a recognition, but if they do come, it is because of my love of my people," he says, explaining that he become involved in the UNESCO-based CIOFF organization after meeting some of its founders during a trip to Europe several years ago. He joined the organization and successfully lobbied for its expansion to the Americas, an achievement that made it easier for American artists to share their work in Europe. The silver medal was awarded in a special ceremony organized by CIOFF Costa Rica in Nicoya.
"I have had plenty of recognitions around the world, and have sung to big personalities, as well as to humble people, and of course, I enjoyed it. The thing is that this recognition, seems to me, that is part of a life trayectory, that's why I like it."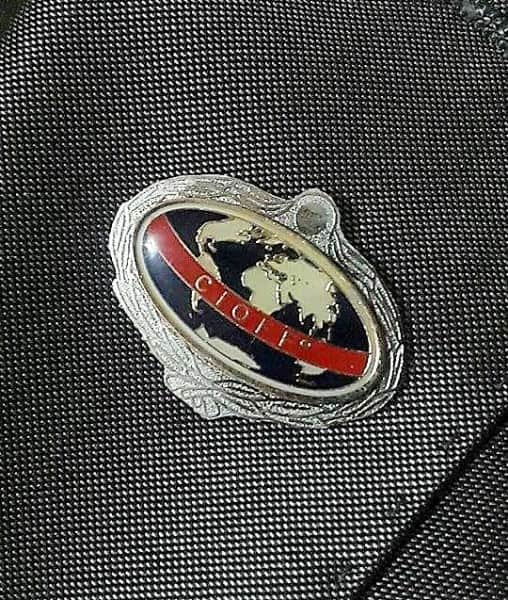 Sámara, his home today, is a place he visited as a child and has always loved, he says.
"[Actually] I have always lived here, but in my dreams," he said. "I used to come as a child, and I remember we slept on the beach." Said Nago happily. "My parents later bought us [Nago and his siblings] this property. I had the opportunity to work in Cordova, and also in the Costa Rican Embassy in Paris, but I decided I wouldn't leave Sámara."
Nago refused to state his age for our interview.
"Age is just a number," he said. "It seems silly to me. It doesn't exist, and I don't like what doesn't exist… I don't want to travel anymore. I came here to be calm. The goal now is to re-think; you can always help in other ways. I'm thinking about a park here; also, people [who come to the beach] need bathrooms, places to keep their belongings. I want Sámara to be a place that offers all kind of services. I want people to have the basic conditions to be happy."
He also continues writing songs and poems, and playing his guitar surrounded by his loved ones.
"My life is to write a song: first, to feel it, to sing it and to love it. Then, if someone likes it, ¡qué dicha! That's great. But I [have never written songs] to sell albums. I write songs because I feel them, and that's the important to me. I can go on for years without writing a song, or I can write many songs in just one minute, [because] it is in the moment that [inspiration] strikes.
"People like me fall in love every day. I fall in love every day. If not, my life makes no sense. I have to fall in love every single day to do something, to feel something, to write something. We poets dream easily. The important thing is to be able to catch happiness in one second."