MEXICO CITY – Betrayed by his desire to make a biopic, Mexican drug kingpin Joaquín "El Chapo" Guzmán was back Saturday in the prison he escaped from six months ago, amid calls to extradite him to the United States.
The world's most wanted drug baron was arrested in a military raid early Friday that left five suspects dead in Los Mochis, a coastal city in his native northwestern state of Sinaloa.
Hours later, the Sinaloa cartel kingpin was flown in a military helicopter from Mexico City to the Altiplano maximum-security prison, the scene of his daring July 11, 2015 escape some 90 kilometers (55 miles) west of the capital.
On July 11, after just 17 months at Altiplano, Guzmán slipped through a hole in his prison cell's shower, climbed on a motorcycle mounted on rails, and traveled 1.5 kilometers (one mile) through a tunnel to freedom.
But six months later, Guzmán was back in the prison after authorities located him, in part because the kingpin wanted to make a biographical film about himself, according to Attorney General Arely Gómez.
Gómez said an "important aspect that allowed us to locate him was that we discovered Guzmán's intention to make a biographical film, for which he established contact with actresses and producers."
"The follow-up work allowed us to document meetings between attorneys of the now-detainee and these people," she said, adding that the matter was under investigation.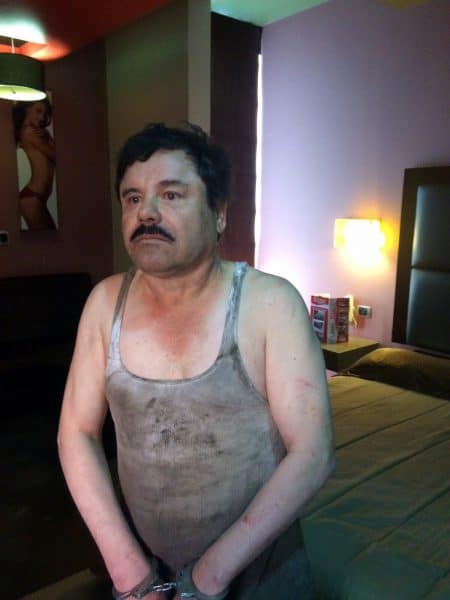 Another tunnel escape
The manhunt led to his recapture, which featured one last underground escape for the man who became known as "The Lord of Tunnels" for his ability to ship drugs to the U.S. under the border and dig his way out of trouble.
Guzmán was nearly captured in the mountain region in October, but marines chasing him in a helicopter decided not to shoot because he was accompanied by two women and a girl, Gómez said.
The months-long investigation culminated in a house in Los Mochis, which authorities began to stake out in December.
Marines were met by gunfire when they swooped in on Friday, leaving five suspects dead and one marine wounded. Six others were detained in the operation.
Guzmán and his security chief fled through the city's drainage system, repeating a tactic the drug kingpin successfully used in escaping authorities in 2014 in the nearby city of Culiacán. This time however the marines expected such a move, Gómez said.
The wanted men came out of a manhole and stole a car, but they were captured on a road and taken to a motel, where Guzmán was seated on a bed, wearing a dirty sleeveless shirt — an ignominious end for a kingpin whose billionaire drug business reaches as far as Asia and Europe.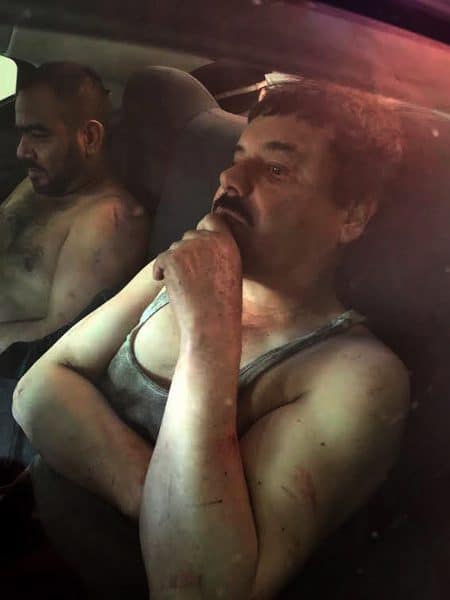 Extradition calls
The 58-year-old's arrest provided a major sigh of relief for President Enrique Peña Nieto, whose administration was humiliated when Guzmán broke out of prison.
"Mission accomplished: We got him," Peña Nieto wrote on Twitter.
But calls quickly mounted among U.S. politicians for Mexico to ship Guzmán to the United States, where he also faces charges in half a dozen U.S. states. The U.S. had sent an extradition request two weeks before his July escape.
Some questioned Mexico's ability to hold Guzmán, who previously escaped from another maximum-security prison in 2001 by hiding in a laundry cart with inside help.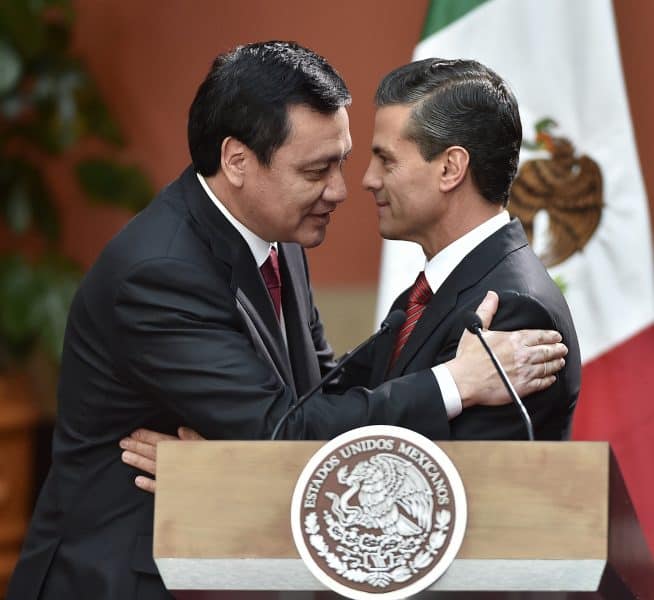 More than a dozen prison and federal police officials have been arrested on charges of helping Guzmán flee again last year, along with several associates of the drug lord who worked from the outside on building the tunnel.
"Given that 'El Chapo' has already escaped from Mexican prison twice, this third opportunity to bring him to justice cannot be squandered," said U.S. Senator and Republican presidential hopeful Marco Rubio.
Senator John McCain congratulated Mexico's navy for the capture, but he added: "Now let's extradite him to the U.S."
U.S. President Barack Obama's administration did not indicate whether it would press Peña Nieto to send Guzmán across the border.
U.S. Attorney General Loretta Lynch said Guzmán will "now have to answer for his alleged crimes," without indicating where.
The Mexican attorney general's office secured an extradition warrant in September, but Guzmán's attorneys sought an injunction that could delay the process.
But a leading Mexican politician, Senator Miguel Barbosa of the leftist opposition Democratic Revolution Party, is already opposing an extradition.
"The easiest thing would be to swiftly extradite 'Chapo' Guzmán and, once again, the Mexican state shows that it doesn't have the strength to punish those who commit crimes in our territory," Barbosa said.