DRAKE BAY, Puntarenas — I can't say we weren't warned about driving to Drake Bay.
"I do not recommend driving to Drake Bay," my Costa Rica guidebook bluntly advised.
And the directions emailed by our destination, La Paloma Lodge, said: "Please be advised that driving to Drake Bay can be a welcome adventure or a costly and stressful experience." The directions noted that toward the end of the "quasi road" is the "very wide," unbridged Río Drake.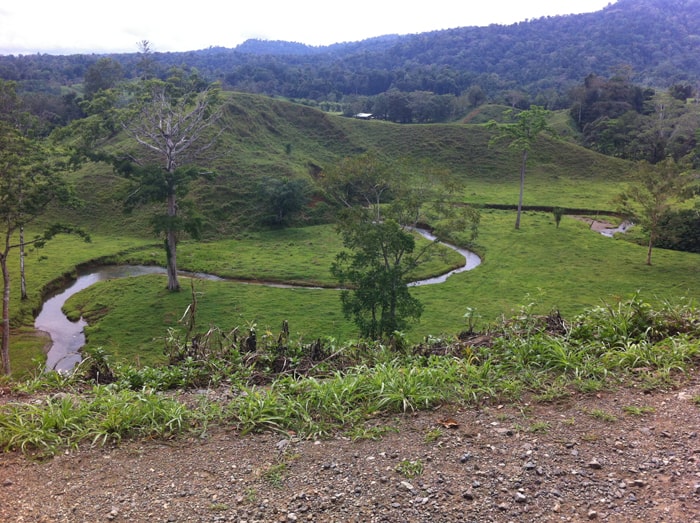 "This river does have some deep sections and a loss of gravel on the river bottom," La Paloma warned. "With heavy rainfall it is common for this river to become swollen and sometimes even impassable.  We encourage our guests to leave their cars at the Drake airstrip … and finish the final leg of the trip to Drake by taxi."
It sounded like a challenge to my 25-year-old son Jordan and me, and we rarely shy away from an adventure.

So we set out from Dominical, gassed up in Palmar Norte, hung a right at Chacarita and then turned off the pavement in Rincón, where the sign said it was 30 kilometers to Drake Bay. The gravel road is surprisingly smooth at first — we actually drove much of it in third gear.
Then we came to a very scary bridge — maybe 3 meters above the water, maybe 7 meters long, and only centimeters wider than our car, if that, with no rails. There were two planks where our tires were supposed to go, with some boards in the middle that probably wouldn't support the weight of my 1998 Grand Vitara, aka the Blue Demon.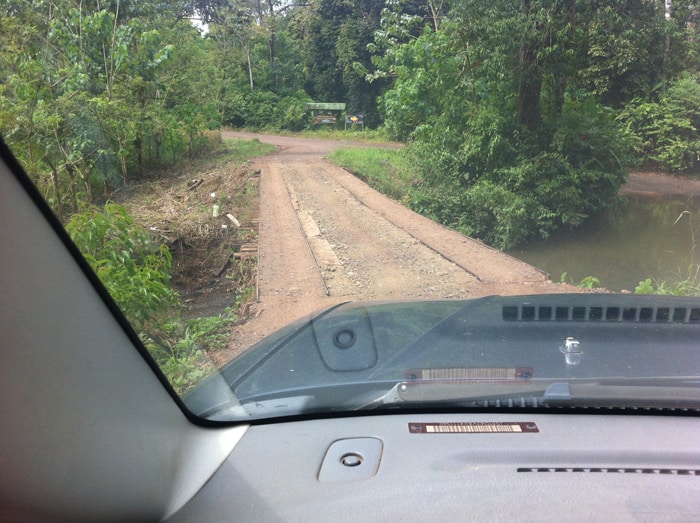 And it wouldn't matter anyway, because if one set of tires drove onto these boards, the other set of tires would be driving on thin air, and we would plunge into the creek below.
After much gleeful exclaiming over this rickety bridge, I steered the car onto it ve-e-e-ery carefully.
"Let's see, I think my tires are here," I said.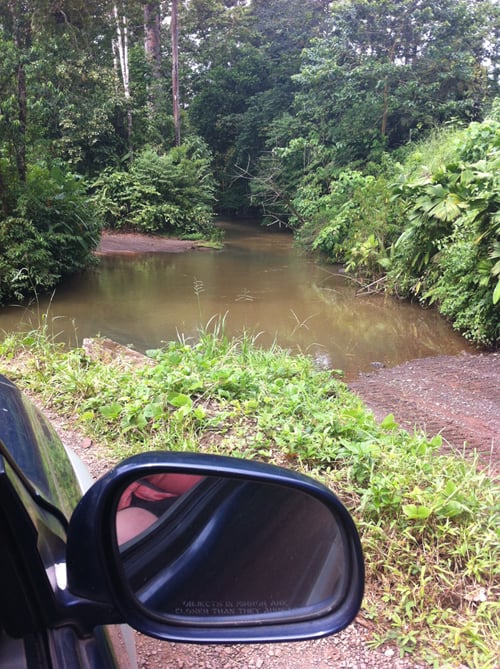 "Hey, this would be a good time for another stick-shift driving lesson," Jordan said.
"I don't think so," said Dad.
After the two-plank bridge, we reached a succession of three streams we had to cross, plus some steep uphills and downhills on a narrow road where skirting oncoming traffic was a challenge.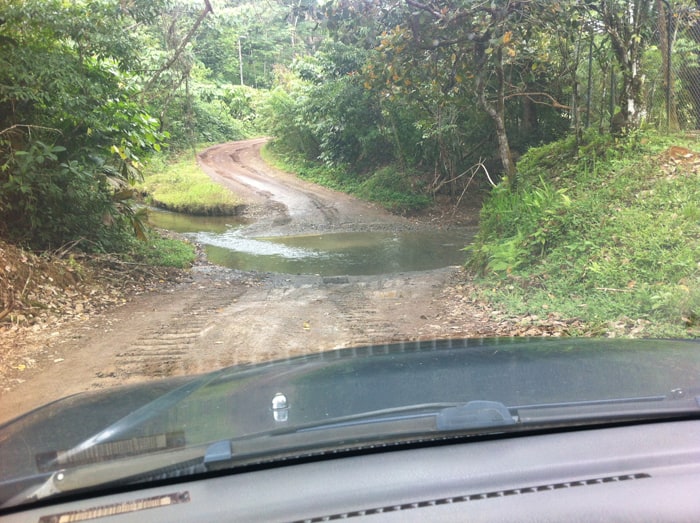 At the third and widest stream, we got out and looked it over. When in doubt, it's always best to wait and see where the locals cross, so I hoped for another car to come along and show us the way.
(And of course I was mindful of the story I covered in which four French tourists were brutally assaulted and robbed in Guanacaste when ambushed at a crossing like this, where the robbers knew people had to get out of their cars to check the river's depth. But this was a much less isolated place and, we trusted, there were kinder, gentler people here.)
Jordan volunteered to wade across to find the shallowest passage. The water came to his knees, so it seemed doable.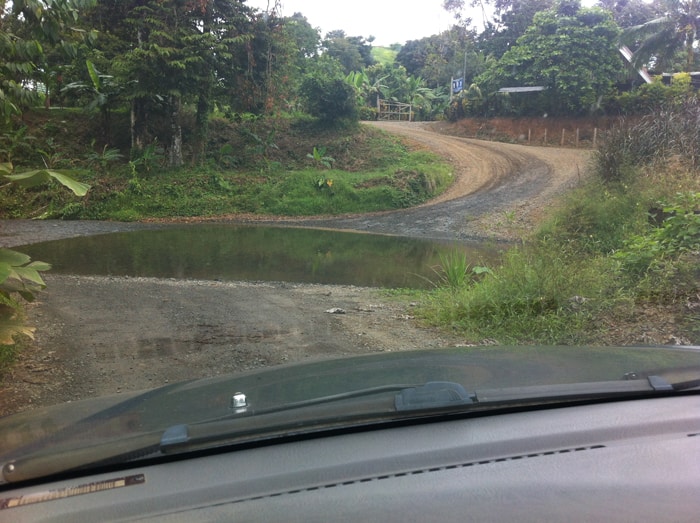 But a man on the other side came out of his house, which turned out to be the Drake Bay Backpackers Hostel, and advised us to head to the left and drive in a semicircle along some miniature rapids, which made sense because you could see the shallow gravel that was creating the ripples.
"But there's a big river further on," the man warned. "If you want, you can park your car here and I'll take you the rest of the way."
I asked how much, and he said $20. I said I would think about it.
I drove across the stream without incident. On the other side I approached the man, still mulling his offer — in part because even if the river was fordable today, heavy rains in the next two days might make it much deeper.
But the man told me that with four-wheel drive I should be able to cross the river no problem, provided I crossed where the locals do. He told me if I had a problem, I could come back.
So we drove on, and soon we came to the Río Drake. It was indeed quite wide, but it didn't look terribly deep. Again Jordan set out to wade it, and he started out fine, but toward the far side he was up to his thighs. That could be a problem, as Jordan is about 6-foot-2.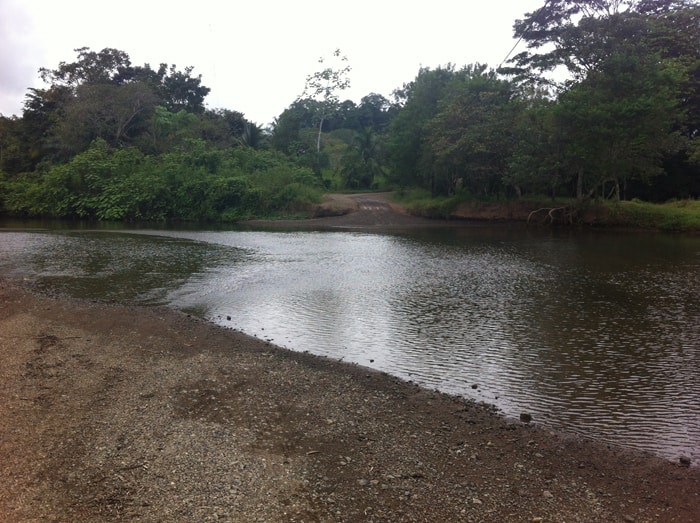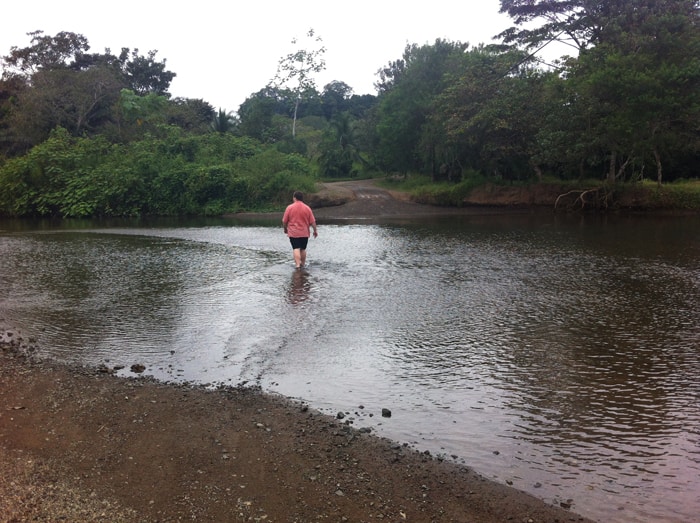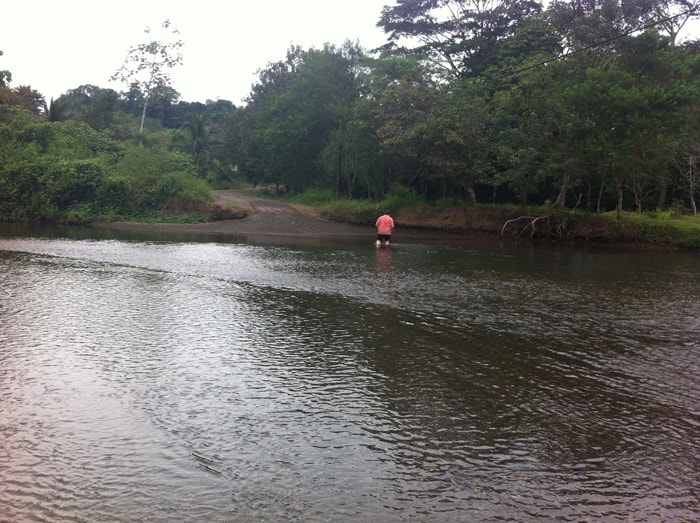 Again I saw a man on the other side, and I shouted, "¿Por dónde cruzan?" He pointed to his right, to a completely different stretch of river that led to a different road.
"Really?" I asked. "Not this way?" He said it could be done this way, but "es muy hondo," it's very deep.
At this point Jordan and I saw a motorcycle cross at the place the man had indicated, and another man had parked his motorcycle in the middle of the river to wash it. It didn't look very deep.
Jordan waded in this new direction, going no deeper than his knees. He indicated that I should come ahead.
I put the car in 4WD low and splashed into the water, mindful not to go either too fast or too slow. The Blue Demon crossed the river without a hiccup. Success!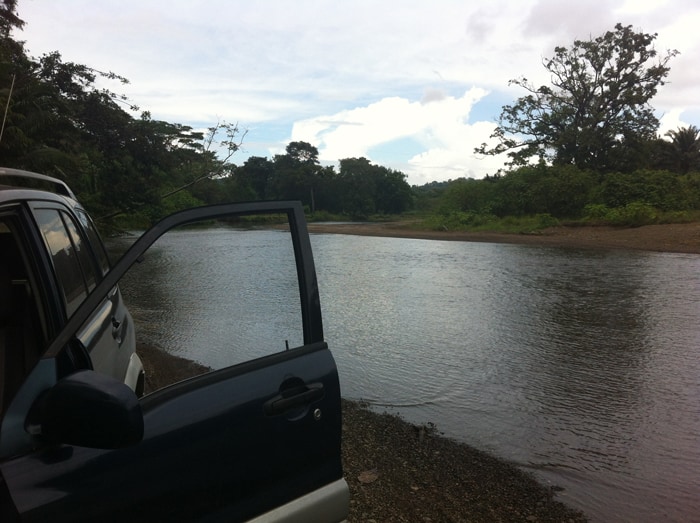 In a few minutes we were in Agujitas, the actual name of the town commonly called Drake Bay, following directions to the Escuela Bahía Drake, the Fundación Corcovado and Doña Emilce's house, where we could park our car for ₡3,000 ($6) per night.
We called La Paloma Lodge for our pickup by boat, and though nobody answered in four attempts, and there was no way to leave a message, Doña Emilce verified that we had the correct number. She called somebody who knew somebody who worked there, and she assured us that the boat would be here soon. She told us to walk down to the beach and wait.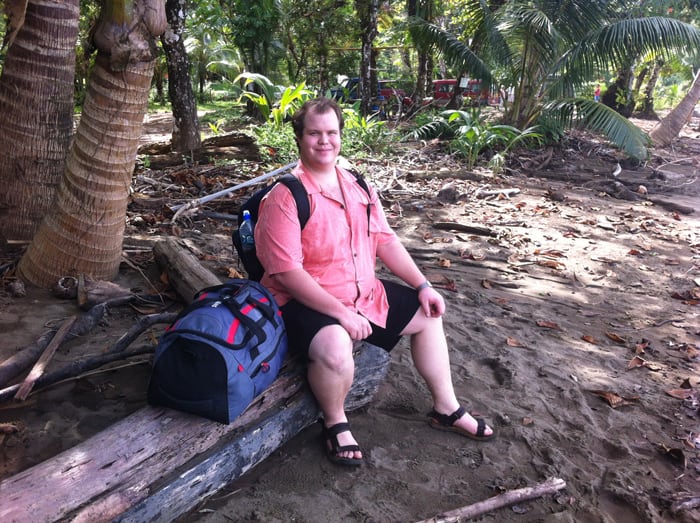 The boat was there within 20 minutes. Two guys muscled it backwards onto the beach and grabbed our bags, and we jumped in. (Tip: This may be obvious, but don't wear hiking boots to board a boat on the beach; wear flipflops or sandals or just go barefoot.)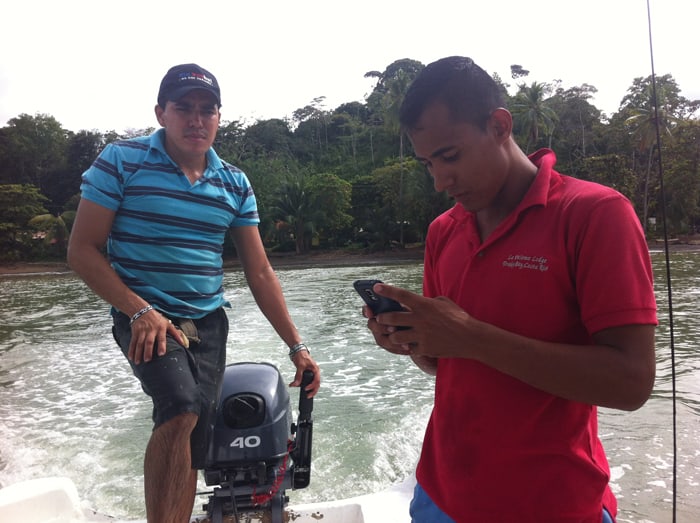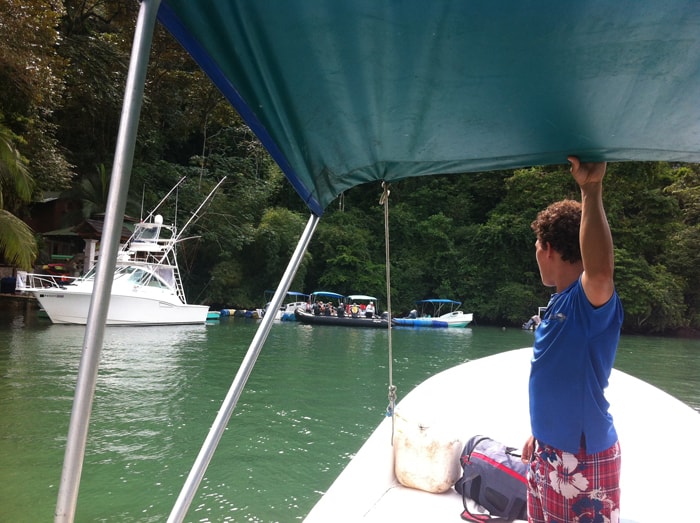 After a short boat ride, we pulled up to the dock at La Paloma Lodge and were met by the day manager, Dinia, who introduced us to her "jungle car" and drove us up a steep incline to the base of the stone steps leading to the lodge. We were told to leave our bags in the car for the guys to put in our room. ("¿Seguro?" "¡Seguro!" I was unaccustomed to such service.)
Dinia led us up the steps and along the stone walkway to the large (and beautiful) dining room and reception area. She showed us some chairs where we could put our backpacks, showed us where the restrooms were, and escorted us to a table set for two.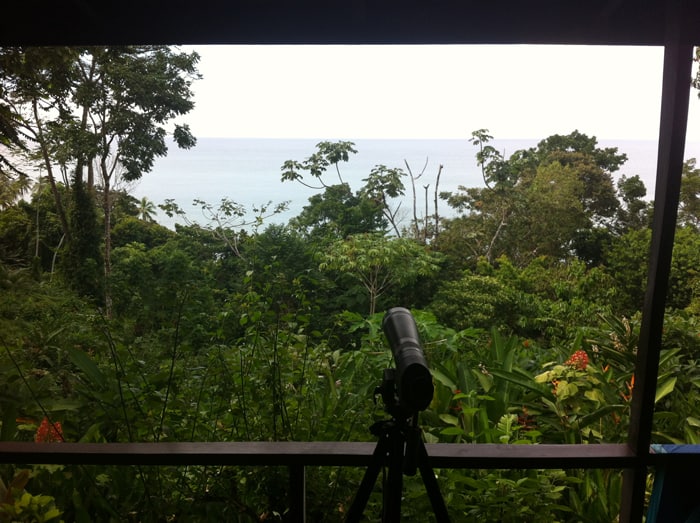 They had said lunch would be ready when we arrived, but I was a little worried we had arrived too late. But it occurred to me now that this was about our convenience, not theirs, and if we had arrived three hours later, we still would have been served something.
Waiters brought us papaya, pineapple, watermelon and tasty homemade bread, and asked if we would prefer a taco salad or sesame chicken noodles. We ordered one of each and filled our empty stomachs. (Jordan opined that the food was satisfying but not fine dining, while I thought it was perfectly adequate for an arrival lunch.)
The night manager, Jamaica, sat with us and gave us a thorough preview of our stay. She said we would be going on a boat tour to Sirena at Corcovado National Park tomorrow at 6 a.m., and she advised us on what to bring and said we could eat an early breakfast at 5:40 or so. She told us how to get to the beach, asked us our preferences on the dinner options tonight (sesame seared tuna or eggplant or chicken parmesan) and quizzed us on any special dietary needs.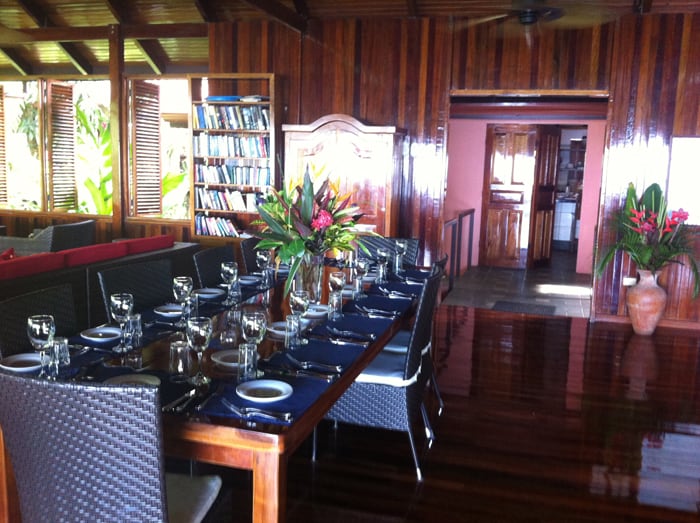 Then Jamaica showed us to our suite, which was stunning — a two-story stand-alone building with a bedroom and bathroom upstairs and down, connected by a spiral staircase, with gleaming hardwood everywhere and a large deck with chairs and a hammock facing the ocean.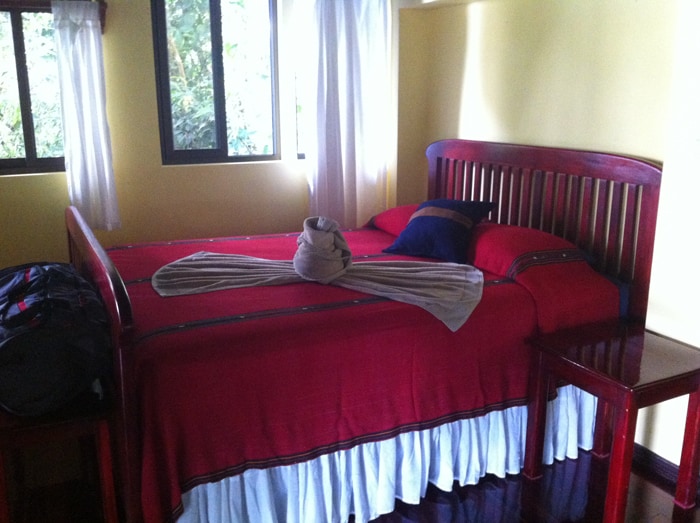 The only major glitch was that the downstairs bathroom was not working, and was therefore locked, but Jamaica said it would be fixed tomorrow, though it was never fixed and never unlocked. Also, there was no trash can in the entire house, though one appeared in the upstairs bathroom on Day 2; however, this inconvenience was more than offset by the luxury of knowing that we could flush our toilet paper.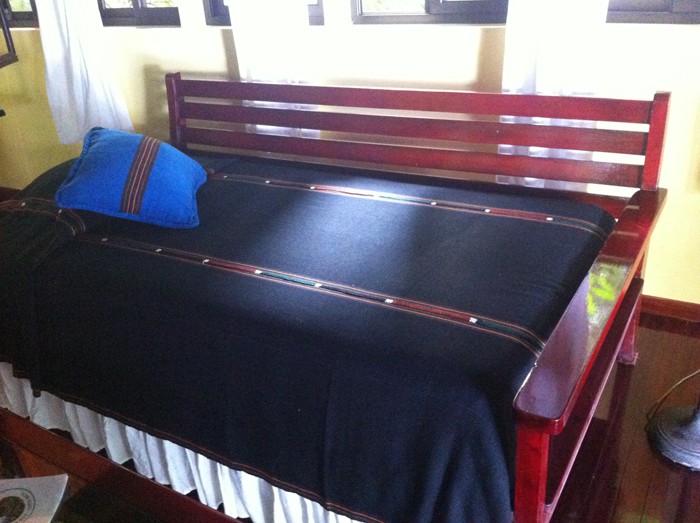 Also, there were only two-prong outlets downstairs, which made it impossible for me to charge my laptop, though Jordan told me later that there were three-prong outlets upstairs.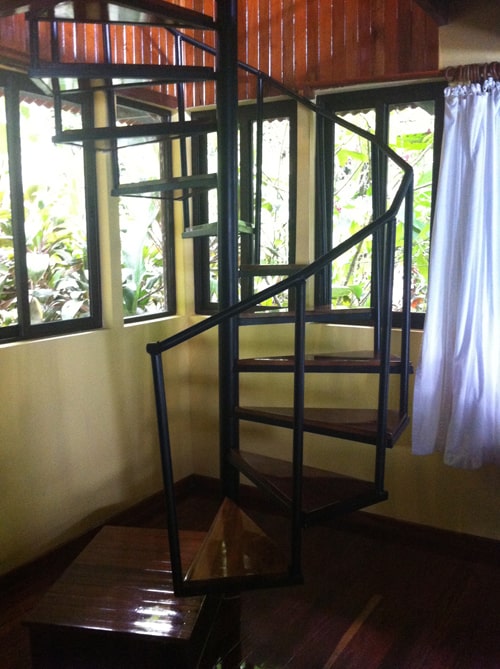 Also, when we visited the bar we found that the cocktails were generally excellent, especially the piña colada, though I would advise you to skip the daiquiri.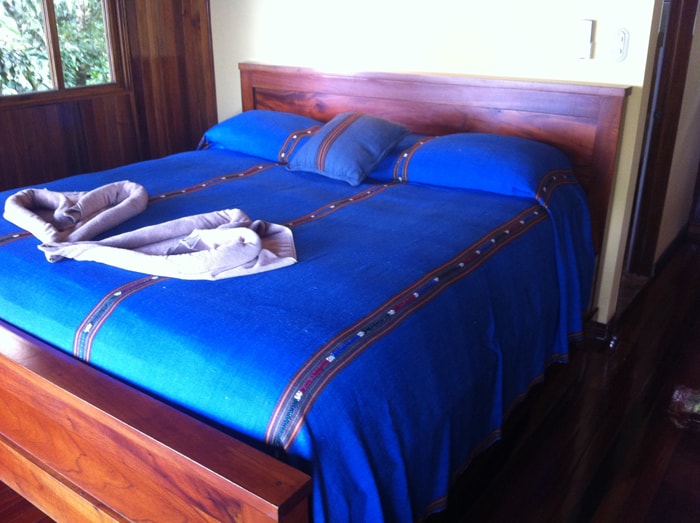 Full disclosure: Although The Tico Times generally reviews hotels anonymously and pays full price, La Paloma Lodge offered two nights' lodging free in consideration of a review in another publication.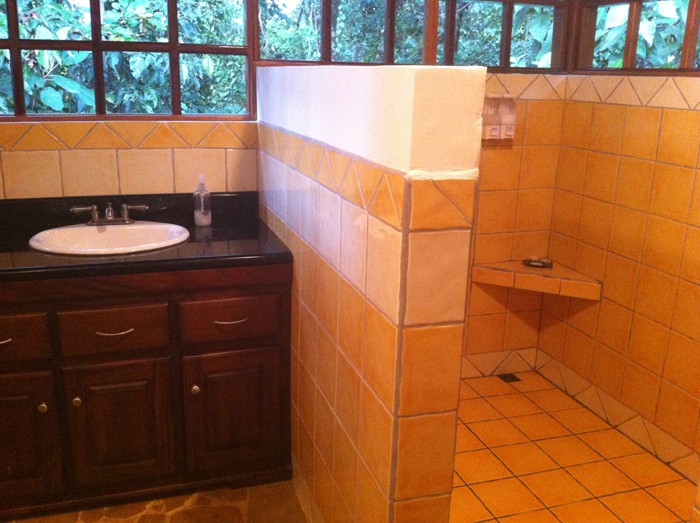 Around 6 p.m. guests gathered in the dining area for cocktails and snacks, and at 6:45 dinner was served at long tables where all the guests could get to know each other. We had a delicious four-course meal — soup, salad, entrée and dessert, all of it served by attentive waiters (not a buffet).
The sesame seared tuna was divine, the wine was complimentary, and Jordan seemed to agree that this was fine dining after all. In fact, after a weeklong tour of several upscale ecolodges in the Osa, we would conclude that La Paloma had the best food.
Dinner ended at 8:15, and guests started drifting back to their rooms to rest up for their adventures tomorrow.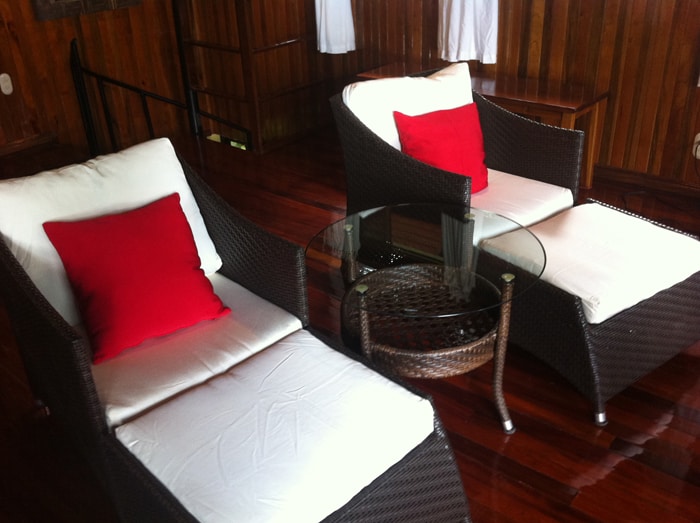 I fell asleep, eventually, to the sound of the turbulent ocean crashing on the beach just below my room. Did I sleep well? Sure, mostly, though I never sleep very well with an alarm set for 5:15, knowing I have to be standing on a dock ready for adventure at 6 a.m.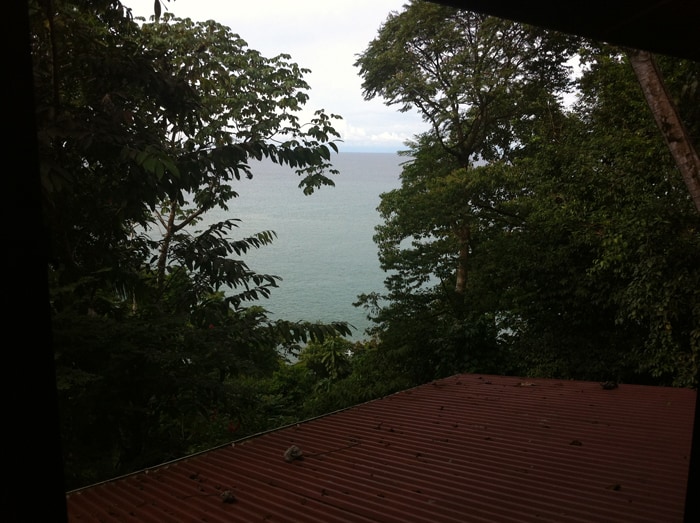 I awoke at first light with the usual question I ask myself first thing in the morning:
Where the hell am I?
(To be continued….)
IF YOU GO
Getting there: The easiest way to get to Drake Bay is to fly into the local airstrip, with transportation to your lodge arranged from there. The next easiest is to take a boat from Sierpe, with transportation to your lodge arranged from there. The most challenging way is to drive all the way to Drake Bay, with transportation to your lodge arranged from there.
Rates: La Paloma Lodge charges $990–$1,245 per person for 4 days/3 nights with 2 tours; $1,235–$1,575 per person for 5 days/4 nights with 2 tours. Rates are based on double occupancy and include all meals, park fees and tours. Rates are slightly lower in the off-season.
What to bring: Be prepared for heat, rain and bugs.
For more info: http://www.lapalomalodge.com.
Contact Karl Kahler at kkahler@ticotimes.net.