ZURICH, Switzerland – A FIFA ethics tribunal on Monday banned Sepp Blatter and Michel Platini for eight years saying they had abused their positions over a suspect 2 million Swiss franc payment.
The court strongly criticized the FIFA president and vice president, saying there was "no legal basis" for the payment that Blatter authorized for Platini in 2011.
While full-blown corruption charges were dropped, both men angrily rejected the verdict and vowed to appeal.
Sepp Blatter said he felt betrayed and declared: "I will fight to the end."
French legend Platini called the verdict a "masquerade" for an attempt to exclude him from world football.
The ban, which starts immediately, could however bring an inglorious end to 79-year-old Sepp Blatter's four decades with FIFA. It is also a devastating blow to Platini's hopes of taking over as head of football's world governing body in an election on Feb. 26.
"I think this is punishment enough, because it means they can never come back," former UEFA President Lennart Johansson told the Swedish daily Expressen.
Blatter, FIFA's president since 1998, was fined 50,000 Swiss francs ($50,000) while Platini, the head of UEFA, Europe's governing body, was fined 80,000 Swiss francs.
FIFA suspended the pair and launched an inquiry in October after Swiss prosecutors placed Blatter under investigation for criminal mismanagement over the two million Swiss franc payment that was caught with special software.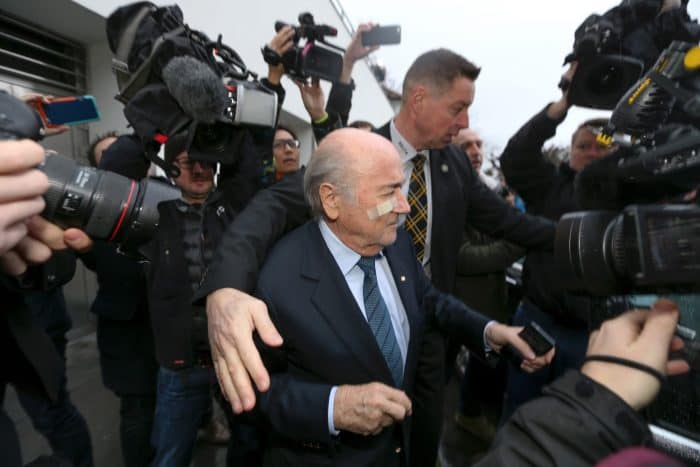 Sepp Blatter and Michel Platini: 'Abusive execution'
A statement by the FIFA tribunal said Sepp Blatter and Michel Platini were guilty of "abusive execution" of their powers over the payment the two men said was for consultancy work carried out between 1999 and 2002.
The judges said there was a conflict of interest and "no legal basis" for the transfer in any written agreement.
"Neither in his written statement nor in his personal hearing was Mr. Blatter able to demonstrate another legal basis for this payment. His assertion of an oral agreement was determined as not convincing and was rejected by the chamber."
The court said: "Mr Blatter's actions did not show commitment to an ethical attitude, failing to respect all applicable laws and regulations as well as FIFA's regulatory framework."
The judgment was even more damning of the French legend Platini.
"Mr Platini failed to act with complete credibility and integrity, showing unawareness of the importance of his duties and concomitant obligations and responsibilities."
Neither Blatter no Platini can go near the FIFA headquarters in Zurich. Blatter cannot speak on behalf of the world body and Platini cannot even act as a television commentator for the European Championships he has helped to organize in France next year.
Both strongly deny any wrongdoing. Blatter spent eight hours before a FIFA court last Thursday while Platini boycotted his hearing on Friday saying he had been "condemned" in advance.
Blatter told a press conference he felt he had been "betrayed" and used as a "punching ball."
He said he would go to FIFA's appeal committee, the Court of Arbitration for Sports and the Swiss courts if necessary.
"Something that is not true cannot be proven," he said.
Blatter was campaigning for re-election in 2011 but insisted he had not offered a bribe to Platini.
"Never in my life I would offer money to get something. This hurts me really in my heart," he said.
Platini said in a statement that the FIFA decision was a "masquerade" intended to "sully" his name.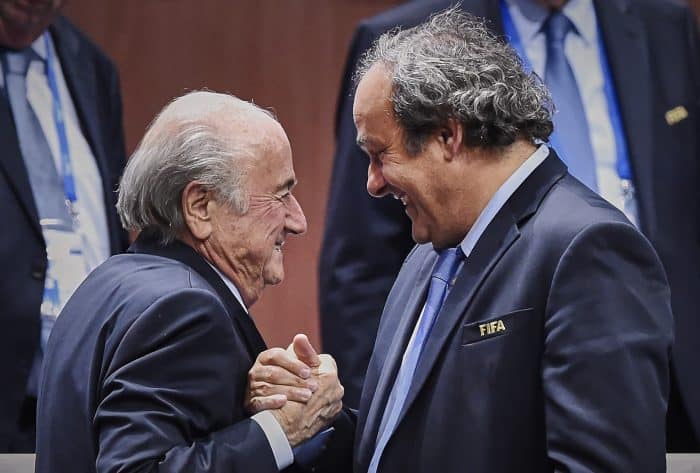 FIFA in chaos
He said he would go to the Court of Arbitration for Sport and civil courts.
"This verdict is just a pathetic coverup for a desire to eliminate me from the world of football."
FIFA said that they had 10 days to appeal to its judiciary.
Blatter would be fighting for his reputation. For Platini, the ban rules him out of the FIFA election to be held on Feb. 26.
The deadline for candidates to be registered and pass an integrity check is Jan. 26.
With FIFA's reputation in tatters after the arrest of several top officials, Blatter announced four days after winning re-election to a fifth term in May that he would stand down and call a new election.
Seven FIFA officials were arrested in a luxury Zurich hotel two days before the election congress.
Now U.S. authorities have charged 39 football officials and sports business executives over more than $200 million in bribes for football television and marketing deals.
See: Costa Rica's Eduardo Li pleads not guilty in FIFA corruption scandal
Swiss prosecutors are in parallel investigating FIFA's management and the award of the 2018 and 2022 World Cups to Russia and Qatar.
Facing pressure from governments and the International Olympic Committee for major reforms, there are currently five candidates to take over FIFA: Asian football head Sheikh Salman bin Ebrahim al-Khalifa of Bahrain, South African politician and tycoon Tokyo Sexwale, former FIFA vice president Prince Ali bin al Hussein of Jordan, UEFA general-secretary Gianni Infantino and Jerome Champagne, a former FIFA assistant general secretary from France.