The Costa Rican designer Federico Martínez and Chilean designer Pablo Ruiz took their brand PuercoSpin to a new level last week when they inaugurated their own store in San Pedro, east of San José. Ruiz created PuercoSpin in 2009 in Chile, and brought it with him to Costa Rica in 2012, where it became a fixture in many gift shops and artisan markets around town.
"We got together to create various collections based on his [Ruiz's] illustrations; we apply the illustrations to different products and points of sale," Martínez told The Tico Times at the inauguration on Nov. 19.
PuercoSpin sells a wide variety of products including coin purses, pencil cases, pillows, calendars, notebooks, key chains, mugs, tote bags, aprons and stickers. Each of these products has its own unique characteristics that blend aesthetics with practicality. The pillows' designs are printed on cloth using dye-sublimation printing, resulting in bright, colorful images.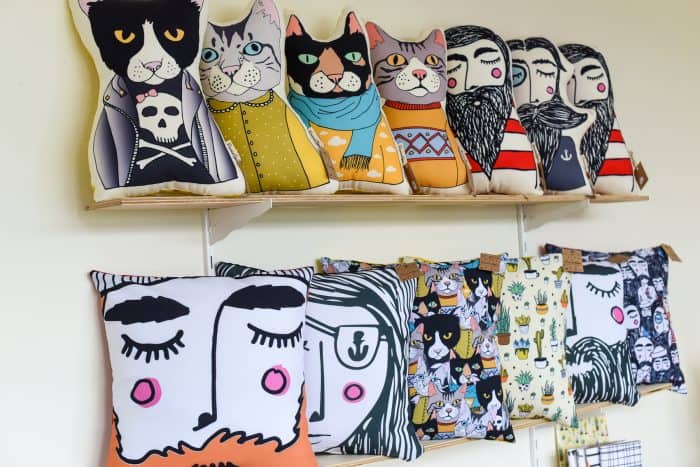 Ruiz and Martínez have created several collections that include The Boring Cats (inspired by their four cats); The Ghost Ship, which includes a variety of peaceful sailors; Fast Food, which will make you hungry with delicious-looking pizzas, French fries and popcorn; The Mountain Girl, a series of mountain characters and animals; Plants in all sorts and shapes; and Monsters, a line featuring famous faces such as Beetlejuice, Morticia Addams, Dracula, Edward Scissorhands, Frankenstein and Frankenstein's girlfriend.
The new PuercoSpin store in San Pedro is on the north edge of the Plaza Roosevelt, behind the Outlet Mall, open from 11 am-7 pm. For more information on the new store or the brand, call 6036-8959 or visit PuercoSpin's webpage or Facebook page.