PLAYA GRANDE, Guanacaste — What's better after a day of surfing then grabbing a burger and a beer?  That's just what Fabricio Riggioni had in mind when he opened Shakas Restaurant in Playa Grande last year.
The idea came to him naturally — he's a surfer with a pretty good culinary ancestry. Half Costa Rican and half Italian, at 31, he's got a perfect pedigree for the food business.
While Shakas menu is a mixture of styles, Riggioni's insistence on quality owes a lot to his Italian grandfather. As a young man, he was introduced to that nation's cuisine, so it made sense that the he'd leave his job as a financial analyst to open a San Jose restaurant with his cousin that featured  a menu of Italian food.

But, La Noona Rosa restaurant wasn't quite what Riggioni had in mind for the long term. So five years ago, he left San Jose for good, setting down roots in Playa Grande, the area he knew from his youth, about a 20-minute drive from Tamarindo.
"This is the beach that my parents and me came for camping," Riggioni explained. "We started coming more and more with friends from San Jose. Then, I came to live here five years ago, bought a house on the beach to go surfing."
"It started like that, I would surf every day," he continued. "Then I saw this building. It was a lot different. Yes, it was a restaurant, and when it became available I jumped on it."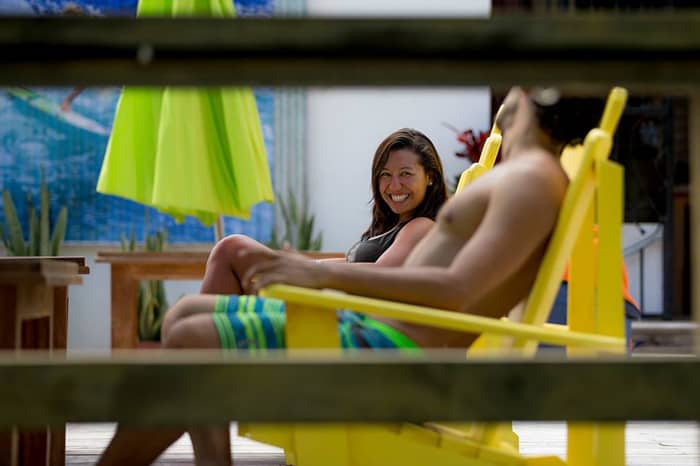 After the spot was revamped inside and out, it now has a beautiful outdoor deck with pillows, colorful garden chairs and low lights. The entire structure is composed of second-hand wood, chipped wood that no one wanted.  Eventually, another cousin, Gabriel Riggioni, painted some surfboards to go up on the walls.
Some of the seats are empty beer cases, there are reused trash can drums used as tables, and if you look closely you'll notice the lamps are made from cheese graters.
Riggioni didn't have to look too far to find his chef. Javier Quedo, who lives in Playa Grande, was previously assistant chef at the nearby Rip Jack Inn, and a family friend.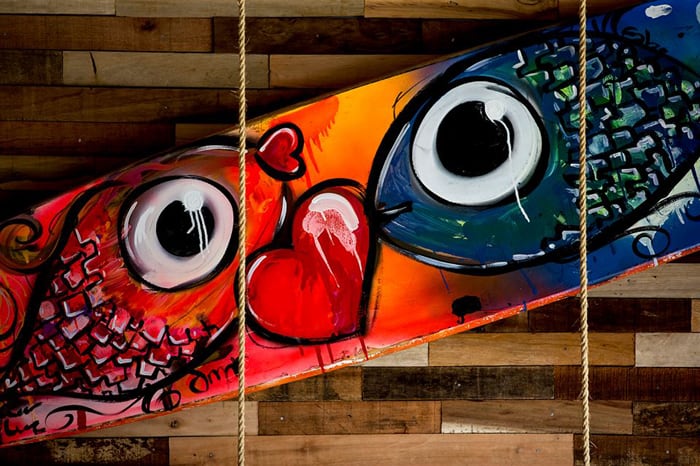 "I've known him since I was little and my family was coming here," Riggioni said. He's from Nicaragua but he's lived here over 15 years. His family and I worked together on a lot of things in this restaurant. I told him I was starting this project and he jumped in. In the beginning, it was just Javito and me cause we didn't have money for anything. We put in hard work. As the season came and the people came we hired more people. Javito is family. I wouldn't hire anyone I don't think is like family."
"I said to him, 'Let's make a place where we'd like to hang out,'" he added.
Before opening Shakas (named for the popular surfer "hang loose" hand signal), Riggioni and Quedo spent six months testing recipes with friends and admittedly each gained about 10 pounds from the experience.
Ultimately, the duo decided that a small menu was easier and better to manage. Shakas' specialty became hamburgers, four different options all mounted on artisan bread. Each burger is made of Shakas' signature "Brangus" organic beef, a coveted mix of Brahma and Angus meat.
The most popular one is the delicious La Gustosa, juicy with gorgonzola cheese, caramelized onions, arugula, cheese, tomatoes, lettuce and onions, but just as good are La Surfa with bacon, swiss cheese, BBQ sauce, tomatoes, lettuce and onion, or La Tropicana decked out with grilled portobello mushroom and pineapple, lettuce, tomato and onion.
After the burgers were set, the next step was bringing in craft beers, both on tap and in bottles. From the tap, there's Tumbacalzones (Saison Rose), with an organic honey, hibiscus flavor.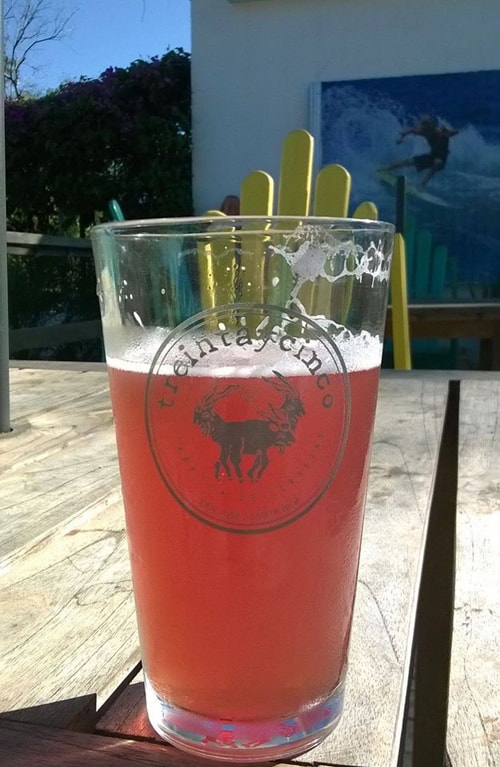 Two new tap beers added to the repertoire are 212, a light blonde beer, and La Pecadora, a tasteful Indian Pale Ale.  The two bottled choices include Great White, a citrusy malt, and Tangerine Wheat, which tastes just like it sounds.
Riggioni is particularly fond of his beers, and he's planning a craft beer festival in the future.
If hamburgers are not your thing, Shakas also offers options like fish tacos with mahi-mahi, complete with cabbage salad with pineapple, avocado, and sweet mustard sauce;  or the yummy Tropical Bowl, with choice of brown rice or quinoa, shrimp, broccoli, ginger, sweet peppers and peanuts inside a coconut. Vegetarians will be happy, too, because there's a panini filled with grilled zucchini, eggplant, carrots and sweet peppers inside homemade Tuscan bread.
On any given night, people from Grande and the nearby town of Matapalo can be found dining at Shakas. Clients even make the trip from as far away from as Tamarindo to sample the well-reputed food and enjoy the live music booked by Riggioni's brother Luciano. His mandate is to bring performers that are a part of the Costa Rican culture.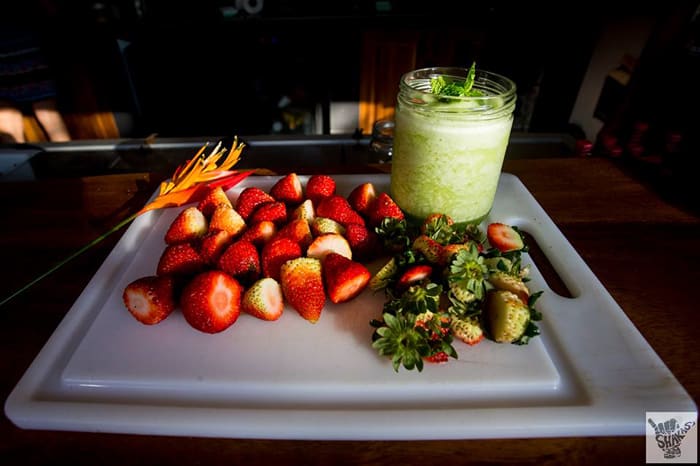 "Shakas has become a big part of the community," said Rioggoni. "This year it's become a place to come and bring the family. While we started with our Tico clients, there are now a bunch of restaurants in Grande, so I wanted to do something different for our clients to come and have a burger and some craft beer, live music.
"Shakas is always evolving. I want to maintain what people love and try other things as well. I come to work in surf trunks, never put on pants. That's how you can be successful, if you like what you do you can be successful. "
After closing for some renovations, Shakas reopens Friday, Nov. 13, for breakfast at 7:30 a.m. and continues serving until 10:30 p.m.  The next day, Rioggoni is opening another Shakas, this one in Playa Hermosa de Jacó.
For more info: https://www.facebook.com/shakasbeachbar/
Contact Ellen Zoe Golden at ellenzoe@aol.com.