A number of oh-so-close opportunities finally gave way to a game-clinching goal when Joel Campbell put home a 70th-minute score against the United States in "La Sele's" impressive 1-0 win Tuesday night.
Though they're still far from maximizing Óscar Ramírez's scheme, La Sele moved the ball well against the U.S. all game and dominated possession in the second half. Campbell's strike occurred between a couple more clear goal-scoring opportunities for Costa Rica. The 1-0 win, in which three or four goals were left on the field, looked as dominating a performance as Costa Rica has seen since the 2014 World Cup.
Costa Rica derrotó a Estados Unidos gracias a un gol de @joel_campbell12 pic.twitter.com/VaEZrAWM3g

— Futbol Centroamérica (@Futbolcentroame) October 14, 2015
It was the Ticos' biggest stars who left their mark against the regional rival. Celso Borges orchestrated everything through the midfield and pressured the U.S. defense on a number of occasions. Johan Venegas and Marco Ureña also made plays that should give Ramírez some confidence in his offense going forward.
Now with a 2-2 mark in his first four games as La Sele's headman, Ramírez's largest task will be to nail down the floorboards and ensure his team doesn't trip up against lesser competition in World Cup qualifying play that begins against Haiti next month. Finding that level of consistency starts with the defense, as Ramírez employs five men on his backline. On Tuesday, the defense crowded passing lanes and suffocated an impotent U.S. attack that may see some huge changes coming up.
Costa Rica's star goalkeeper Keylor Navas was rarely tested by the U.S. front, though he made a goal-saving block in the first half on a header by Danny Williams off a free kick. He also nullified another potential header by the United States by intercepting the volley try in the box.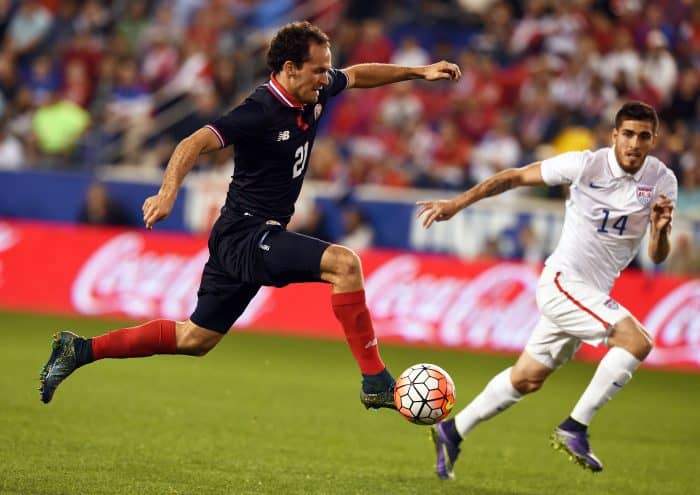 U.S. head coach Jurgen Klinsmann, who may have coached his last game, was received with boos from his home crowd before the game. Klinsmann has done himself no favors off the field, but U.S. management will now be able to point to consecutive losses to Mexico and Costa Rica, the selection's two most consistent foes in CONCACAF, as evidence of a downward-trending team in need of a change.
But in a battle of two teams that again figure to take up a pair of CONCACAF's four spots in the 2018 World Cup, Costa Rica looked like it was proving a point on Tuesday. Despite a bad loss at home to South Africa just five days before, Costa Rica found a win in its surrogate home of New Jersey, where the team has now played three matches in the past four months.
Without captain Bryan Ruíz for the second straight game, it was Costa Rica's trifecta of stars that led the dominating show against the U.S., turning in countless opportunities in the last 45 minutes. Campbell, who's been criticized for his up and down play, was a creative force on the pitch and would have had two goals if his try in the 59th minute wasn't tipped over the net by veteran U.S. goalie Tim Howard.
Borges gave the Ticos their best shot at goal in the first half when he fed Cristian Gamboa on the wing, who crossed the ball back in front of a crowded net. There it found the feet of Venegas, but the ball ricocheted away before getting past Howard.
Costa Rica started off slow in the first minutes, but the team seemed to turn the corner right before the half.
Part of the sluggish start came when referee Walter López called two early fouls on defender Johnny Acosta, including a yellow card in the 17th minute. Costa Rican fans will forever remember — and never forgive — the CONCACAF official for the controversial penalty kick he awarded Mexico in the last minute of that team's Gold Cup win over the Ticos in June.
But this time, playing in the same state of that fatal penalty that booted the Ticos from the regional tournament, the Costa Ricans played well enough to take the game out of López's hands.
Costa Rica next plays Nov. 13 in qualifying play for the 2018 World Cup when it meets Haiti at home in San José.