Costa Rica's public health care program for terminally ill patients is the second best in Latin America according to the Quality of Death Index 2015, an evaluation of the quality of palliative care in 80 countries. The Economist Intelligence Unit presented the study Wednesday.
The country ranked 29th in the global index, which is based on research and interviews with over 120 palliative care experts from across the world.
The 2015 Index evaluated local programs using 20 quantitative and qualitative indicators grouped into five categories: palliative and healthcare environment, human resources, the affordability of care, the quality of care and the level of community engagement.
Costa Rica earned 57.3 out of 100 possible points, only surpassed in the region by Chile's 58.6 points. Panama ranked third in Latin America with 53.6 points, followed by Argentina with 52.5 and Cuba with 46.6 points. The U.S. and Canada top the Americas' ranking.
The worst Latin American countries for end-of-life care were the Dominican Republic (17.2), Guatemala (20.9) and Colombia (26.7). These countries ranked at the bottom largely because of their lack of public policies granting access to healthcare services to improve the quality of life of terminally ill patients, "mainly due to limitations in staff and basic infrastructure," the investigation concluded.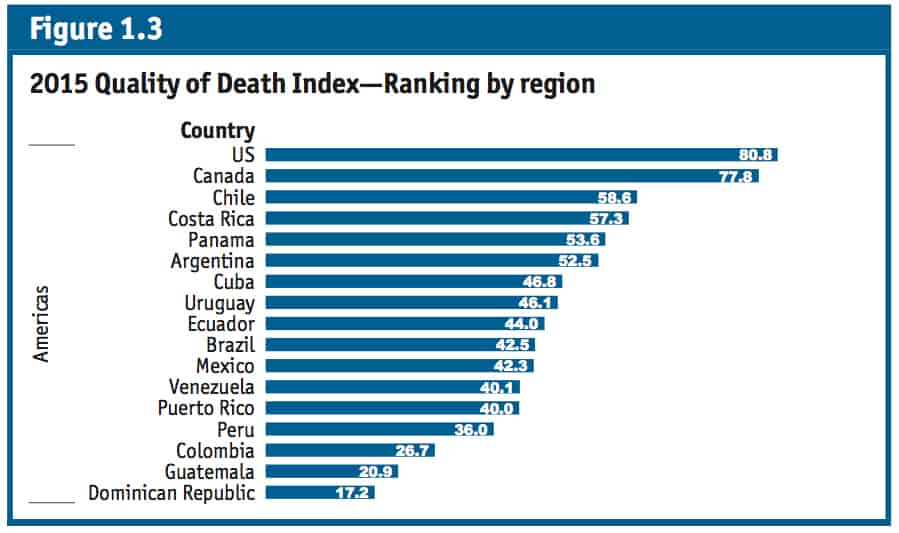 The United Kingdom, Australia, New Zealand, Ireland and Belgium ranked as the countries offering the best care programs for terminally ill patients. The report highlighted the countries' "strong and effectively implemented national palliative care policy framework and their high levels of public spending on health care services."
Myanmar, Nigeria, Philippines, Bangladesh and Iraq ranked at the bottom of the global index.
Costa Rica's palliative care programs
Palliative care in Costa Rica began in 1990 with the opening at the National Children's Hospital of a pediatric palliative care unit  — the first of its kind in Latin America. At the time, the project was led by Lisbeth Quesada Tristán, a hospital physician who later served as the country's Ombudswoman from 2005-2009.
Calderón Guardia Hospital launched a palliative care program in 1991 for adults, which led to the creation in 1994 of the country's Pain and Palliative Care Clinic, currently operating at the San Juan de Dios Hospital in downtown San José.
See the full Quality of Death Index 2015: