Festivities of San Ramón
The city of San Ramón is celebrating its annual festivities this week. They began yesterday and will continue until September 7, with activities including family competitions, free concerts, traditional food, cultural activities, live music, dancing, parades, exhibitions and sports.
"Festividades Patronales de San Ramón" takes place August 27 – September 7 at the central park of San Ramón, Alajuela. Free. For more information, call 8825-5382.
Theater: "Amor Platoúnico"
Spanish playwright David Desola tells the story of a married couple so used to each other's existence that they barely notice each other – until the neighbor's son discovers their plight and sets out to help them change their lives.
"Amor Platoúnico" will be performed August 28-December 6, Fri – Sat at 8 p.m. and Sun. at 6 p.m. at Teatro La Fortina, Paseo de las Flores Mall in Heredia. ₡7,000 ($14). More info at La Fortina Theater Website.
Dance: International Folkloric Dance Festival
In celebration on the "month of folklore," and thanks to the Latin American Folklore Association's choice of Costa Rica for this year's Festival, Belén will host dance couples from seven different countries: Mexico, Ecuador, Peru, Chile, Argentina, Colombia, Panama, Brazil and Costa Rica.
"Festival Folclórico Internacional de Parejas" takes place August 28 at Angel San Casimiro Salon in Belén, Avenida 0, Streets 0-2. For more information call 2587-0291.
Music: XXI International Guitar Festival
The famed festival last three nights, each with a different approach. Friday is "Cuban Night," Saturday, "Spanish Night" and Sunday, "Brazilian Night," all with performances by both international and Costa Rican artists.
Friday August 28: Performances of Jorge Luis Zamora (Cuba-Costa Rica), Eduardo Martín (Cuba) and Edín Solís y Silvia Amaro (Costa Rica).
Saturday August 29: Javier Conde, flamenco guitarrist, Zaira Santos, flalmenco dancer, and Paco El Levita, flamenco singer (all from España).
Sunday August 30: Yamandu Costa (Brazil) and INM Camerata, director Jose Aurelio Castillo (Costa Rica)
"XXI Festival Internacional de Guitarra" takes place August 28-30 at the National Theater, downtown San José. 8 p.m. ₡8,000 – 15,000. More info at the Festival's Website or the National Theater Website.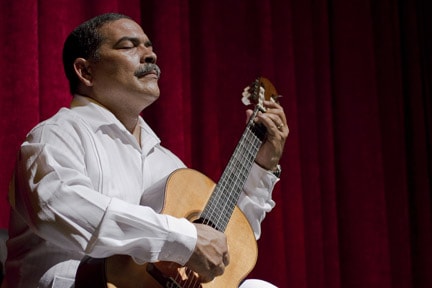 Pub Crawl: "Bienvenida de Soltera"
A tour for single women who enjoy their single status and want to celebrate it. Organized by Carpe Chepe, the tour goes through four San José bars with activities, challenges and rewards; single guys are welcome to join the fun at any of the bars and participate in the challenges. The meeting point is at Craic IrishPub in San José's Barrio La California. The cost includes the pass of the 4 bars, a shot at each one, guides and security.
"Bienvenida de Soltera" takes place August 28 at Craic IrishPub in La California, San José. ₡8,000 ($16). For more information call 2221-9320 or visit the Carpe Chepe Facebook page.
Tour: Retrace the National Campaign in 1856
It has been 159 years since Costa Rican heroes fought against U.S. filibuster William Walker. To commemorate this historic event, the Juan Santamaria Museum in Alajuela is organizing walks that retrace the Costa Rican Army's paths during the Campaign in 1856. One walk explores Alto de Monte in Atenas, which the army crossed to get to Nicaragua; another explores part of the path from San José to Puntarenas. The latter tour involves longer distances and includes travel by bus with stops at important spots. The tours include explanations by specialists in the field. Participants must register in advance at the Museum.
"Caminata sobre las sendas del ejército nacional durante la Campaña 1856" takes place August 30 and September 6-13-20. Free. 8 a.m. More information at the Museum Website or call 2441-4775.
Theater: "Ruinas"
A story of ruined circus artists: Ofelia, a dancer, Hamlet, a clown, Juliet, an acrobat, and Romeo, an illusionist. They show how love can transform from a beautiful dream into a breakup, death and survival.
"Ruinas" will be performed August 28 – September 6. Thu – Sat at 8 p.m. and Sun at 6 p.m.at Teatro Universitario, University of Costa Rica in San Pedro. ₡5,000 ($10). More info at the RedCultura Website.
Concerts:
Garbanzos Mexican Party: Garbanzos band is going on a tour to Mexico, but not before one last great concert here in Costa Rica. Guest bands are Endemia and La Milixia. August 28 at Sand Bar, San Pedro. 8 p.m. ₡3,000 ($6). For more information call 2281-0307.
Un chivo por una sonrisa: A concert to help children suffering from cleft palate. It will feature Sonámbulo Psicotropical, Cocofunka, Ikún Inú, Parabólica, Kalakuta and Ikebana. August 29 at Club Peppers in Zapote. 7 p.m. ₡4,000 ($8). For more information call 2224-1472.
Tribute to AC/DC: AC/DC tribute band High Voltage presents a special concert with guests including Luis Monge (Gaita), Manuel Barrantes (Diesel and Dirty Jack), Anton Darusso (Wings of Destiny and Darusso), Adriana La Rana (Adrenal and The Las Void), Tony Masis (Pneuma and The Surrogate Band), Eduardo Quesada (D'Tour and Led Zippers), Rodo Rod (Sleazer), Raissa Jiménez (The Cherries) and Ka Rojas (The Cherries). August 29 at Jazz Café, Escazú. 9:30 p.m. ₡4,000 ($8). For more information call 2288- 4740.
Floriatón II: A concert featuring bands Florian Droids, 424 and Myno. September 3 at the Steinvorth, downtown San José. ₡4,000 ($8). More info at Steinvorth Facebook page.