Somehow, Jeannette Gamboa didn't cry.
When her daughter Catalina Cervantes won a pair of gold medals in tennis at the recent Special Olympics in Los Angeles, California, the athlete's impressive feat was nearly matched by her mother's incredible ability to contain the tears.
"People ask how could I not cry and its because I was too busy smiling," she said. "I've already seen enough tears."
For Gamboa and her daughter, who was born with Down syndrome, the struggles have been plenty. When Catalina was born with heart and respiratory complications, doctors said she probably wouldn't live past 10 months. One of Gamboa's own sisters, who works as a doctor, told her to prepare for the worst when the girl was just three months old and complications continued.
Now Catalina is 26, and she was recently part of a historic medal grab at the Special Olympics World Games in Los Angeles, which saw Costa Rica set a national record with 207 medals. Gamboa went to the United States with her husband, Edgar Cervantes, and older daughter Mariela Cervantes to cheer on Catalina as she snatched medals in singles and doubles tennis competitions.
"When you're the mother of a special needs child all battles turn into achievements," Gamboa said. "It all becomes worth the pain."
From their living room in Escazú, where paintings from well-known Costa Rican artist Rafa Fernández adorn the walls, mother and daughter reflected on an emotional past year.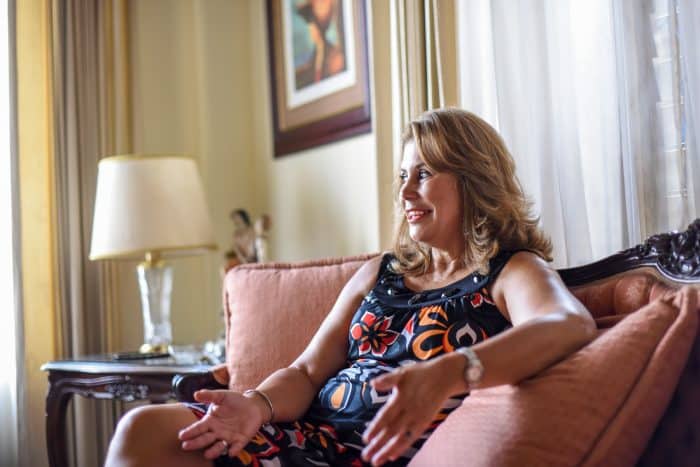 A car accident took the life of Gamboa's 18-year-old niece in April, making Saturday her sister's first Mother's Day without her daughter.
"I said to dad that I don't want to say Happy Mother's Day to my aunt when her daughter is in heaven and not here," Catalina said. Despite the recent family tragedy, the tennis star wears a smile that opens up the faces of everybody around her in sparkling chain reaction. Gamboa said the family has been able to learn more from Catalina's attitude than anything else.
"We're not her motor, she's our motor," Gamboa said.
Catalina works five hours a day on weekdays at Luleid Kindergarten in Escazú, getting up at exactly 5:30 a.m. (She is the most punctual person in the world, her mother likes to say.) But Catalina has a mischievous side, too. Gamboa called her star athlete, "the family party girl," and said if she goes out on a Friday night, she'll sometimes leave a note saying, "I'm going out. I took beers from the fridge. Don't wait up for me."
On top of work and a busy social life, Catalina also practiced tennis at a local academy for four hours each day leading up to the Special Olympics, which ran from July 25 to Aug. 2. Considering her dominance at the Games, its astonishing to learn that she starting playing tennis at age 21. And she started getting private lessons less than two years ago.
Catalina hopes to compete again in the 2019 games, which will be in Germany and Austria.
Gamboa said the process of qualifying for the games, let alone winning them, is much more demanding than outsiders assume. From her smartphone, she showed a picture of Catalina's foot covered in bruises while competing in the recent Olympics.
With the worried mother in the stands in Los Angeles, Edgar and Mariela had to calm Gamboa down so she wouldn't hover over Catalina's coach with questions about her daughter's health.
Through that pain, Cervantes' haul of gold medals at the games just weeks before Mother's Day made her mom all the prouder. Gamboa smiled widely, seated next to her daughter.
"There is no better gift."