PUERTO JIMÉNEZ, Puntarenas — It was a happy problem to have: My two sons and one of their moms were coming to Costa Rica for two weeks and it was up to me to show them around.
So here's the plan I came up with: Tortuguero because I'd never been there and it was turtle season, Arenal for the volcano and the ziplining, Manuel Antonio for the monkeys and the beach, and Puerto Jiménez for the animal sanctuary and the kayaking, and because my brother lives there and is a great cook.
We all ended up very happy with this plan. Here's how it went down.
TORTUGUERO
Day 1: I picked up Jordan, Nathan and Rhona at the airport on Saturday, Aug. 1, and brought them to the house in San José I share with my brother Paul, who had cooked a big pot of delicious beef stew. It was a good start.
Day 2: At 6 a.m. Monday the five of us boarded a shuttle to Tortuguero's Laguna Lodge (which I would recommend), with breakfast in Guápiles and a boat ride from La Pavona. We enjoyed the hotel's beautiful gardens, swimming pools, bars and meals, and we went on a turtle tour, where we saw a green turtle lay her eggs by the light of a red pointer. As we staggered to bed, we agreed that it was strange we had not slept here yet because it felt like we had been here three days.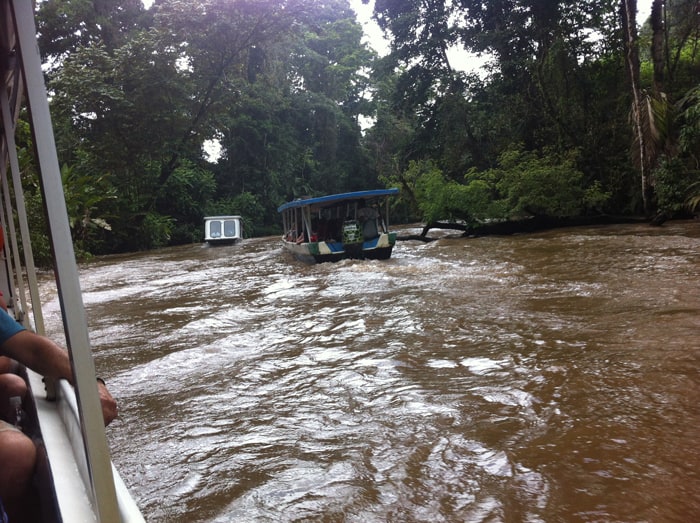 Day 3: On our one full day in Tortuguero, we did an 8:30 a.m. canal tour, which was fabulous, and a 3 p.m. tour of the village.
Day 4: The boat and shuttle took us back to San José, where we took a day off at the house to regroup and Paul cooked a big rib dinner.
ARENAL
Day 5: Now minus Paul, the rest of us took my car to Arenal and checked into the Hotel Rey Arenal in La Fortuna, which I would also recommend for its pretty gardens, central location, decent food and reasonable bar prices, though unlike many of the better hotels here, it has no hot springs. We weren't hurting for water, though, as it rained almost constantly during our two days in Arenal.
Day 6: We had a day of fun with Sky Adventures — Rhona doing the Sky Trek ziplining, Nathan and I doing the Sky Limit challenge course and Jordan kayaking on Lake Arenal. It rained all day, but we had a great time anyway. We had a late lunch at Nanku, where the whole tilapia is unbeatable, and then soaked in the big, free, hot Río Chollín next to Tabacón.
MANUEL ANTONIO
Day 7: We drove to Manuel Antonio and checked into the Hotel Mono Azul, a fun hotel with two swimming pools, a good restaurant and bar and very friendly management. We had lunch at El Avión, one of the most bizarre restaurants I've ever seen, built around a Fairchild C-123 army transport plane that was used during the Reagan administration to send weapons to the contras in Nicaragua.
Day 8: We toured Manuel Antonio National Park, breaking my rule about always hiring a guide. I had hired a guide here before, and I knew we would see plenty of animals without one. We saw capuchin monkeys, howler monkeys, raccoons, iguanas, spiders, a sloth, an agouti and a boa constrictor. We spent a lot of time after our hike soaking and napping on two of the most stunning beaches in the park. After dinner, being that it was Saturday night, we climbed into a taxi and drove off in search of dancing and karaoke.
PUERTO JIMÉNEZ
Day 9: We drove to Puerto Jiménez and settled into a three-story waterfront house Paul manages called the Fishack — highly recommended, and not just because it has a swimming pool on the roof. The one-bedroom second floor has a full kitchen, bathroom and living room, and there's enough space in the apartment on the bottom floor to sleep four or five. After a long day of driving, we devoted the evening to cooking, eating and drinking.
Day 10: We went kayaking in the mangroves and the Golfo Dulce with an excellent guide, Alberto Robleto of Aventuras Tropicales, pulling the kayaks onto the beach to eat pineapple, plain apple and coconuts. But we didn't spoil our appetite for the feast Paul had planned, fried wahoo in a succulent caper sauce with mashed potatoes and salad.
Day 11: What's this? Two days in one place? It was a luxury to have a second full day in the same place and not have to hit the road until tomorrow. We walked down to the pier around 8 a.m. and caught a ride to the Osa Wildlife Sanctuary on the other side of the gulf for $150. The head of the sanctuary, Carol Patrick, was in the U.S. at the moment, but her volunteer/intern Cassie did a great job of introducing us to all the beautiful animals: two macaws, a tayra, two kinkajous, a porcupine, an ocelot, three capuchins, three sloths and one delightful spider monkey named Sweetie. We came home and enjoyed a steaming plate of arroz con leftovers — tenderloin, pork and wahoo.
Day 12: We drove back to San José via Cerro de la Muerte, stopping at a soda in Cartago to have a casado, and later having our last dinner out at a cevichería.
Day 13: With big hugs all around, I saw Rhona, Jordan and Nathan off at the airport around 6:40 for their 8:25 a.m.
Rhona said it was her greatest vacation ever.
"Most countries have big developed areas with little patches of beauty," she said, "but Costa Rica is vast, unending beauty with little patches of development."
Jordan said, "I had been looking forward to this trip for months, and it vastly exceeded my expectations."
Contact Karl Kahler at kkahler@ticotimes.net.