An auction held in June to raise funds for Las Pumas animal rescue center in Cañas, in the northwestern province of Guanacaste, included paintings made by some of its feline residents.
The auction, called Rescat-Arte, took place at Mi Casa Hostel in downtown San José and also featured animal-inspired paintings donated by 21 national artists.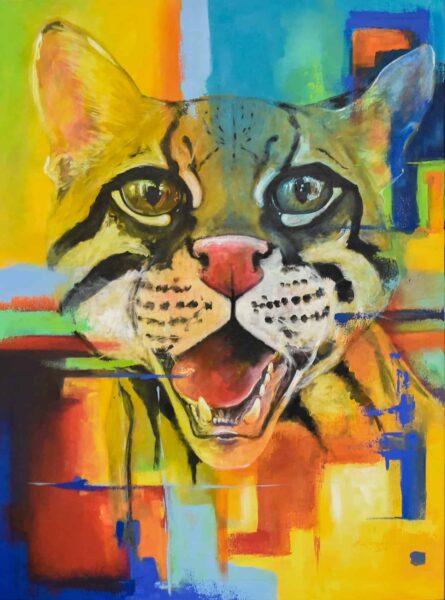 The activity, held on June 11, raised $5,350 in funds for Las Pumas Rescue Center, according to the organization's Facebook page.
Las Pumas receives 140 animals of 40 different species per year. The shelter was started in 1989 by Swiss couple Werner Hagnauer and Lillly Bodmer, who moved to Costa Rica in the 1960s to live and work at a cattle farm in Cañas and started rescuing wild animals in need. After the couple passed away, their family started the Hagnauer Foundation to continue their work.
Looking for funds to run the shelter is not an easy task. The Rescat-Arte initiative was born after rescue center biologist Esther Pomareda visited the Conservators Center in North Carolina in 2013 and learned that paintings made by rescued lions and tigers were being auctioned to raise funds for the center, according to a Rescat-Arte promotional video.
Pomareda designed a similar program at Las Pumas, and this year, most of the rescued felines, which belong to five out of the six feline species in Costa Rica – jaguars, pumas, jaguarundis, ocelots, and tigrillos – produced a work of art.
Only non-toxic, organic and edible paint is provided for the feline artists. The animals are able to counteract the stress of confinement through their art, according to the Rescat-Arte video.
The paintings that remain from the auction can be purchased at the shelter's souvenir shop and more information will become available on the Las Pumas Facebook page.