"Yoga has the power to bring the entire humankind together. It beautifully combines Gyan (knowledge), Karm (work) and Bhakti (devotion)," Indian Prime Minister Narendra Modi tweeted last December after proposing the idea of celebrating International Yoga Day before the United Nations General Assembly.
On Dec. 11, 2014, the U.N. approved a resolution declaring June 21 "International Yoga Day," a global initiative dedicated to raising awareness about the multiple benefits of maintaining a yoga practice.
"Yoga offers a simple, accessible and inclusive means to promote physical and spiritual health and well-being. It promotes respect for one's fellow human beings and for the planet we share. And yoga does not discriminate; to varying degrees, all people can practice, regardless of their relative strength, age or ability," U.N. Secretary-General Ban Ki-Moon said in a message regarding the world's first Yoga Day.
"On this first-ever International Day of Yoga, let us see the benefits of this practice in terms of individual well-being as well as our collective efforts to improve public health, promote peaceful relations and usher in a life of dignity for all," he added.
On Sunday, Modi's vision will materialize as the world celebrates its first Yoga Day.
Tomorrow the world will celebrate the first #YogaDay. I urge you all to be a part of it & inspire others to join as well.

— Narendra Modi (@narendramodi) June 20, 2015
In India, where the prime minister, a strict vegetarian with a daily yoga practice, created a Ministry of Yoga and the traditional healing science of Ayurveda, 35,000 government officials, soldiers and citizens will gather in the capital New Delhi for a 35-minute, open-air yoga session that could break the record for the world's largest yoga class, AFP reported.
In Costa Rica, those who enjoy stretching and bending their minds and bodies will be able to enjoy free yoga classes throughout the country on Sunday.
Activities, organized by the Costa Rican Association of Yoga Teachers (AsoYoga), the Indian Embassy in Costa Rica, the Ministry of Culture, Health Ministry and the Ministry of Foreign Relations, will kick off at 8 a.m. at the Costa Rican Art Museum in La Sabana, west of San José and carry on throughout the day in each of Costa Rica's seven provinces.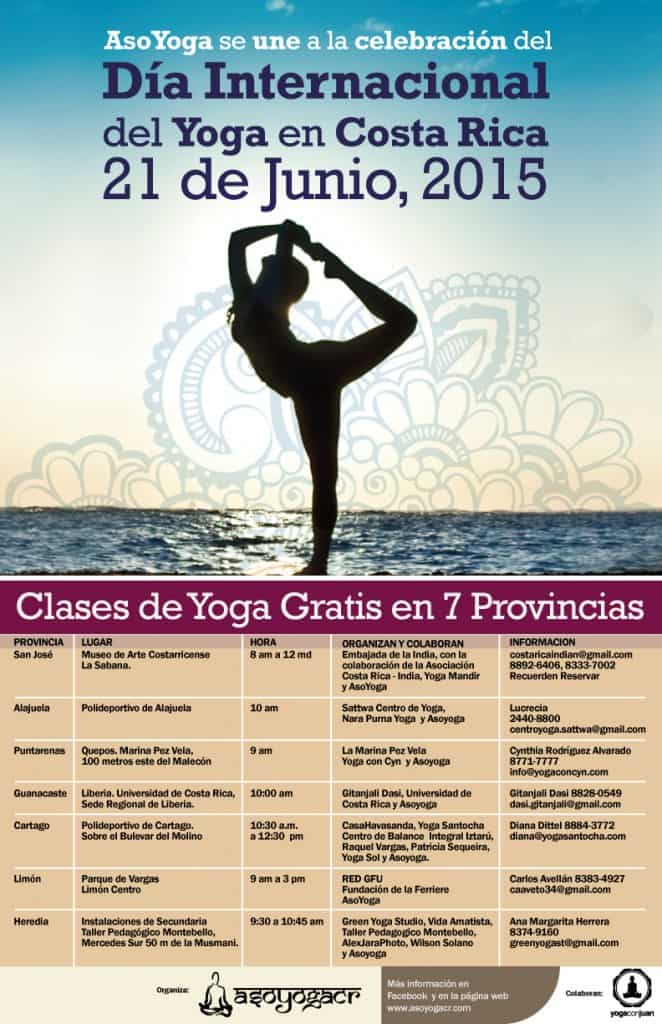 Katya Cordero, a yoga instructor and member of AsoYoga's board of directors, told Amelia Rueda News that yoga "helps to activate energy and improves the respiratory, digestive and circulatory systems."