MEXICO CITY – Mexicans vote Sunday in midterm elections after one of the rockiest campaigns in recent years, with candidates murdered and rebel teachers burning ballots in efforts to block the polls.
The radical CNTE teachers union has protested all week in impoverished southern states, ransacking buildings of the National Electoral Institute and regional offices of President Enrique Peña Nieto's party in anger at his education reform.
Despite the unrest, authorities say they are confident the elections to pick 500 members of the lower-chamber of Congress, around 900 mayors and nine governors, will go on.
It is the first major electoral test for Peña Nieto, who has struggled to accomplish his 2012 election promise to bring "peace" back to Mexico after years of drug cartel violence.
Opinion polls show that his Institutional Revolutionary Party (PRI) and its allies will retain their majority in Congress despite political scandals and discontent over security.
Voters angry at the traditional parties could still give politicians a wakeup call by electing a blunt candidate nicknamed "El Bronco" as the first ever independent governor, in the industrial state of Nuevo León.
But the specter of violence looms large on election day in the south.
"This has been the most difficult and tumultuous campaign, with more murders of candidates and campaign staff members," Javier Oliva, a security expert at the National Autonomous University of Mexico, told AFP.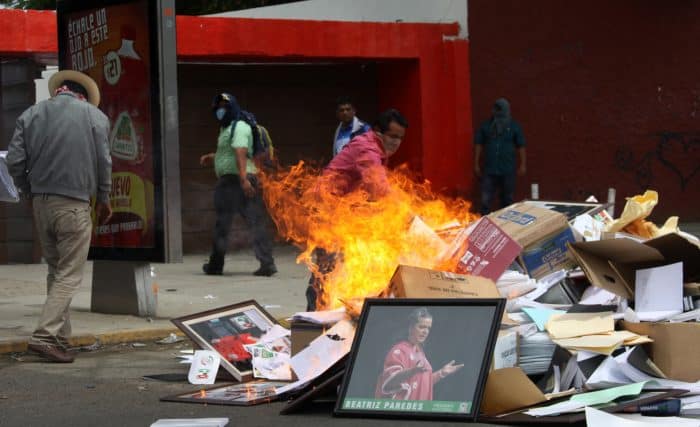 Southern protests 
The biggest concerns are in Guerrero and Oaxaca, where teachers have torched tens of thousands of ballots.
On Thursday, protesters took furniture and papers from PRI offices in Oaxaca's capital and burned them outside. Others torched political pamphlets in front of PRI headquarters in Guerrero.
The educators have continued their protests even though the government decided last week to suspend mandatory tests for teachers, a key plank of Peña Nieto's education legislation.
An elections observer from the Organization of American States voiced concern over how the protests could affect the vote.
"The election is very vulnerable," Oliva said. But, he added, the risks are limited to certain states, affecting some 5,000 out of 148,000 polling stations nationwide.
In addition to protests, Guerrero has been plagued by drug-related violence, including last year's presumed murder of 43 students by a gang in league with crooked police.
Two mayoral hopefuls were murdered in recent months in Guerrero, while gunmen threatened a candidate for governor who was heading to the city of Chilapa.
Elsewhere in Mexico, a former vigilante leader who had taken up arms against a drug cartel was killed during a campaign event in neighboring Michoacán in May.
On Tuesday, a federal congressional candidate was gunned down in a Mexico City suburb.
While some of the murders bear the hallmarks of organized crime, authorities say they do not expect drug cartels to disrupt the election.
"The problems are the social protests," National Security Commission Monte Alejandro Rubido told AFP, adding that only a "minimal number" of polling stations could be affected and that the elections would not be stopped.
'El Bronco' 
The election could make history in Nuevo León, where Jaime Rodríguez, aka "El Bronco," has won fans as a foul-mouthed, cowboy boot-wearing independent vowing to battle corruption if he becomes governor.
"He's a symbol of the anger against the parties," said José Antonio Crespo, political expert at the Economics Research and Teaching Center, though he noted that Rodríguez only ran as an independent after he failed to win the PRI's nomination.
Other colorful candidates are vying for seats.
Hipolito Mora, a founder of Michoacán's vigilante movement, is running for Congress while retired football legend Cuauhtemoc Blanco is eying the mayorship of the central city of Cuernavaca.