TAMPICO, Mexico — The day started in Sinton, Texas, on a creepy note when someone knocked on our Motel 6 door at 5:30 a.m., jolting my brother and me awake.
I said, "Wrong number!" Whoever it was went away, and I drifted back into uneasy sleep about haunted motels and serial killers.
By 8:30, Paul and I got off to a pretty late start Friday on Day 2 of our drive from Arkansas to Costa Rica (after crashing at 12:30 Thursday).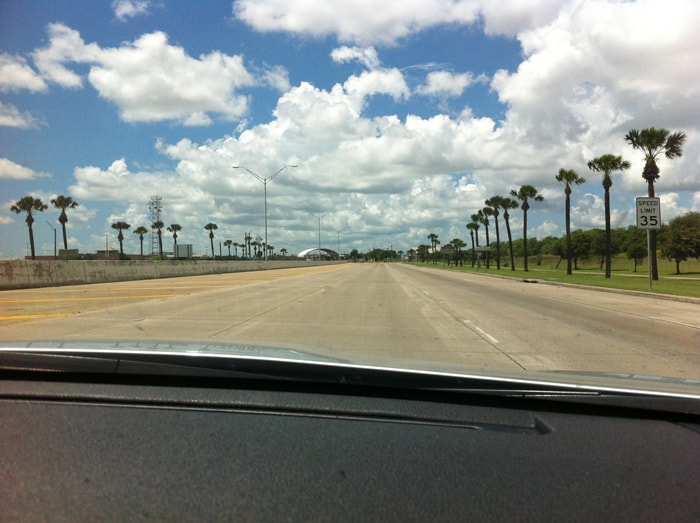 We made it to Brownsville in about two hours, then we had several important errands: a Walmart run for last-minute essentials; an Office Depot stop to make 10 copies of car papers we would need at border crossings; and a futile search for an insurance office that would sell us three days' worth of Mexican auto insurance.
Then someone told us we could buy insurance at the border, and we crossed the Río Grande at the Veterans International Bridge. The lanes leading out of Mexico were packed, but in the lanes leading in, you could practically hear the crickets along the banks.
We walked into the office where we needed to buy insurance, get temporary registration for the vehicle and get our passports stamped — and we had the building all to ourselves! It was astonishing that at noon on a Friday at a major border crossing into Mexico, nobody but us was crossing. I guess people take that whole beheading thing seriously.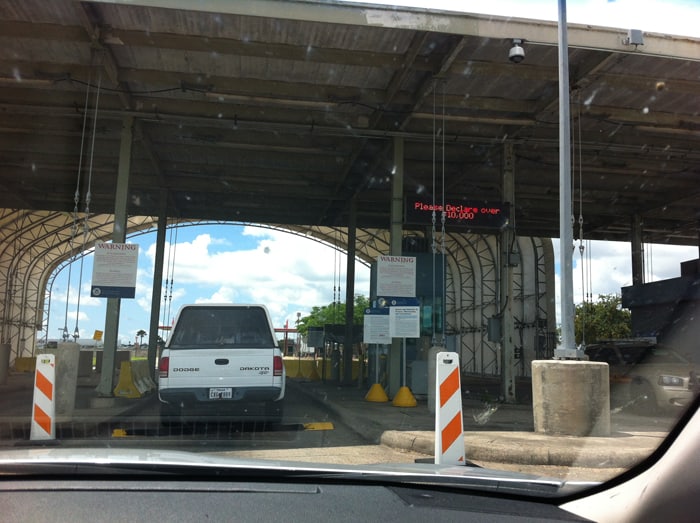 Three days' insurance (required by Mexican law) cost us $80. Bringing the car into the country cost us $50, plus a $400 deposit that will be returned to us in Chiapas. And the entry alone cost us about $20 each.
And we were done! No search of our car, not even a single question about whether we were carrying anything into the country we shouldn't be.
It was like the bored customs agents were delighted to have at least two people from the U.S. entering Mexico — like we were their first customers all day!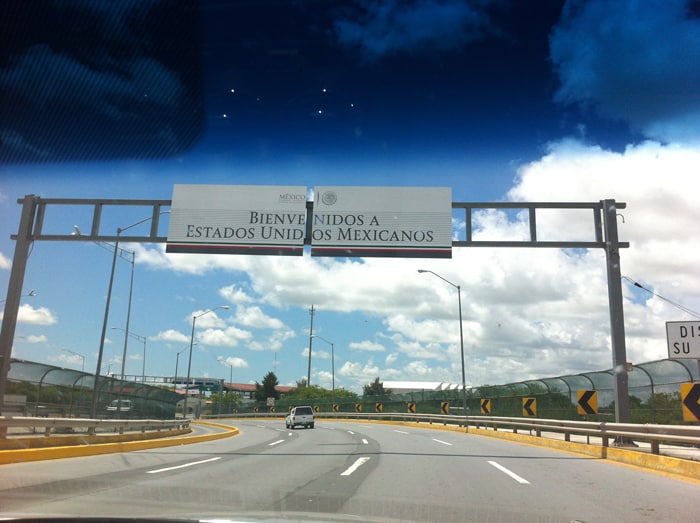 After a high-five at how easy that was, Paul bravely drove us into Matamoros, one of the most violent cities along Mexico's über-violent northern border. Paul started driving like a bat out of hell, like he always does in foreign countries, and I asked him to please not give the police a reason to pull us over already.
We had neglected to buy a map of Mexico, and I was unable to get my maps app to work — even after deciding to risk the roaming charges — so we were driving kind of blind with directions from the border agent.
But we stopped twice at gas stations looking for a map (nope), and people assured us we were on the right road to Tampico.
I had heard so much about how dangerous this area is that I half expected to get mugged or carjacked or kidnapped at the gas station in broad daylight, but of course nothing unusual happened.
Actually we were assaulted once, while sitting at a red light, by a windshield washer who attacked our windshield with soapy water, a sponge and a squeegee, never asking our permission. Paul and I cursed him under our breath, but he did a great job, and I gave him a dollar, which he accepted happily.
Before long we had left Matamoros behind and were on the open road. And that's when the real surprises began.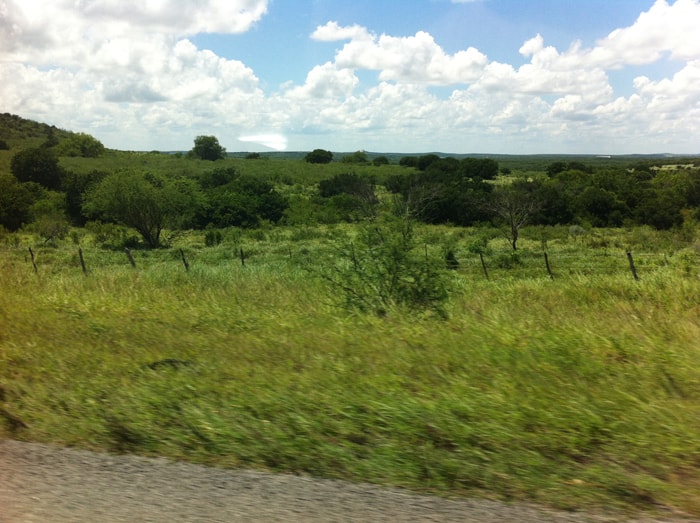 The road from Matamoros to Tampico is beautiful! For hundreds of miles, the scenery is a lush green as far as the eye can see on both sides of the road. For long stretches there was no sign of human habitation except fences. There were barely even cows.
The sky was blue and filled with cottony white clouds, traffic was light, and the highway was in excellent repair except for a few gravel stretches.
We even liked the highway striping — there is one big lane going each way, and then a sort of half lane on the side of that, smaller than a lane but larger than a shoulder. When people want to pass, the cars simple move over into the half lane, and hopefully the cars coming the other way move into their half lane, and the car with the need for speed passes straight down the middle.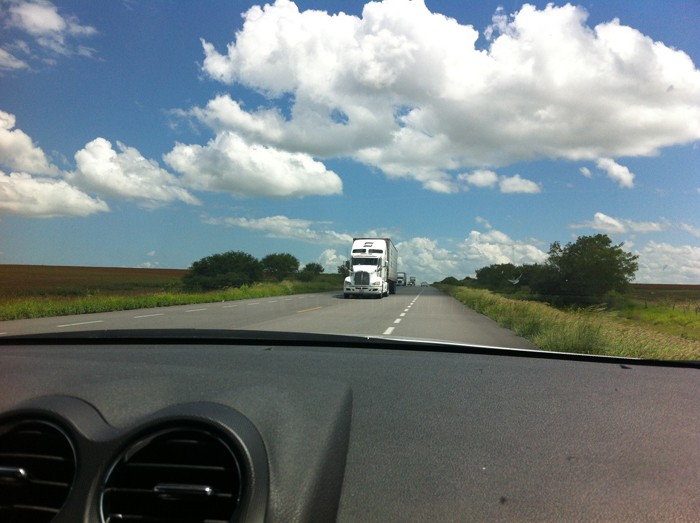 At about 3:30 we had a delicious lunch (actually breakfast) in Soto La Marina — mixed barbecue, fajita steak and beers for $20. Mexico was looking better and better.
I took the wheel from there to Tampico, which I hit at about rush hour Friday night, and driving in the big city was typically crazy and chaotic, but kind of fun, like playing the video game "Crazy Taxi."
We drove aimlessly for a long time, trying without success to find a beach with nice hotels on it.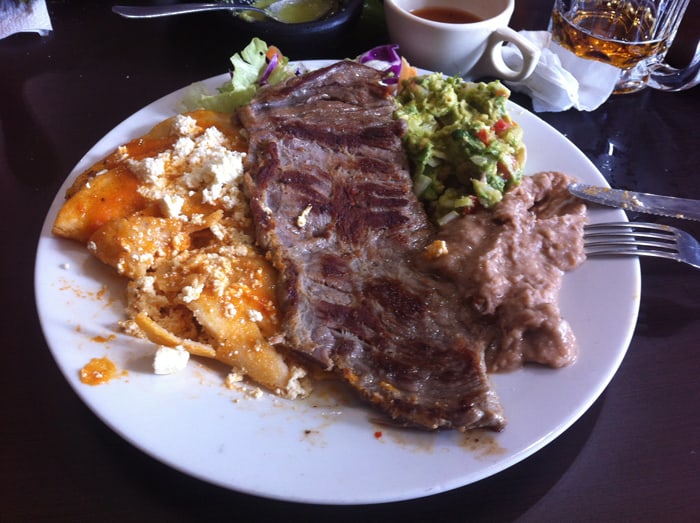 "We're lost," Paul said.
"We're not lost," I said, "because we never knew where we were in the first place."
Suddenly — jackpot! In the maze of crazed streets and honking horns, a big orange building loomed in front of us, and we saw the sign "Marsella Hotel," with secure underground parking. Bingo!
We parked, walked up to the lobby, confirmed that they had a room for two, asked how much it cost and did the peso-to-dollar conversion. Ha ha! It cost less than the Motel 6!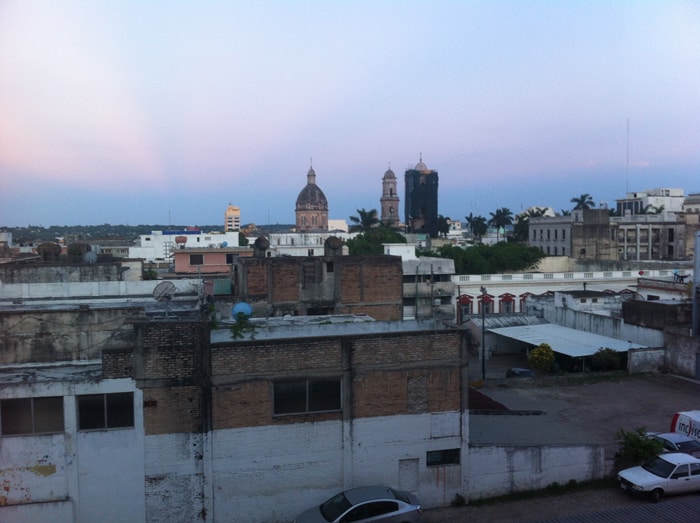 Mexico was looking better and better.
Tomorrow we'll see if we can get to the border state of Chiapas ("We're Mexico's Texas!"). Today we made only 459 miles (739 km), but we had to go shopping and cross a border.
The good news is, we made it past the border region reputed to be so terribly dangerous, and the most unsettling thing that happened to us was a rogue windshield washing.
What's the worst that could happen tomorrow? Will men close in on us while we're trapped in traffic and check our oil and tire pressure?
Follow our daily updates on this journey — the good, the bad and the border crossings — at travel.wordpress-257819-2837440.cloudwaysapps.com. Contact Karl Kahler at kkahler@ticotimes.net.