SOMOTO, Nicaragua — Somoto appears to be a vulnerable place, an economically depressed border town, just 20 kilometers from gang-ridden Honduras. There isn't much work here, so many people migrate to Spain in hopes of finding jobs. Children get left behind to live with grandparents or alone.
This close to the border, the town regularly sees people come through from Honduras and El Salvador for business or to visit family. Many locals fear that among them, there might be gang members looking to recruit young people in Somoto.
But Somoto, like other Nicaraguan towns, hasn't had to face the high murder rates and criminality that towns in Central American countries to the north have. Nicaragua does a good job of keeping transnational gangs out, thanks, in part, to a police force that interacts closely with the population. But they still must deal with local gangs.
Enoc Gurdian, a 23-year-old tour guide, says the people of Somoto keep a close watch on their town, and are especially on guard when a new migrant turns up.
"Everybody knows everybody, so when someone has an inkling that a gang member from outside is trying to recruit people here, they will immediately call the police," he said. "Nobody wants that craziness here."
Last year Gurdian experienced how serious the police will take such a phone call. There was a boy from El Salvador who came to live in Somoto with his uncle. The boy was friendly, easy going and funny, so Gurdian and his friends hung out with him.
But one day, while walking with the newcomer down the street, they suddenly found themselves surrounded by heavily-armed police. The boy was forced against a wall with his hands cuffed behind his back. The police pulled up his shirt so everybody could see the gang tattoos on his body.
Someone had tipped off the police. The boy was hiding in Somoto after killing two rival gang members in San Salvador. He was immediately deported.
Though foreign gang members are closely monitored, the real risk for Nicaragua is homegrown gangs, called grupos juveniles. These groups imitate the gang life they see in the so-called Northern Triangle countries – Honduras, El Salvador and Guatemala.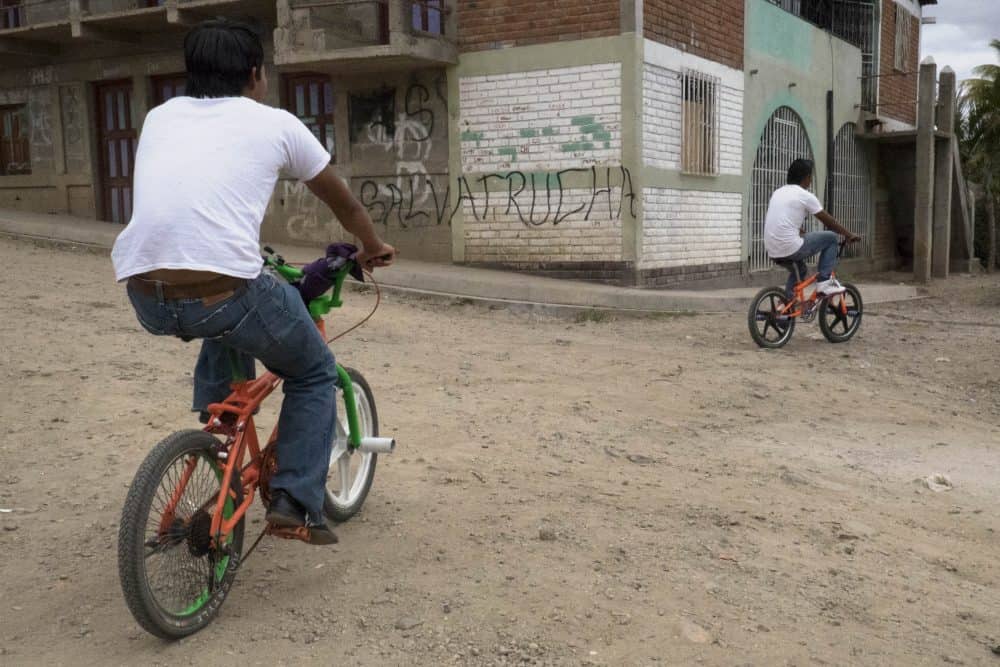 One former gang member explained how neighborhood groups are formed, imitating the Mara Salvatrucha or Barrio 18. He said most Nicaraguan gang members are involved in petty theft and small-time drug dealing. They mainly fight each other. Extortion of regular citizens is uncommon, unlike in the Northern Triangle countries.
"There are not many guns here, so they fight with knives and stones," the former gang member said. He declined to give his name because he fears for his personal security.
Despite the relative lack of guns, the former gang member was shot two years ago, and it almost cost him his life. It was a wake-up call: he realized he had to change his life if he wanted to be a father to his now nine-year-old child. He stopped smoking crack and started a course in agriculture with the local nonprofit organization, Inphru.
He left the gang and became an active Christian. Fortunately for him, Nicaraguan gangs don't kill members for leaving the gang, as they often do in Honduras, El Salvador and Guatemala.
National Police spokesman Fernando Borge Aguilar explained how the Nicaraguan police work with at-risk youth. The police have career training programs for young people, and they work with the government to create job opportunities following training.
"We don't just fight the gangsters with a strong hand," Borge said. "We try to use an intelligent approach."
The Nicaraguan police also have a special department dedicated to making sure officers don't take bribes from gangs.
Nonprofit groups like Inphru in Somoto also work to create opportunities for Nicaraguan youth.
Luis Alberto Álvarez Alvarado, a field worker with Inphru, drives around town to show the different places Inphru has helped set up to teach people about horticulture, honey and seed collection. Inphru doesn't solely target vulnerable youngsters, but it has helped some turn their lives around.
Still, Álvarez said he worries about Somoto's homegrown gangs, which have strengthened in recent decades. At least once a year, fighting between neighborhood gangs results in a death.
"The most important thing is that they need someone who listens to them," Álvarez said while visiting a group of young people sorting red beans. "When we see someone who becomes the (gang) leader of their neighborhood, we try to give him that same role in a positive way. We take him seriously as part of the society."
For Álvarez it's usually a case of lost boys in search of a father figure, a role he readily provides.