Filled with colorful personalities, parties, projects, contests, and the participation of Paseo Gastronómico La Luz and Art City Tour, the fifth edition of the International Design Festival, which opens its doors in San José tomorrow, stands to surpass even last year's well-received festival.
Not just a gathering of designers, the FID is an interdisciplinary event celebrating everything from gastronomy to motion graphic design. Speakers discuss their own experiences, their origins and how their far-flung travels have inspired them to enter the world of design. The festival will shine the spotlight on 15 international speakers, each a respected designer, such as the illustrator Joan Cornella and the fashion designer Agatha Ruiz de la Prada (both from Spain), photographer Marcos López (Argentina), graphic designer Hélène Godin (Canada), and the locally renowned Pucci family of photographers, among others.
Visitors can sign up for 18 different workshops, including serigraphy, digital manufacturing, photography, art book creation, and more. And bring your wallet: the festival will include a market for collectors of cutting-edge clothing and décor.
Today, Wednesday, March 11, you can get a taste of the festival with a special design-themed edition of the Art City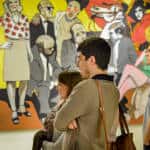 Tour, in collaboration with GAM Cultural. Dubbed "San José sueña, San José diseña" ("San José dreams, San José designs"), the varied events of the Tour run from 5-9 p.m. all over the city. Art City is a periodic citywide celebration, taking place from downtown San José to La Sabana Park, and culture mavens can visit a variety of museums, galleries, cultural centers, design stores, parks and historic monuments along the way; grab a free shuttle bus, bike or walk.
The festival itself takes place March 12-14 at the Antigua Aduana in San José, with the market held in the facility's Casa del Cuño building. On Thursday, registry takes place at 10:00, with conferences held from 2:00-7:30 p.m.; on Friday and Saturday, workshops begin at 9:00 a.m. and conferences at 2:00 pm, with the event wrapping up both evenings at 7:30 p.m. But the events won't stop when the Antigua Aduana doors swing shut. On all three nights (Thursday-Saturday), varied exhibitions, gastronomic tie-ins and afterparties will take place around the city, some with freebies or discounts for those with FID admission bracelets.
Tickets run from $90 to $140 and are available on the official website or at the stores De aquí y de allá, Saúl E. Méndez and Kiosko SJO.
Info on the design-themed Art City Tour: Tour Facebook page. Information on the International Design Festival: Festival website.