Car service mobile apps like Uber have become one of the biggest trends in tech and transportation, and now Costa Rica has its own version: Easy Taxi. While Uber sought to disrupt traditional taxi service by contracting independent drivers with their own cars, Easy Taxi isn't looking to disrupt the traditional car service so much as improve on it.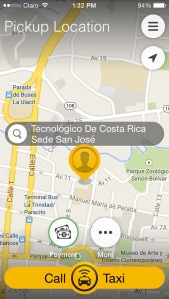 Like other car service apps, Easy Taxi uses the smartphone's GPS location to signal nearby participating taxis that there's a fare waiting to get picked up. Once a driver accepts the fare, the rider can track the taxi's location on the app's map in real time, along with the driver's picture, name, phone number, and make of the car.
"It does away with a lot of the bad stereotypes of cab drivers, like lying about how far away they are and if their meter has been tampered with," Easy Taxi Costa Rica press representative Alfredo Martínez told The Tico Times in a telephone interview.
Martínez said the app also gives riders an estimated wait time, adding that it should be between two and six minutes, depending on traffic.
Easy Taxi only works with certified red taxis, Martínez said, not independent drivers also known less politely as "pirate" taxis. The company conducts a physical review of the vehicles before certifying them, ensuring that they meet their quality standards. Users can indicate if they're paying with cash or credit on the app along with special requests like wheelchair access or airport service.
One of the biggest perks for riders, especially tourists or expats, is the service's reliance on GPS location instead of the infamously confusing directions used in Costa Rica that make visitors want to pull their hair out. Riders no longer have to guess how many meters down the street they are from the old fig tree, they just tap "call taxi" and wait.
Currently, Easy Taxi only offers service in the San José Greater Metropolitan Area, with a specific focus on the capital. Martínez said that in the coming year the company hopes to increase its presence in Heredia, Alajuela and, eventually, Cartago.
Martínez did not share specific user or driver numbers for Costa Rica but said that the service has been growing at a rate of 300 new riders every week since August 2014. Globally, the company is present in 170 cities across Latin America, the Middle East, Asia and Africa with some 400,000 drivers. The app is available for Apple's iOS, Android and Windows Phone.