See also: What the new U.S.-Cuba travel rules mean for US citizens hoping to visit Cuba
HAVANA, Cuba — The first scheduled meeting between U.S. and Cuban officials to reestablish diplomatic relations may not lead immediately to the opening of embassies here and in the United States, a senior State Department official said Monday.
State Department officials said those talks, to be held here Thursday, would focus largely on the terms for reopening embassies in Havana and Washington, including how many diplomats can staff each diplomatic mission and the level of freedom they will have to travel outside the respective capitals.
The Obama administration's agenda for the meeting also includes lifting restrictions on diplomatic movement in both countries, unimpeded shipments of diplomatic goods and free access to the U.S. Embassy by Cuban citizens.
The United States is also seeking assurances that security forces that are ubiquitous around the current diplomatic mission here will be decreased and that visiting Cubans will not harassed. Officials acknowledged that some of those questions may not be settled in a single meeting.
"It's hard to know exactly how the conversation will go," said a senior State Department official, who briefed reporters on condition of anonymity in advance of the talks. "Assuming those things are agreed to by the Cuban government, we may not have a huge number of conversations before we're able to move toward embassies.
"But it's hard to know exactly what issues the Cuban government may come to the table with," the official said. "We're not going with expectation of closing all of those issues in this conversation."
In the so-called Interests Sections that both countries have operated for the past 38 years under the Swiss flag, Cuba has been limited to 26 diplomats in Washington who were prohibited from traveling outside the Beltway without approval. In Havana, the 51 permitted U.S. diplomats are similarly restricted to the province of Havana.
In addition to State Department diplomats, the administration said it hopes to populate its embassy here with officials representing other parts of the government to deal with expanded trade, law enforcement and other areas of mutual interest. Diplomats at the Interests Section deal only with Cuba's foreign ministry or through the Swiss government.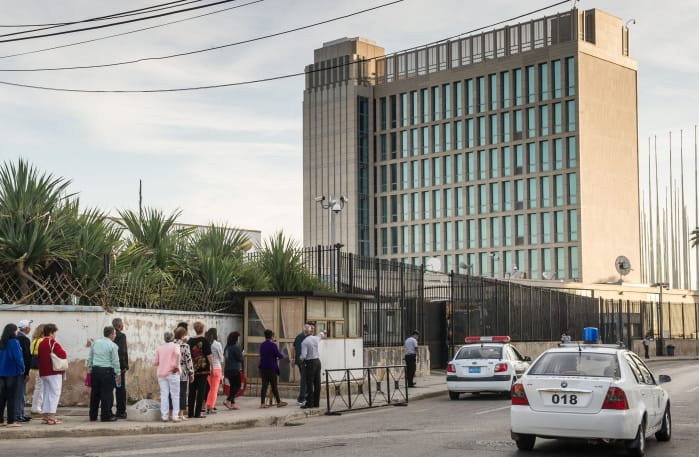 In advance of the talks, a group of U.S. lawmakers — the first to visit Cuba since President Barack Obama announced plans to normalize relations — said here Monday that they were met largely with enthusiasm by both government officials and dissidents.
See also: Havana's goals in US-Cuba normalization remain unclear
Members of the U.S. delegation who were here barely a month ago to pick up imprisoned U.S. aid contractor Alan Gross, whose release from a Cuban prison allowed Obama to move ahead with the opening to Cuba, said they were amazed at the change in atmosphere.
"We were frozen with the same foreign policy with Cuba for over 50 years," said Sen. Richard J. Durbin, D-Ill. "Now we're moving to a new era. We're opening up a relationship, and the exchange of ideas."
The delegation, led by Sen. Patrick J. Leahy, D-Vt., also included Sen. Debbie Stabenow, D-Mich., Sen. Sheldon Whitehouse, D-R.I., Rep. Chris Van Hollen, D-Md., and Rep. Peter Welch, D-Vt.
The lawmakers split up for some of their meetings with separate Cuban ministries to discuss possible future trade, if and when an ongoing embargo that restricts trade with Cuba is lifted by the U.S. Congress.
"I was out on the street, talking to a cab driver with a very old Chevy," said Stabenow, who said she told him she would be "happy to replace it" with a new vehicle from Detroit.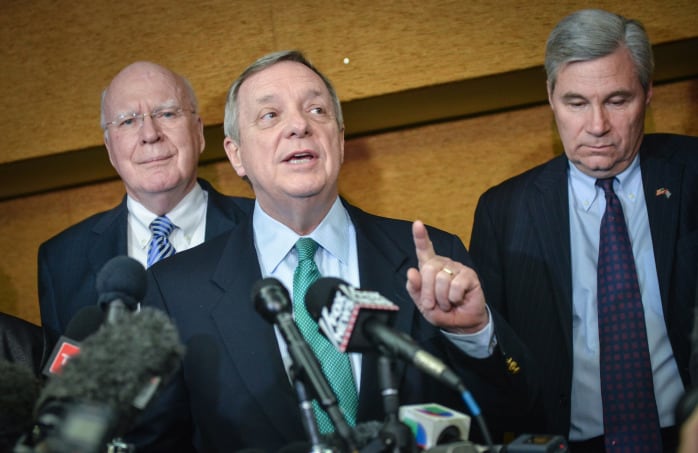 The delegation also met with about 12 leaders of Cuban dissident organizations. About 10 of them expressed support for the new opening, Leahy said, while two objected to providing any opening that would bring perceived benefit to the government of President Raúl Castro.
Miriam Leiva, a human rights activist who was expelled from Cuba's Foreign Ministry in 1992 for what she described as "expressing my ideas," said in an email that she told the lawmakers that she considered the opening positive.
It is up to the Cuban government to put into place the openings Obama described last month, Leiva said.
Cuba's failure to do so, she said, would demonstrate that Havana only wants to pursue its own interests, with "no intention of contributing to bringing Cuba and its people out of its prolonged and unsustainable economic, political and social crisis. In that case, it will continue losing credibility within its own population, no longer able to blame its misfortunes, inefficiencies and repression on the United States."
Related: Rodrigo Carreras, Costa Rica's envoy to Israel, gets ready for his next challenge: Cuba
For all of our Cuba coverage, click here
© 2015, The Washington Post