Most shoppers walking up and down the crowded Avenida Central on a Thursday afternoon were hunting for deals in the rush up to Christmas, but Julieta Cerdas Rojas was looking for 33. Cerdas was one of dozens of people on the street at the mouth of the Plaza de la Cultura that afternoon leaning over small wooden tables with stacks of lottery tickets pinned down, trying to find the right combination of tickets to win the year's biggest lottery jackpot at ₡1.4 billion – more than $2.6 million.
"I was going to buy it back there but I needed a big number to balance it out," she said  as she walked hand-in-hand with her son to the next stand in search of the right combination.
The Social Protection Council's (JPS) Christmas lottery, the Gordo Navideño, which lottery sellers have been crowing about all month, works like this: Each ticket has three numbers – the contest number (sorteo no.), a three-digit series number (series), and a two-digit ticket number (número) between 00 and 99. That's the number street vendors call out. Players buy a ticket with their favorite two-digit ticket number and can buy one ticket up to the 40 that make up a sheet (billete completo). To win the bonanza, a player would need to match the series number and the ticket number and also have the whole sheet of tickets.
Come Sunday, Dec. 14, Ticos and curious tourists will either be screaming with delight or gnashing their teeth in dismay as the numbers are called.
The Gordo is an exercise in the art of the agüizote, the good luck charm. It could be a birthdate, the year a favorite soccer team won a championship, or anything a gambler decides to see as an augur of good fortune.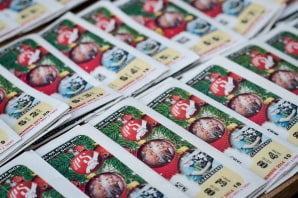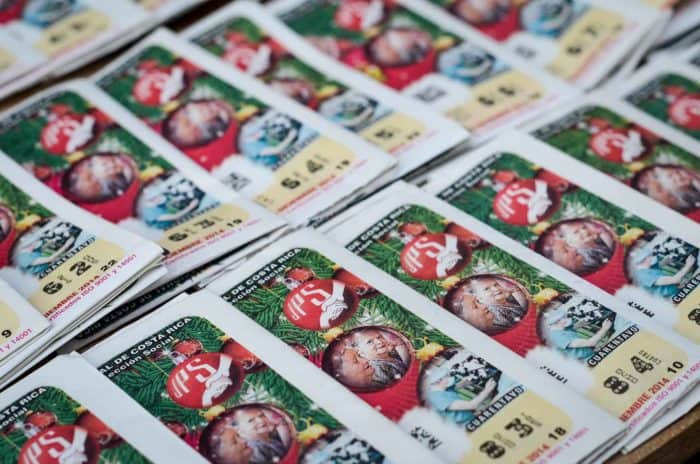 Rosario Silva, who sells lottery tickets out of her kiosk near the Hotel Balmoral, explained which were the most popular numbers this year: "Fourteen because of the year [and the date of the drawing], 15 because it's next year. Seventy-seven because it showed up in a commercial with a football player, so people think it's lucky, and 30 because people think it's the one that wins the most. That's all, they're just good luck charms."
The number 50 was another popular one this year with fans of La Liga, Alajuela's football club, because its coach, Óscar "Macho" Ramírez, turned 50. That number likely lost its juice after La Liga lost both semi-final games against San José's Saprissa last week and its chances at the Winter National Championship.
Noemi Vega Ortíz, a short firecracker of a woman, had just bought some more tickets when she stopped to speak with The Tico Times. She fanned out the pieces of the 13 and 94 (balancing high and low numbers, like Cerdas) that she bough on a lark. She had already bought her serious numbers: 77 and 99.
"I love those numbers! I can't tell you why, otherwise they'll lose their luck!" she said with a mischievous smile.
In these last days before the drawing it's hard to imagine that sales are down. Several lottery sellers told The Tico Times that the tickets weren't moving like in years past. That might have something to do with the JPS's decision to bump up the price from ₡250 to ₡1,750 (roughly $3) per ticket. But people still crowded the folding tables in hopes of hitting their big break.
Further east on the Avenida Central, Héctor Ortega, a barrel-chested man, was looking over several scraps of paper with different combinations of two-digit numbers scribbled on them. Ortega applied a pseudo-numerology to his selection, mixing life events with the numbers' aesthetics.
"My wife asked me to buy her 78 because we had a neighbor who died this year [at that age]," he said before launching into an explanation of his own selection. "A pair of 9's because there aren't any bigger numbers and 66 because it's my good luck charm. They're pretty numbers."
Ortega had a gambler's paranoia about how fickle Lady Luck could be.
"I met a guy who goes through the trash looking for recycling who found four pieces of the 86. He said he'd sell them to me but I decided to flip it – 68 – and try that."
Good luck, Héctor.