Cocaine seems to be falling from the sky in Costa Rica, as cops in the past 24 hours have seized more than a metric ton of cocaine in separate operations throughout the country.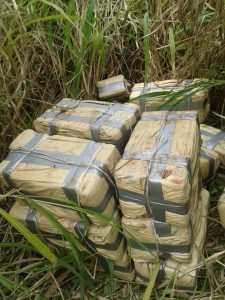 In the most recent incident on Sunday, a small Cessna aircraft crashed in a sugarcane field in Cañas, 160 km northwest of the capital, in the northwestern province of Guanacaste. Three suspects allegedly fled as police and emergency vehicles responded to the scene, according to the daily La Nación. No one appears to have been seriously injured or killed in the accident.
On Monday, police searching the area discovered approximately 500 kg of cocaine hidden in a nearby canal. The drugs were stashed less than a kilometer from the crash site, where a damaged Cessna with a bogus registration number lay on its right side, according to the Public Security Ministry.
This is the second time in just over a month that Costa Rican police have discovered private Cessna aircraft being used to ferry cocaine in the northern canton of Cañas. In late August, Judicial Investigation Police (OIJ) raided a Cañas farm and seized a private airplane, 400 kg of cocaine and just under $2 million in cash.
Yesterday, police in the northern border town of Peñas Blancas discovered 300 kilos of cocaine hidden in a truck, and a joint Costa Rica-United States patrol nabbed more than 400 kg of cocaine in Golfo Dulce, off the southern Pacific coast, bringing the total haul in the past 24 hours to more than 1,200 kilos of cocaine.