This Sunday, people in 2,500 cities in 100 countries will march for action on climate change. Costa Ricans will join the "People's Climate March," as it's being billed, with their own protest in front of the U.S. Embassy in San José, at 1 p.m.
The event takes place ahead of the U.N. Climate Summit 2014, a gathering of presidents – including Costa Rican President Luis Guillermo Solís – representatives of the private sector, members of civil society, scientists and others to "engage leaders and advance climate action and ambition," according to the United Nations. The climate summit starts on Tuesday, Sept. 23.
Organizers of the People's Climate March in New York hope to convince summit delegates to move from words to action on climate change mitigation. Among the demands are for countries to develop and adopt more clean energy sources, and for the biggest contributors to climate change to sign a binding agreement committing to a reduction of emissions. Protesters also seek more international funding for countries already dealing with the consequences of climate change.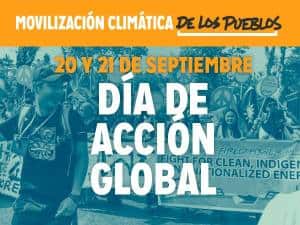 Salvatore Coppola, an environmental advocate and university professor who organized the Costa Rica rally, told The Tico Times that the U.S. Embassy was selected as a site for Sunday's action because the United States and China are two countries leading in greenhouse gas emissions.
"We chose the U.S. Embassy as a symbolic location for a peaceful demonstration, and we hope our message reaches New York, where many movements will converge at the same time as here in Costa Rica," Coppola said.
Coppola noted that Costa Rica already is experiencing the effects of climate change, including extended periods of drought and changing coastal communities.
"If we fail to rapidly reduce global carbon emissions, many of Guanacaste's beaches and other coastal communities, including the city of Puntarenas, Moín and others, will be underwater within our lifetimes," he said.
Rising sea levels are a direct consequence of climate change, and the potential consequences for cities like Puntarenas are troubling.
"It might be painful to admit, but it's a reality that lawmakers and other officials should contemplate starting immediately," Coppola said. "We should demand the countries with the greatest emissions change their methods of energy generation and help us with mitigation efforts."
According to the report "Climate Change 2014: Impacts, Adaptation and Vulnerability" by the Intergovernmental Panel on Climate Change, the consequences of climate change in Costa Rica include a shortage of water both for human consumption and for agricultural use, electricity shortages and an increase in illnesses such as dengue.
In Central America, according to the report, average temperatures have increased since 1970 by up to 1 degree Celsius, while rainfall has decreased by one milliliter per day since 1950.
Refining old problems?
One sign that Costa Rica may be headed down the wrong path, Coppola said, is a current proposal to build a new oil refinery, which he called "complete madness considering the climate emergency we're facing."
Mónica Araya, founder and director of Costa Rica Limpia, agreed, saying, "The goal should be to invest – starting now – in clean energy sources."
One way to do that, she said, is to include renewable energies and cleaner transportation in a national infrastructure plan.
"It's time to stop thinking of this as an environmental agenda. It needs to be integrated into economic, business and political agendas that are linked to the modernization of infrastructure, which would guarantee clean growth and quality of life," Araya told the online news site crhoy.com. "I think there is growing interest in the country to redirect the climate debate to adapting to climate consequences instead of solely focusing on carbon-neutrality."
Some of the world's leading economists seem to agree, including Lord Stern, whom The Guardian noted is "one of the world's most influential voices on climate economics."
"Reducing emissions is not only compatible with economic growth and development – if done well it can actually generate better growth than the old high-carbon model," Stern said.
Added The Guardian:
Tackling climate change can be a boon to prosperity, rather than a brake, according to the study involving a roll-call of the globe's biggest institutions, including the UN, the OECD group of rich countries, the International Monetary Fund and the World Bank, and co-authored by Lord Stern. …
Meanwhile, President Solís and Environment Minister Edgar Gutiérrez are preparing for next week's summit in New York by redacting their speeches. Summit attendees hope to reach a global agreement ahead of the U.N. Climate Change Conference 2015, or COP21, in Paris.
But, as analyst Walden Bello, director of Focus on the Global South, explained, while broad consensus exists in the scientific community that the average temperature change in the 21st century will top 2.4 C, and that there will be large-scale consequences including irreversible damage, there is resistance to changing the systems of production and consumption in the countries that create the most emissions. Counter-proposals include Band-Aid approaches like "clean carbon," industrial biofuels and nuclear energy, the analyst said.
"Globally, multinational corporations and other private operators resist the measures imposed by governments, such as emissions caps, and they prefer market mechanisms such as carbon markets, which according to critics, are nothing more than licenses for companies to continue polluting, Bello wrote.
•
What: People's Climate March Costa Rica
When: Sunday, Sept. 21, 1 p.m.
Where: In front of the U.S. Embassy in San José, in Pavas
Social Media: Facebook link here