It's been two solid hours and Carlos Gómez and Minor González of Costa Rica's National System of Conservation Areas (SINAC) haven't seen as much as a scale of the two caiman crocodiles they are supposed to catch.
Leaning against their pickup truck on the lake's edge, the pair surveys the water. At every slight ripple on the lake's surface Gómez reaches for his binoculars, but the caimans seem to be hiding from them. Again.
"We keep showing up to capture the caimans, but so far no one from SINAC has even seen one," Gómez said. "They come out as soon as our guys leave."
It's been more than a week since SINAC officials first got word that two caimans were seen lurking in the lake of Parque La Paz in southern San José, and Gómez and González's ill-fated croc capture Tuesday morning marked SINAC's fourth attempt to capture the creatures.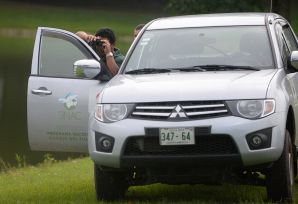 The park's large lake is an easy spot for pet-owners to leave their full-grown exotic pets. According to Gómez, in San José illegal pets are not uncommon. In fact, it hasn't even been two months since SINAC officials were called to pull a different caiman from Parque La Paz's lake. SINAC caught that caiman with just one try, but with other creatures it's not so easy.
"Last year we caught a cobra that someone let loose in the city. That took a while," Gómez said. "We have even seen indications that a black mamba could be loose in Escazú."
While imported creatures will sometimes turn up, it is much more common for SINAC to encounter an animal taken from one of Costa Rica's own beaches or jungles. Gómez has seized parrots, iguanas, racoons, macaws, deer and even sloths from unregistered pet-owners. But with most rescue centers full, SINAC has been forced to ease up on some of the regulations.
"Parakeets, parrots and iguanas we usually will just leave with the owner if they are kept in humane conditions." Gómez said. "Some animals you can just release back into the wild, but most of them will just die without help from a rescue center, and we are running out of places to take these animals."
Posing potential danger to both themselves and the park's human and canine visitors, the caimans must be moved to a rescue center — overflowing or not — and SINAC officials will continue their attempts to fish the animals out of the lake.
Though the caimans have shied away from the SINAC officials, they have been putting on quite a show for everyone else. During a Tico Times stakeout with Gómez and González, three passersby stopped to brag about how gregarious the caimans are when SINAC is not there.
One woman, Zaida Porras, stopped her walk with her toy poodle named Dery to show off a photo she snapped during a walk earlier that week.
"Look at this iguana I saw the other day," she said, brandishing her cellphone. "It was huge!" It was also a photo of one of the caimans, not an iguana, but for a second, Gómez thought they may have another creature on the loose.
"It wouldn't surprise me," he said. "The illegal pet calls just keep coming in all the time."