WASHINGTON, D.C. – The White House on Tuesday formally requested $3.7 billion in emergency funding from Congress to deal with an influx of Central American minors along the southern border. But the proposal was quickly met with broad skepticism among Republican lawmakers, who were doubtful that the package would be approved quickly – if at all.
Administration officials said the request is part of a comprehensive strategy aimed at building more detention centers, adding immigration judges, and beefing up border patrols and air surveillance. U.S. President Barack Obama has said he hopes such steps will both speed deportations and discourage adults from sending children on a dangerous, sometimes deadly, trip north.
But GOP leaders – who have called on Obama to take stronger action – said they were reluctant to give the administration a "blank check" without more detailed plans to ensure that the money would help stem the crisis at the border.
The president "is asking to use billions of taxpayer dollars without accountability or a plan in place to actually stop the border crisis," Rep. Bob Goodlatte, R-Va., chairman of the House Judiciary Committee, said in a statement.
Asked if he thought lawmakers would approve the proposal, Sen. Marco Rubio, R-Fla., said "No, given the mood here in Washington, I don't have confidence it will happen."
The uncertainty on Capitol Hill casts doubt on whether the administration can mount a successful response to a surge of tens of thousands of children who have overwhelmed Border Patrol stations in recent months.
More than 52,000 unaccompanied minors and 39,000 women with children have been apprehended on the southern border this year, far more than in past years. Most have come from Guatemala, El Salvador and Honduras; those countries would receive money under Obama's proposal to help repatriate their citizens after they are returned home.
The request comes just days after Obama announced that he was giving up on a year-long effort to persuade House Republicans to support a comprehensive immigration bill. The president said he would take executive actions to reform border-control laws on his own – a declaration that angered the GOP.
The toxic environment on Capitol Hill, combined with the looming midterm elections this fall, has contributed to the sense among Democrats and Republicans that a deal on emergency funding is unlikely, even though both sides say they agree with the White House that the crisis is urgent.
"What we would like Congress to do is to act promptly, maybe even expeditiously, to consider this proposal and hopefully move on it in bipartisan fashion," said White House press secretary Josh Earnest.
A spokesman for House Speaker John Boehner, R-Ohio, said the House Appropriations Committee and a separate working group of seven Republicans focused on border issues would review the administration's proposal.
"The speaker still supports deploying the National Guard to provide humanitarian support in the affected areas – which this proposal does not address," spokesman Michael Steel said in a statement.
The rift between the parties hinges on a fundamental disagreement over how the crisis should be handled. Republicans argue that Obama must stop the flow of illegal immigrants to the border and ensure that the entire border is secure before focusing on the tens of thousands who are already in detention facilities there.
Citing that position, Heritage Action, a conservative super PAC that closely monitors how Republican lawmakers vote, decried the Obama funding proposal as a "non-starter."
Heritage Action's chief executive, Michael Needham, said in a statement that the proposal "seeks to address the symptoms, not the cause. The president should rescind his anti-enforcement policies and demonstrate a commitment to implementing existing law."
Democrats, meanwhile, say the first step must be new facilities and legal services to work through a debilitating backlog of minors and families already apprehended at the border.
"The process I don't think is the problem," said Sen. Dianne Feinstein, D-Calif. "I think it is a real crisis. Lives are going to be lost and mistakes are going to be made, so I think this supplemental is really all-important."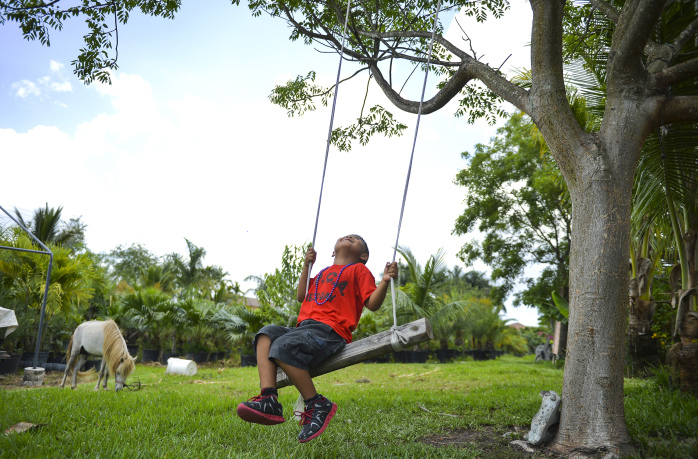 Under the White House proposal, most of the emergency funds would be split between the Department of Health and Human Services – which would receive $1.8 billion to provide shelter and care to the immigrants – and the Justice and Homeland Security departments, which would get a combined $1.6 billion to handle enforcement.
The State Department would receive $300 million to help the Central American countries repatriate their citizens and create advertising campaigns about the dangers of placing children in the hands of smuggling cartels. The White House request also includes money to help the federal government fight wildfires.
"I commend the administration for doing what it can to quickly address this surge of children and families attempting to enter our country, and I urge my colleagues in Congress to support it," Sen. Thomas Carper, D-Del., chairman of the Senate Homeland Security and Governmental Affairs Committee, said in a statement.
Republicans criticized the administration for not including measures to amend a 2008 anti-human-trafficking law that provides greater legal protections for minors entering the United States from non-border countries. The Obama administration had signaled last week that it would pursue such changes in order to deport Central American minors more quickly.
"I just think the average American will say that if you don't deport these children, others are going to keep coming," said Sen. Lindsey Graham, R-S.C. "The 2008 law was not designed to address this situation. … I think you take the 2008 law and you come up with a law that will address this situation."
Earnest said Tuesday that the administration will work with lawmakers on proposals to amend that law. But Democrats and immigrant rights advocates have sharply condemned proposed changes, fearing that migrants will be returned to dangerous situations in their home nations.
Obama left Washington on Tuesday evening for a trip to Denver, Dallas and Austin, where he will attend several Democratic fundraisers and talk about the economy. Administration aides said that he will not visit the border while in Texas but that he will meet with local leaders, including Republican Gov. Rick Perry, to discuss the crisis.
"If it's serious enough for him to send a $3.7 billion funding request to us, I would think it would be serious enough for him to take an hour of his time on Air Force One to go down and see for himself what the conditions are," Sen. John Cornyn, R-Texas, told reporters Tuesday. "I think it would be instructive for him."
Washington Post staff writers Ed O'Keefe and Katie Zezima contributed to this report.
© 2014, The Washington Post