Many Costa Ricans and their most fervent fans have been sitting in the eye of a storm for the past few weeks, struck dumb by amazement, watching wide-eyed as accolades all over the world for "the little team that could" have whirled around us in dizzying splendor. But on Saturday, as Costa Rica was eliminated, words returned to me. Here's why this matters so much, what I want to tell my baby daughter someday about everything she's seen and not understood these past few weeks:
I don't know what it's like not to be big. I'm from the United States, a big country in every way – size, population, loudness, impact on the world for better and for worse. I'm also 5'10", a giant in Costa Rica, hulking and lurching my way through San José. Years ago, a man behind me in line for an ATM said to no one in particular, "Jueeeeeeputa, qué gringa más grande."  When we took our group photo at the Office of the President, I was asked to bend down at the knees in the second row so I would fit in the shot. I have, not a bird's-eye, but a tops-of-other-people's-heads view of many rooms I enter.
On the other hand, it looks like you, my Tica daughter, might be teeny tiny. You are small for your age, and as you run around at top speed, saying "Hi!" and "¡Gracias!" to everyone, I'm often asked by confused strangers, "How old is that baby?" It's odd for me, the one who's always asked to get things off the high shelves, to think of having a petite daughter. You're small in another way, too: You are from a country of fewer than 5 million people, a country without an army, a country known in part for its love of diminutives. Even though you're half Gringa, you will always have been born in a tiny nation at the waist of the Americas, and that will always be a part of your worldview. (Thank goodness.)
"Grande" is one of the first words a Spanish student learns, but even a simple word like this has layers of meaning. It means big, of course, but also great. It means grown up: What do you want to be cuando seas grande, when you're big? It can also mean old, as a little white-haired lady once explained to me after she referred to herself as "una señora bien grande" and smiled at my evident confusion.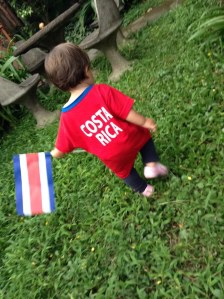 Many Costa Ricans, lost for words as La Sele left low expectations in the dust again and again during this World Cup, turned to one word: "Grande." Grande Keylor Navas, the impossibly valiant goalie. Grande Bryan, Joel, Yeltsin. Grandes todos, they said. Grande La Sele. Grande mi país. This Sele has shown us – Costa Ricans, and all of us – what it means for a little team from a little country to be big, to be great, to be grown up, to be fearless, to be prepared, to prove itself against all odds. It's been breathtaking. It's a lesson I want you, tiny one, to take to heart.
La Sele has also shown us how to be small again. Your father is grande, grown up, with all the cynicism that implies. He watches La Sele as any real sports fan watches his team: as if he is singlehandedly paying their salaries out of his own pocket. Even as this World Cup unfolded, he was still quick to criticize or sigh heavily, all a part of his attempt to distract himself from the sheer anxiety of unexpected hope. But as the games went on, I watched him lose his ability to doubt. I watched him turn into a 6-year-old boy before my eyes. He couldn't help it. He was gobsmacked by joy. Only sports can do this to a person – or at least, only sports can do this to an entire nation at once. Only sports can fill a country with childlike pleasure in this particular way. (After Costa Rica's elimination Saturday, instead of crying or wallowing, people took to the streets with just as much pride as before to celebrate how far they had come. La Sele will not come home with the Cup, but they're the only team in the world that gets to come home to a country full of Costa Ricans.)
That's why I want you to remember your first World Cup. That's why I'll cut out clippings and carefully fold up newspaper covers, store the little flag you waved after Saturday's game as we walked around our neighborhood, save the scorecard on which your dad painstakingly noted the result of every game and proudly wrote "Costa Rica" in its quarterfinal bracket. That's why we'll tell you, like old-timers, about Bryan and Keylor and Pinto, who vanquished the Group of Death. They showed small people how to be big. They showed big people how to be small. They reminded everyone who was paying attention that anything can happen, that a football field is a blank canvas, that little can be mighty, that old can be young, that it's always worthwhile to believe. That life is beautiful.
Katherine Stanley Obando is The Tico Times' arts and entertainment editor. She also is a freelance writer, translator, former teacher, and academic director of the Costa Rica Multilingüe Foundation and JumpStart Costa Rica. She lives in San José. This piece was originally published in her blog, "The Dictionary of You," where she writes about Costa Rican language and culture, and raising a child abroad.