A group of Costa Rican men are asking to be treated equally before the law and demanding a better system for child support and alimony judgments in court. The fed-up Ticos will demonstrate on Saturday in San José during a protest dubbed the "March for Equality," organized by the Fundación Instituto de Apoyo al Hombre (Foundation to Support Men), or FUNDIAPHO.
The march will begin at 9 a.m. on Paseo Colón, west of downtown San José, and will end at Central Park.
The foundation's administrative director, Miguel Herrera Córdoba, said the group is asking courts to apply laws equally for men and women.
"We simply want equal footing. Currently, for example, women victims of abuse are offered free counseling and health care, but abused men get nothing. Laws protecting against abuse are not the same for men and women," Herrera said.
The group also is calling for amendments to legislation regulating child support and alimony, because "current laws are archaic, unequal and only aim to put men in jail," he said.
Herrera wants an amendment that would "objectively determine" alimony payments using "fair criteria," and more balanced punishment. Debtors currently can face jail time in these cases.
"Under Costa Rica's current laws, when a woman seeks alimony or child support, she attends a hearing and provides evidence of her monthly expenditures, then declares how much her husband or partner earns. The judge uses that information to set a provisional amount, and the court allows the man three days to pay or dispute the information provided," Herrera said.
Herrera said the process opens the door to abuse, and men can do nothing about it.
"In many cases the amount set by the court is exorbitant, and many men end up in prison," he said. Currently approximately 350 men are in jail for failing to pay alimony or child support, according to FUNDIAPHO.
Judge Hannia Mora Sánchez, judicial coordinator of San José's alimony and child-support tribunal, confirmed Herrera's claims about procedure, but she clarified that a 2008 ruling by the Constitutional Chamber of the Supreme Court orders judges to base their rulings on substantial evidence and according to current wage regulations.
Child support claims require proof of a blood link, and alimony claims require evidence of a stable relationship, she said. Claimants also must provide receipts, bills or other documents detailing monthly expenses.
A judge also must attempt to confirm a man's income by accessing salary records at the Social Security System, and in cases of self-employment, the court will use a list of minimum wages classified by occupation and issued by the Labor Ministry, Mora said.
Expenses vs. income
One problem arises when expenses reported by plaintiffs are higher than the defendant's monthly income. Judges are allowed to set monthly payments that are higher than earnings.
"[The defendant] will have no choice but to find additional sources of income," Mora said. "Men who decide to have three or more children also must be able to provide for them."
In response, FUNDIAPHO is asking courts to penalize those who provide false expense information, arguing that in reality, many claimants file fake receipts or bills to receive bigger payments. "They usually get away with it," Herrera said.
Men can be victims of abuse, too
The group also is asking for equal treatment for men abused by women.
"If a woman files an abuse complaint, the court orders the man to leave the house. But if a man files a complaint, he is the one forced to leave his home, and he will face additional criticism and mockery from members of society. People here talk a lot about gender equality, but it just doesn't apply to [Costa Rican] men," Herrera said.
Saturday's protest also aims to draw attention to National Police protocols for arresting men who are delinquent with alimony or child support payments.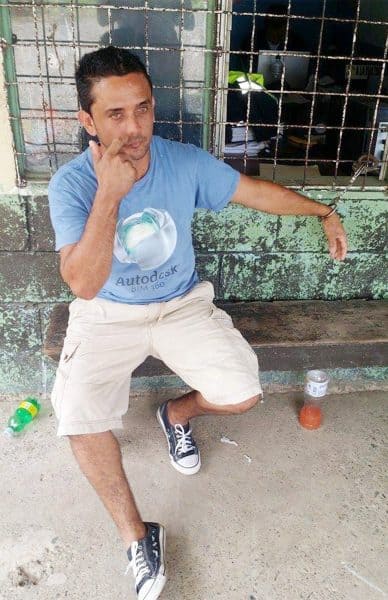 The foundation has denounced situations that have arisen from these procedures, including one that occurred in May in the South Pacific community of Quepos. In that case, William Salas, 38, was handcuffed for two days to a fenced window at a local police station, following his arrest for failing to pay alimony.
The local police chief at the time justified the measure because police facilities there do not have jail cells. Salas was released after FUNDIAPHO launched a social media campaign to denounce the police action.
Following an investigation, National Police Director Juan José Andrade apologized to Salas, and the Quepos police chief was suspended for two months.
"I accept the apology. But now my wish is that no one should have to go through the drama that I went through. The laws in this country need to be reformed, and each case should be reviewed individually. Court decisions also have prevented me from seeing my 7-year-old daughter," Salas told members of the foundation who investigated his case.
Four years ago, FUNDIAPHO began offering counseling on a couple of cases a week. Now the group assists an average of 20 cases per day, Herrera said.
Earlier this year, FUNDIAPHO filed a case against the state before the San José-based Inter-American Court of Human Rights, requesting an amendment of Costa Rica's alimony and child-support laws.
Said Herrera: "Our goal is not to create a men-vs.-women conflict – we know that unfortunately there are abusive men. But there are also abusive women. True gender equality – that's all we're asking for."