Like any convention, the third annual Paradise Tattoo Convention has its numbered stalls and scheduled workshops. Experts have arrived from distant countries, including the U.S., Mexico, and Bolivia. Attendees have handy business cards and are eager to describe their trade. Fans peruse samples and talk shop.
Unlike most conventions, Paradise is filled with artists injecting ink into exposed skin. Customers lie on their stomachs, recline in chairs, lift their legs into the air, and bend over so that tattooists can straddle their backs. Every few paces, another patron winces in pain as one more spectacularly colorful image blooms across her epidermis.
Paradise has become so popular that organizers decided to hold the convention in Club Peppers in Zapote, in southeastern San José, thereby doubling the floor space from the two previous years. "Last year it lasted two days, but this year it's three," said one organizer. "It's a cultural event. Even families are welcome."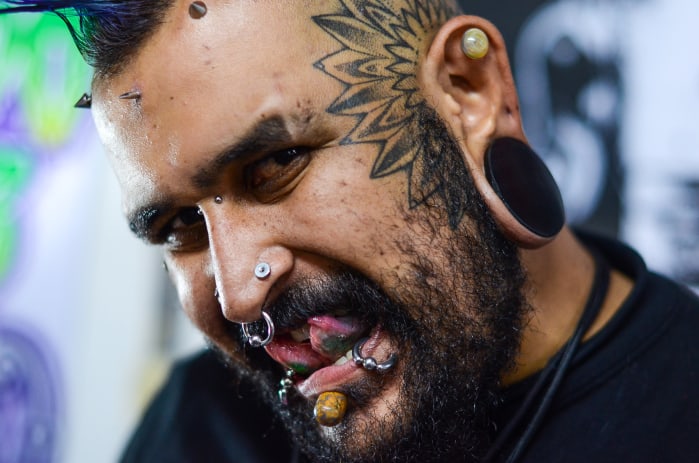 Body art isn't for wusses, and the vibe last Friday was distinctly punk rock: Loud music pumped through speakers, tough-looking women sauntered down the aisles, and broad-shouldered men loomed over their patrons and applied ink with authority. Yet the hardened veneer gave way to general friendliness, and the artists spoke glowingly about their work.
"Body art is quite popular in Alajuela," said Juan Castro, an artist based in Costa Rica's second-largest city. Castro has run a two-man operation for 12 years, and services include body implants and ear-stretching jewelry. "But Alajuela is a village. We depend on word-of-mouth. Some of our guests live in Alajuela, others come from San José."
Like any good entrepreneurs, each stall was laden with posters, drawings, cards, bumper stickers and brochures. Some vendors, like Tattoo Tempo 82 from Managua, Nicaragua, had laptops that displayed slideshows of their portfolios.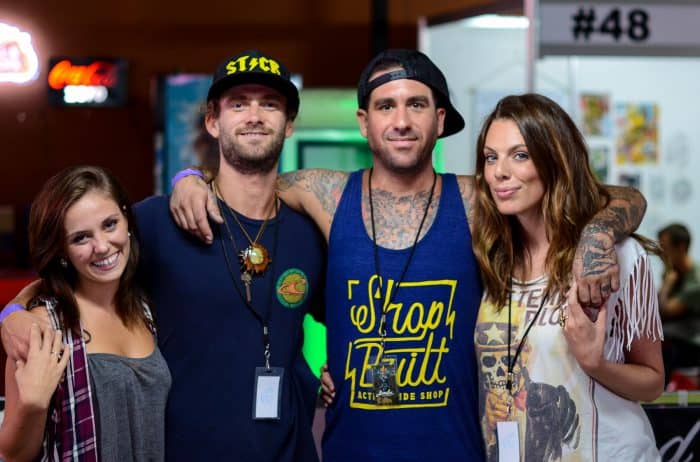 One artist, Ryan Johnson, has completed the arc of his Costa Rican career: Originally from San Diego, California, he fell in love with the Pacific beach town of Santa Teresa during a surfing trip and decided to eventually start a shop there. Since he opened Good Life Tattoo in 2009, Johnson has seen several other parlors pop up in town.
"I was very blessed," Johnson recalled. "It was very busy."
Johnson is a firm believer in seasoned tattooists mentoring novices, which he says is often looser in Costa Rica. "In America, they stick to the tradition of apprenticeship. If you don't have that, you really don't appreciate it."
For three years, Tico artist K. Montoya apprenticed under Johnson. Recently, Johnson and his girlfriend Candace Marino decided to spend some time in Europe, including tattooing stints in Spain, Italy, and southern France. In preparation for his trip abroad, Johnson bestowed the business on Montoya.
"It's going to be in better hands," said Johnson. "It's hard. [The shop] is my baby. But he worked for it, and he's doing an incredible job."
What was apparent at Paradise was how abundantly creative professional tattooists can be. Their sketches and paintings adorned the stalls, demonstrating a limitless range of styles and palates. While a large number of patrons already know what they want (a flower, a skull, the name of a loved one in gangster-style calligraphy), many people want tattooists to flaunt their creative vision.
"It happens quite a bit," said Johnson. "It happens more often than you'd think. That's what we love, man. I wish it would happen more."
The Paradise Tattoo Convention continues through June 1 at Club Peppers, Zapote. Sat., 10 a.m. – 9 p.m.; Sun., 10 a.m. – 10 p.m. General admission: ₡5,000 ($10). Info: Official convention website.