WASHINGTON, D.C. – The Obama administration isn't asking the Pentagon to develop options for a mission to free Nigerian schoolgirls taken hostage by the Boko Haram terrorist group, said two U.S. officials familiar with the discussions.
U.S. military personnel are advising and supporting the Nigerians, but the administration isn't actively considering sending U.S. forces to join in a rescue operation, said a White House official who requested anonymity because he wasn't authorized to discuss the mission publicly.
The situation, like the Syrian civil war and the conflicts in South Sudan and elsewhere, pits humanitarian instincts against hard realities for a U.S. administration wary of foreign entanglements in the wake of the wars in Afghanistan and Iraq.
A larger U.S. role in rescuing the girls may not be in the U.S.' national interest, said Brian Jenkins, a counterterrorism analyst at the Rand Corp. and a former U.S. special operations officer.
"Without sounding cynical, these are Nigerian hostages, held by Nigerian terrorists in Nigeria who are possibly making demands on Nigeria's government," he said. "I think we want to tread carefully in insinuating ourselves into that matter, thereby assuming responsibility for outcomes."
The 80 Air Force personnel sent to neighboring Chad for a drone reconnaissance mission and the 16 military participants in a U.S. advisory group in Nigeria are the only U.S. armed forces assigned to assist Nigeria for now, U.S. Army Col. Steve Warren, a Pentagon spokesman, told reporters Thursday.
Nevertheless, more than a month after the abduction of some 250 girls and young women, President Barack Obama is coming under pressure from some members of Congress to devote more military assets to helping Nigeria hunt for them and support its fight against Boko Haram, which has killed more than 4,000 people in recent years.
"Everybody knows what needs to be done — find those girls and bring the people leading and involved with Boko Haram to justice," Texas Republican Mike Conaway, chairman of the House Intelligence Subcommittee on Terrorism, said following a closed- door House briefing on the situation yesterday. "But that's easier said than done."
The U.S. will be flying an unarmed Predator drone from Chad over an area of northeastern Nigeria the size of West Virginia, even though U.S. intelligence officials think many of the girls have been sold off, split into small groups or taken to neighboring countries. Boko Haram kidnapped the girls April 14 in a raid on a school in the northeastern town of Chibok near the border with Chad.
"It would be hard to overestimate the complexity, first of locating the hostages, and then in considering how that might be resolved successfully," said Amanda Dory, deputy assistant secretary of defense for African affairs.
"They may or may not all be in Nigeria," she told the House Foreign Affairs Committee earlier this week. "The sheer number of individuals involved, the complexity of the terrain — jungle for a great part of it — and the movement that could be associated over the weeks that have elapsed, creating a greater area of operations, make this a very difficult environment."
Jenkins said it was unlikely that the U.S. would attempt a rescue effort without receiving a request from the Nigerian government. "It's a very risky course for the U.S.," he said. "While a successful rescue would win applause all around, it could easily lead to a situation where the U.S. would be blamed for any injuries or deaths among the hostages."
Defense Secretary Chuck Hagel said that the U.S. lacks solid evidence pinpointing where the girls are. "There are about five countries in there, in that area," Hagel said in an interview with the "Charlie Rose" program on PBS. "They may be, some of those girls, in other countries. We don't know."
If the girls were taken to Cameroon, Niger or Chad, there would be a chance the U.S. military could carry out an operation, a congressional staff member said, asking not to be identified due to the sensitivity of the issue.
In addition to the 16 military personnel, the U.S. has assembled an advisory task force in Nigeria with about 30 specialists in areas such as intelligence analysis, communications, civil security and counterterrorism. Four Federal Bureau of Investigation officials with expertise in hostage negotiations and recovery are part of the group.
"The Nigerians, of course, remain in the lead, and we continue to lend our unique assets and capabilities to assist the search," White House spokesman Jay Carney told reporters yesterday. "We'll continue to evaluate what additional resources we might bring to bear in support."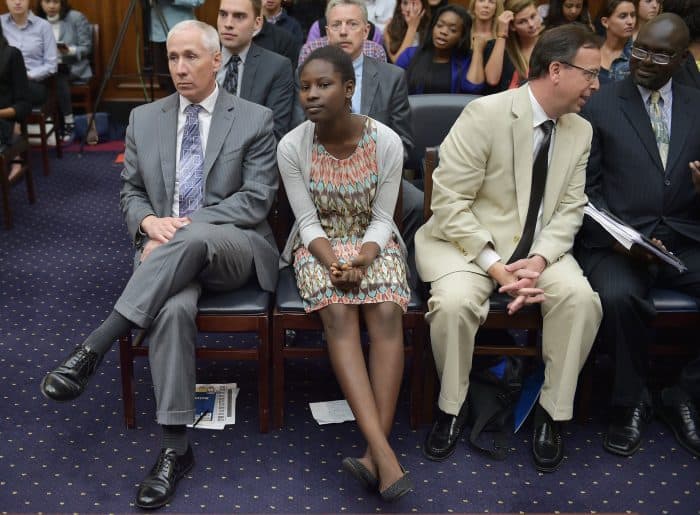 John Campbell, senior fellow for Africa policy at the Council on Foreign Relations, said he sees potential for "mission creep" as Congress presses for more involvement.
For instance, Campbell said in a phone interview, Republican Sen. Marco Rubio of Florida "is trying to link Boko Haram with persecution of Christians; others point to women being deprived of education; and all of that implies some sort of action. The most important aspect is tying Boko Haram to al-Qaida, and that seems to imply there's more American activism likely."
Another concern constrains U.S. involvement, though. The Nigerian military has a poor record on human rights and corruption. U.S. military aid is restricted by the Leahy Amendment, a 1997 legal provision that prohibits the U.S. from providing training or equipment to foreign troops or units identified as having committing serious human-rights violations.
"We continue to have concerns that corruption and human- rights violations by government forces, particularly those forces that have operated in the northeast, continue to undermine the government's attempts to defeat Boko Haram militarily," Sarah Sewall, under secretary of state for civilian security, democracy and human rights, told the House Foreign Affairs Committee this week.
"It's abundantly clear that if we are to move to address Boko Haram as an enduring threat beyond the question of these 200-plus schoolgirls that the Nigerian government itself has to make changes," she said. "It has to address corruption. It has to address the excessive use of violence."
Rep. Ed Royce, the California Republican who heads the House Foreign Affairs Committee, is urging the administration to seek a waiver of the Leahy amendment if it's an obstacle to helping Nigeria.
"We're not doing what we need to be doing on the ground in order to track and rescue these girls," he said.
Sen. Carl Levin, a Michigan Democrat and chairman of the Armed Services Committee, however, said the American public would not support military action in Nigeria.
"They would not welcome Seal Team Six, I believe," or "boots on the ground," Levin said, referring to the U.S. Navy counterterrorist unit that killed Osama bin Laden. "But they do welcome what we can do without going that far."
With assistance from Derek Wallbank and Mike Dorning in Washington and Sangwon Yoon at the United Nations.
© 2014, Bloomberg News