GUATEMALA CITY – Developing countries might not be at the forefront of the sustainability movement, but that doesn't mean there isn't a demand for it.
Earlier this month CASSA, an environmental construction company, inaugurated Guatemala's first self-sufficient house that boasts seven kinds of technology to provide clean water, clean energy and sanitation.
"I was searching on the Internet for alternative houses, aside from block, cement and metal," homeowner Amilcar Cachoy, an elementary school teacher, told local media. "I've always wanted an ecological house like this, … but I didn't have the opportunity because the materials and resources were out of my reach. Sometimes things seem impossible, but I think that what one dreams, when it's the right time, it comes together."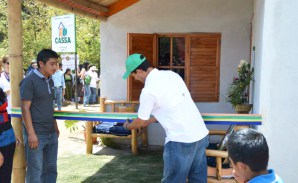 Built with a bamboo frame and a concrete foundation, the 50-square-meter residence is located in Santa Lucía Utatlán, Sololá, 140 kilometers northwest of the capital, and was designed by Manuel Antonio Aguilar, a Guatemalan social entrepreneur who studied astrophysics at Harvard University before returning to his homeland to work at solving social problems.
"The relationship [between] CASSA and Amilcar was a match made in heaven," says Aguilar. "I presented the project at numerous meetings of local leaders in the region and Amilcar himself approached me after one of the events. We are grateful that our first customer is as visionary as Amílcar, who recognized the value of a self-sufficient house and decided to invest his savings in this solution."
Lined with solar panels, the two-bedroom bamboo house is designed to withstand earthquakes and is composed of various features to make it self-sufficient. Rainwater is collected, stored and filtered for use as drinking water, and water from the showers and sinks is redirected into a wetland to grow plants. Since excessive smoke inhalation is one of the leading causes of death in Guatemala, the house contains an efficient stove that burns less wood and takes smoke outside through a chimney.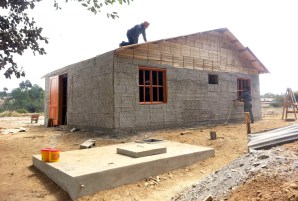 "An appropriate social house provides its users with vital protection from the elements, physical and mental security and an adequate platform from which to develop. Gaining access to basic services such as water, energy and sanitation is something truly transformational that augments the quality and quantity of life, as well as development opportunities," says Aguilar, whose past accolades include founding Quetsol, a solar energy company focused on rural electrification, winning a number of international environmental awards and being the ninth person to join the social networking site Facebook.
Guatemala's housing deficit currently stands at 1.7 million, and while this model, which costs approximately Q100,000 ($12,500), is not an affordable option for the entire country, according to the Guatemalan Construction Chamber, it is comparable in price to a house of the same size made from concrete block and metal sheets.