Costa Rica, president pro tempore of the Community of Latin American and Caribbean States (CELAC), released a statement Monday rejecting the recent violence in Venezuela and urging the government to comply with the rule of law and ensure the safety of its citizens.
A section of the brief statement read:
"The countries of CELAC express their solidarity with the people of the Bolivarian Republic of Venezuela and encourage their government to continue its efforts to foster a dialogue between all the political forces in the country for the sake of peace and national unity that the Venezuelan people require to continue their march toward progress and well being."
Besides the declaration, however, there is little more Costa Rica can do with its rotating presidency of the community of 33 nations, according to Foreign Minister Enrique Castillo.
"Costa Rica can not unilaterally speak out in the name of CELAC without prior consensus," the foreign minister said. "CELAC is not an organization, it's a mechanism for dialogue. A meeting of foreign ministers would not be possible in a few days in the heat of the moment when events are changing every day."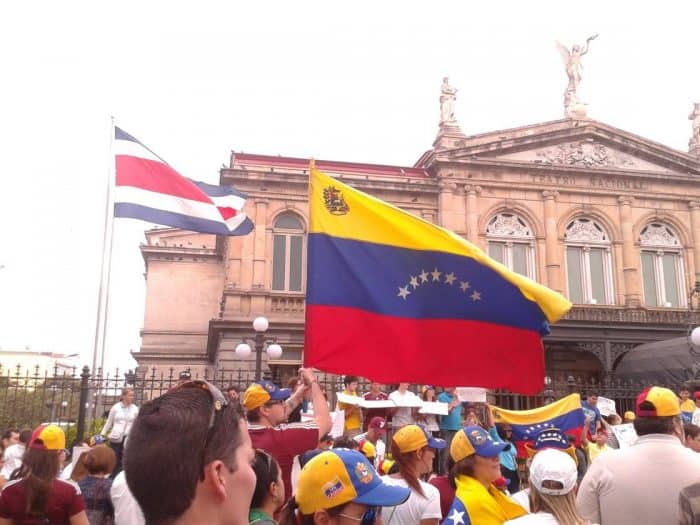 Venezuelan opposition leader Leopoldo López surrendered to authorities Tuesday after Venezuelan President Nicolás Maduro ordered his arrest, accusing López of inciting the violence that claimed the lives of three demonstrators on Feb. 12.
"We trust that they will be able to make an effort to sit down at the table and talk. The only ones who will suffer from the lack of dialogue and the lack of tolerance will be the people of Venezuela," Costa Rican President Laura Chinchilla said on Tuesday during her weekly address.
Castillo said that political asylum for Venezuelan opposition leaders was a possibility, but the government of Costa Rica has not received any formal requests for safe haven.
Meanwhile, former president and Nobel Peace Prize winner Oscar Arias accepted an invitation Tuesday to serve as an international observer in Venezuela.