In the southwestern San José suburb of Escazú, the region has been bipolar.
The morning opened up slowly on John F. Kennedy Road, the main artery through Escazú's commercial sprawl, where modest traffic eased its way down the boulevard, and only a few flags waved from cars and buses.
But higher up, in the more traditional reaches of Escazú, the streets were packed with people. Queues lined up outside the main polling station in Central Park, while volunteers handed out party brochures at tents and foldout tables, and the crowd was a mix of voters and churchgoers. Children kicked balls on a soccer field, rollerbladers weaved down the streets, and families crowded together, bearing the standards of their preferred parties.
Traffic snaked slowly around the square as drivers honked enthusiastically and taxistas maneuvered through the chaos, taking side streets whenever possible.
A former president – Miguel Ángel Rodríguez, of the Social Christian Unity Party (1998-2002) – arrived in the afternoon to cast his vote at the Yanuario Quesada school.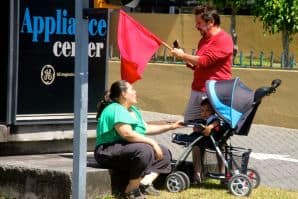 Vendors vied for customers on the sidewalk, selling everything from fried plantains to "Churchills," the famous iced desserts of Puntarenas. One Churchill seller grimaced by his cart, positioned directly outside a polling station.
"Business is very bad," he grumbled. "It's an important day, there are lots of people, but nobody wants to buy. They didn't bring money. I'll probably leave soon." He shook his head. "Very bad."
Several miles away, in the shopping district Avenida Escazú, a rumor had floated around that Starbucks was offering free drinks to customers who had voted. This practice is a longstanding tradition at the Seattle-based coffee chain during U.S. elections.
"It's true," confirmed a barista. When asked how many people had come to that Starbucks to claim their drinks, she shrugged her shoulders and said, "Maybe 20?"
As the afternoon wore on, JFK Road transformed from a sleepy Sunday highway to a maelstrom of traffic: A polling station at San Rafael Plaza was packed with festive pedestrians, many of whom had started to crack cans of beer by 4 p.m.
Cheers and honking erupted from the phalanxes of parked cars, where volunteers waved flags and flouted their parties' respective T-shirts. Traffic was snarled for miles in either direction, presumably a mash-up of voters, commuters, and U.S. football fans trying to reach their favorite sports bars. Escazú, being a major enclave for expats, hosts a profound number of Super Bowl parties.
"You would not believe the traffic," exclaimed one expat, exasperated.