Costa Rica's popular soccer club Saprissa had a grand unveiling of their new uniforms and clothing line.
At Saprissa Stadium on Friday night, fans had themselves a walk-off as the moradistas revealed redesigned duds. Saprisssa de Corazón's Facebook page has an album of the fashion show. The storied Costa Rican team plans to debut the uniforms Sunday during a home game against Limón FC.
Saprissa emblazoned a golden silhouette of a bat over the club's classic red wine color. The bat commemorates the 100-year anniversary of the team's hometown of Tibas, a northern suburb of San José. The former name of the city included the world murciélago – the Spanish word for bat.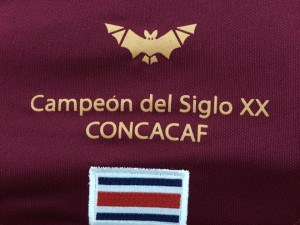 The other big change is that the Saprissa "S" moved to the center of the jersey. I like the Superman comparison. The "S" always belongs the chest. Others disagreed. What do you think of the look?
(Bimbo means something else. Bimbo is an enormous Mexican bread company that sponsors Saprissa.)