Gov't Advisers Paid With Secret Fund
Drawing from a $2 million grant from a regional bank, President Arias' administration has hired dozens of advisers without reporting the expenses to the Legislative Assembly or the Comptroller General's Office.
Experts consulted by the daily La Nación, which broke the story this week, however, said they were unsure whether such secrecy is illegal.
The Central American Bank for Economic Integration (BCIE) set aside $2 million in 2006 for the Arias administration to hire new advisers and increase coordination and efficiency within the government.
The administration has used about half the money, which must by spent by September 2009.
The administration this week released names of 30 advisers paid through the fund but would not reveal salaries or past hires.
Presidency Minister Rodrigo Arias said the government did not have to report the  expenses because BCIE manages the money and hires the advisers, based on Costa Rica's needs.
"We have acted within our rights …There are no secrets here," said Rodrigo Arias, the president's brother.
Lawmakers from the opposition Citizen Action Party (PAC) and the Libertarian Movement Party have called on the administration to reveal more details.
PAC lawmakers are demanding that Rodrigo Arias and the BCIE director in Costa Rica, Alfredo Ortuño, testify before the legislative committee that oversees state income and expenses.
Asked why it took the administration a month to respond to press inquiries about the fund, Rodrigo Arias said, "We don't have to respond to whatever the press asks. We give information when we think it's suitable."
You may be interested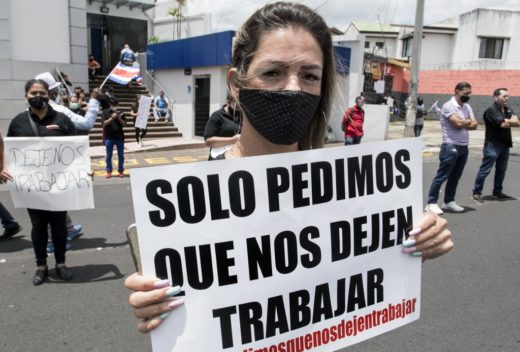 Business
3339 views
Some 34 million jobs lost in Latin America due to pandemic
Carlos MANDUJANO / AFP
-
September 30, 2020
The two aspirers for the presidency of Costa Rica, the evangelical preacher Fabricio Alvarado and the former minister Carlos Alvarado, reach the closing of the electoral campaign for April 1st with a technical draw, according to a poll disclosed this Friday.