Presidential Candidates Present Plans for Tourism
THE National Tourism Chamber (CANATUR) brought together nine presidential candidates last week to discuss the golden child of the Costa Rican economy – tourism – before an audience of professionals from the field. Notably absent were the front-runner, Oscar Arias of the National Liberation Party (PLN); Antonio Alvarez Desanti, of the Union for Change (UPC); and Otto Guevara of the Libertarian Movement Party.
"The tourism sector is not only the most productive in the country, but it is also one of the principal generators of employment," Eduardo Villafranca, the president of the CANATUR Board of Directors, at the start of the debate, adding that the industry has generated more than 660,000 direct and indirect jobs. "This represents approximately 25.75% of the voting population," he said.
Candidates unsurprisingly coincided in calling for better infrastructure to handle tourists, criticizing tangled bureaucracy – which they said limits investment in the country – and condemning Costa Rica's infamy as a sex tourism destination. More surprising was that nearly all the candidates vehementy rejected casino tourism, many in the same breath as sex tourism.
Humberto Vargas, of the United Left Party, told the audience that casinos "are a vehicle by which the worst Mafioso tendencies" enter the country, and "other nations that, by this route, have fallen into the clutches of the mafia have had very tragic ends."
José Miguel Villalobos, former Justice Minister under President Abel Pacheco and candidate for the Democratic National Alliance, said that, on the basis of laws on the books, he would shut down all the casinos in Costa Rica if he wins the presidency.
Ottón Solís, of the Citizen Action Party (PAC), shown to be a second – albeit distant second – to Arias' consistent lead in recent polls (see separate story), said, "We are going to war against casinos like you have never seen. We are going to war against sex tourism. It's a shame that this country attracts dollars by promoting prostitution. We are going to make war against child prostitution tourism like you cannot imagine."
Following the denunciations of sexual and casino tourism by several of his fellow candidates, Ricardo Toledo of the Social Christian Unity Party (PUSC) addressed the subjects by saying, "I'm not going to talk about sexual tourism, because there are laws that punish it. Casinos – that is a decision that should be made in the Legislative Assembly."
SOLÍS was one candidate who didn't stop at casino and sex tourism, and listed several other types of tourism that he would target as well. This included "tourism that takes water from communities to irrigate golf courses… tourism that privatizes beaches… and tourism that destroys the environment," Solís said.
To encourage more positive tourism, Solís said he would support communities across the country, such as the Southern Zone city of Golfito, so that they can "materialize their potential," and encouraged subsidized credit for small and medium businesses in the tourism sector.
To ease investment woes in Costa Rica, Toledo proposed a national tourism council with representation from all government institutions necessary for the development of tourism – a one-stop shopping center for potential investors to go for the approval of their tourism projects (TT, Oct. 21).
Toledo blamed the two institutions in charge of regulating tourism projects' impact on the environment – the Ministry of the Environment and Energy (MINAE) and the Technical Secretariat of the Environment Ministry – for paralyzing investment in Costa Rica.
"I believe in the environment. I am a defender of the environment, but it shouldn't become the paralysis of the country," Toledo said.
IN addition, Toledo told The Tico Times before the debate, "I've come to propose no more (new) national parks.
Twenty-five percent of the national territory is national park land, and I believe this obliges us to make some decisions that are a little more difficult as to whether we want to continue turning the country into a national park."
Villalobos said he wants to allow second-and third-generation forests to be harvested and tourism projects to be built in their place, while forcing developers to plant more trees on the land.
On the hot topic of the failing roads and highways in Costa Rica, some candidates such as Vladimir de La Cruz, of the Democratic Force, proposed building roads using cement and not asphalt.
Villalobos proposed the direct transfer of money for roads to the National Roadway Council (CONAVI) and regional roads councils, rather than routing it through the Finance Ministry. He added that business leaders, individually and collectively, should be able to direct certain tax payments to local public and road works projects.
JOSÉ Manuel Echandi of the National Unity Party (PUN) proposed reinstating a passenger train from San José to Limón, the principal port city on the Caribbean coast, as well as building an international airport there.
Echandi said he would make $100 million from utilities and state banks available as low-interest credit for hotel projects.
Walter Muñoz of the National Integration Party (PIN) came with the unique proposal of including tourism in a new Ministry of National Production that would include all productive sectors, such as agriculture, cattle, fishing and crafts.
"I want tourism to go from a recreational and promotional activity, to being the principal activity of national production," Muñoz said, adding that it could solve Costa Rica's economic and unemployment problems. He added that tourism needs to be regionalized by canton, utilizing municipal tourism commissions and tourism plans to promote local, regional and national tourism goals.
The debate will be aired in three segments, Dec. 12-Dec. 14, on Channel 13.
You may be interested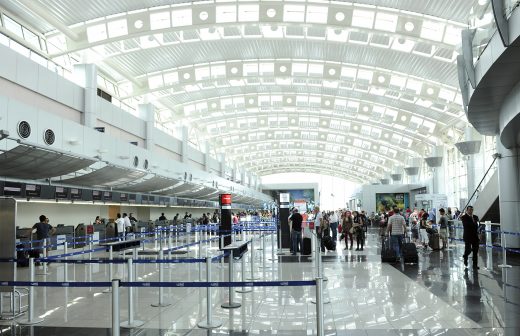 Costa Rica
1 views
Expect delays at immigration on Saturday
The Tico Times
-
April 13, 2021
On Saturday, April 17, planned system maintenance will cause delays at all immigration control posts in Costa Rica, the Immigration…