Puntarenas: for the Seafood Lover in You
FOR almost 100 years, josefinos (San José residents) have gone west to Puntarenas, on the central Pacific coast, to enjoy fish and seafood that practically leap out of the Gulf of Nicoya. From casual seafront marisquerías to more traditional surf-and turf establishments, there's a style and budget to suit everyone. And almost every dining experience comes with a free ocean view. Here's a selection of recently sampled Puntarenas restaurants.Restaurante La Yunta. For 70 years, this stately seafront restaurant has been famous for its seafood and steak. It's the kind of place where families come to celebrate special occasions. The menu has to be one of the longest in the country, starting with ceviche (¢3,075-8,000/$6.35-16.50) and ending with Mar y Tierra, surf and turf (¢8,425/$17.40). The seafood is always fresh and well prepared, with some interesting tropical touches, such as a mango and fruit fish sauce. Traditional chicken, pork, tongue and lomito (beef) dishes are also available. The ambience is mellow, if a little shabby these days, with tables spread around a wooden veranda shaded by almond trees. A mounted ox head – la yunta means a yoked ox team –lends a traditional hacienda feel, as does the courteous, formal service. Location and hours: Paseo de los Turistas, 100 meters east of Hotel Tioga. Open daily, all day. Phone 661-3216.Punta Mar. Bad news for fans of La Caravelle, Puntarenas' one and only French restaurant: the longtime Belgian owners have up and sold. Good news for food fans: this new incarnation of the restaurant is off to a great culinary start.The Tico owners have kept some of La Caravelle's favorites, such as the corvine ostendaise, smothered in a savory white wine, shrimp, mushroom and cheese sauce (¢4,500/$9.30) and the lomito a la pimiento verde with cognac (¢4,500). They have added some new signature dishes, including pescado Punta Mar (¢4,500), corvina in a white-wine sauce, tangy with palmito, served au gratin atop a bed of perfectly puréed potatoes. Portions are huge. There's also food for the eyes in the new art gallery that makes use of the walls to mount showings of local artists' work. Location and hours: Paseo de los Turistas, between Calles 21 and 23. Dinner only. Phone 661-2262. Note: The restaurant is currently closed for renovations but expects to reopen in November.La Casona. This cheerful corner restaurant near the cathedral is another Puntarenas tradition. The yellow, vintage wooden building has a huge veranda with picnic style benches and tables. Inside, the décor is an entertaining, eclectic riot of arts and crafts and agricultural artifacts festooned with ropes of garlic and onions. Casados (plates of the day), hamburgers and patacones (fried plantain rounds) are the fast food budget mainstays (¢600-1,000/$1.25-2), with fish and shrimp running a little higher (¢1,600-3,000/$3.30-6.20). The arroz con mariscos (¢2,000/ $4.10), a gargantuan, flavorful mound of rice plumped full of tiny shrimp, octopus, crab and mussels, is a delicious bargain. Service is fairly prompt, and you won't ever get bored with so much visual stimulation all around you (but no sea view). Location and hours: 100 meters east of the cathedral. Open daily, 6 a.m.-11 p.m. Phone 661-1626.Marisquería Kaite Negro. Near the commercial fish docks, on the north side of town, this hole-in-the-wall hangout is only for the adventurous. The local clientele cluster around the bar, singing, talking and sometimes spontaneously turning the restaurant into a dance floor. The decor is your basic painted garage, with cement floor and colorful plastic fish hanging from nets. The draw here is the uniquely local shellfish: chuchecas (local black clams) and cambute (conch). I tried the conch swimming in a thick salsa of fresh tomatoes, peppers and onions. It came with huge patacones and a mound of rice (¢2,000/$4.10). (Note: There used to be a rival Kaite Blanco restaurant, but it burned down.) Location and hours: 100 meters north and 75 meters west of the stadium.Guarded parking in front. Open 11 a.m. to whenever, daily. Phone 661-1741. Marisquería Leda. If you can't find chuchecas in town, head out to this popular restaurant overlooking the tidal basin in Mata de Limón, just past the bridge in Puerto Caldera, the new deep-harbor port.This is one of the rare restaurants in the country that still brings bocas with your drink order: ceviche, garlic clams, fried yuca (cassava), and fresh piangua (a periwinkle-type shellfish). The ceviches here are excellent, including a chucheca version (¢2,100-2,700/$4.35-5.60). But the best way to devour these black beauties is smothered in garlic butter (¢2,520/$5.20 small; ¢4,060/ $8.40 large). Delicious, homemade naturales (fresh fruit drinks) come in huge glass pitchers, and a bag of coconut fudge accompanies the bill. The restaurant covers a huge terrace, decorated with a sea-life mural and potted palms. The longtime waiters wear white shirts and black pants and deliver professional service. Sunsets are spectacular here, but bring lots of repellent. Location and hours: Mata de Limón, Puerto Caldera; if you don't have a car, it's about a $10 cab ride from downtown Puntarenas. Open daily. Phone 634-4087.
You may be interested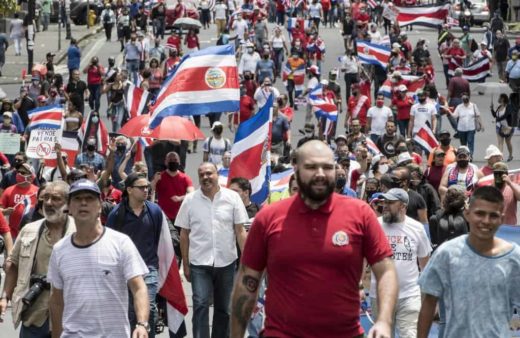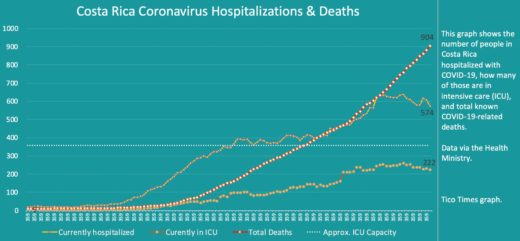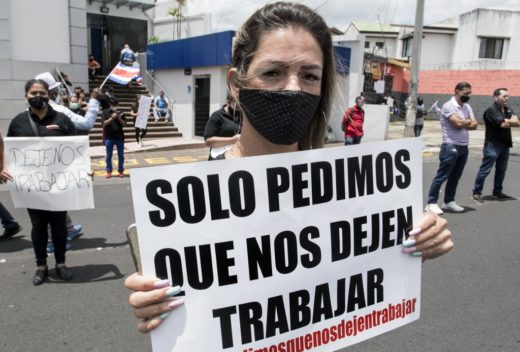 Business
3343 views
Some 34 million jobs lost in Latin America due to pandemic
Carlos MANDUJANO / AFP
-
September 30, 2020
The two aspirers for the presidency of Costa Rica, the evangelical preacher Fabricio Alvarado and the former minister Carlos Alvarado, reach the closing of the electoral campaign for April 1st with a technical draw, according to a poll disclosed this Friday.