Saga Café: Great Food, Desserts
SAGA Café is a sagacious smallrestaurant that will keep customers withgood taste contented. Another addition tothe many restaurants in Plaza Itskatzú, offthe Próspero Fernández Highway in thewestern suburb of Guachipelín, this placehas become a cosmopolitan dining mecca,offering international cuisine includingCuban comfort food, chifa – a Peruvianversion of Chinese food – Spanish tapas,classy seafood and many other choices.With its European ambiance, Saga Café isa popular choice for businesspeople, aleisurely social luncheon, afternoon tea oran informal evening meal.It was a sweltering hot day when threeof us arrived for lunch. Rather than sitting on the small terrace, wechose to sit inside, which was comfortably cool. Floor-to-ceilingwindows, small tables, a large display case full of pastry delights,and the warm beige and yellow tones of the décor add to the sophisticatedcoffee-shop atmosphere.We couldn't even consider the menu until we had quenched ourthirst, and the fresh fruit frappés, icy cold and delicious, certainlydid the trick. For something more substantial, the menu revealed aninteresting choice of appetizers, salads, sandwiches and a maincourse selection. Peering around at what was being served at othertables, the presentations looked both attractive and appetizing.From the salad selection, the Kobe chicken salad, with mixedgreens, mandarin, cucumber slices and chicken breast tossed withsake, ginger and sesame-oil dressing, was certainly eye-catchingand sounded delicious. I wished later I'd ordered it, but much to mychagrin I ordered the French onion soup served in a bread bowl.This had been highly recommended by a previous diner; why, I'mnot sure. No doubt tastes vary, but it was a big disappointment.As claimed, the bread bowl was a small loaf of whole-wheatbread hollowed out in the middle, and it contained an onion brothtotally overpowered by the flavor of bay leaves (I fished out two!).The broth rapidly soaked into the bread bowl and I was left with asoggy mush resembling porridge. No! I definitely like my onionsoup served in an earthenware bowl tasting of that edible bulb withits pungent flavor and smell. The only commendable thing was areasonably generous portion of mozzarella cheese on top.The arugula salad lived up to expectations and was an excellentchoice. The garden-fresh arugula leaves dressed with a tangy mustard-onion vinaigrette was served with goat cheese crostini (smallslices of crusty bread), chunks of fresh pear and roasted walnuts.Well worth considering is the "You Pick Two" choice. You canselect two of the following: half a portion of soup – probably notthe French onion, but the cream of portobello mushroom soundeddelicious – half a sandwich or half a salad. Main courses includefilet mignon, pork tenderloin, salmon fillet and trout.Appetizer prices range from ¢1,660 ($3.50) for soup to ¢3,660($8) for the Saga antipasto for two. Salads and sandwiches cost¢2,125 ($4.50) to ¢3,300 ($7), for smoked salmon. The "You PickTwo" is priced at ¢3,375 ($7.25), and main courses are ¢3,850-4,875 ($8.25-10.50). During the afternoons, Saga's savory choices,priced from ¢550-2,215 ($1.20-4.75) include quiche, cheeseempanadas, smoked-salmon bruschetta for two, and mouthwateringpastries. All the above prices include tax.Saga Café is known – rightly so – for its decadent desserts andlarge selection of freshly brewed coffees, both hot and cold. Anattractively designed separate menu lists an array of mouthwatering,calorie-laden temptations. The Chocolate Extravaganza is adreamy creation consisting of a brownie accompanied by dark andwhite chocolate mousse, chocolate ice cream, a small Nutellachocolate-spread tart and a chocolate cookie. No doubt, this willsatisfy even the most addicted chocoholics. Apple tarte tartin, sundaes,sorbets and lemon cake with ginger are among the many othergoodies to choose from.After much deliberation, we ordered the Pasión de Pacanas(Pecan Passion) for ¢1,900 ($4), a definite "yes" for an impassionedsweet tooth. Thin, rolled pecan cookies resembling brandysnaps (or, as the menu states, cannelloni) were stuffed with creamycheesecake and accompanied by a kiwi fruit sorbet and sauce. Itlooked wonderful and tasted as good as it was presented.Now I'm going to whine again! Recently, I found fault withCaesar salads – often not the real McCoy – and now it's crèmebrûlée, a rich French custard normally served in small custard cupsand famous for its hard, caramelized-sugar glaze. Served in a smalldish, Saga Café's crème brûlée, at ¢2,450 ($5.25), was a poor versionof its Spanish cousin, crema catalana. The custard was thewrong texture and the sprinkling of caramelized brown sugar – youcould still see the granules – didn't compensate for the missingcrunchy praline crust.Saga Café is a pleasant spot to visit, whether you want a lightsnack, full meal or a sugar high. The service was fine, and we hadno complaints other than the abovementioned.A luscious selection of cakes and desserts can be ordered forspecial celebrations. Located on the south side of Plaza Itskatzú,hours are Monday to Saturday, 11 a.m.-10 p.m., and Sunday, noon-6 p.m. For more information, call 289-6615.
You may be interested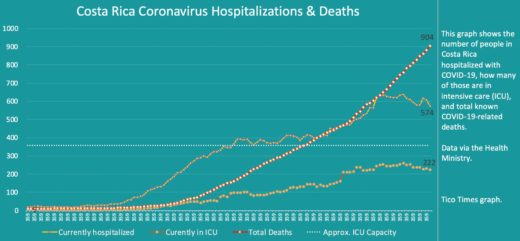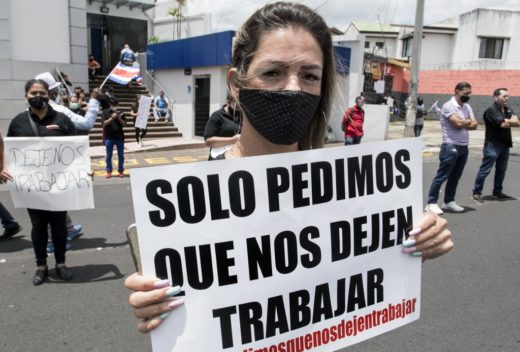 Business
3342 views
Some 34 million jobs lost in Latin America due to pandemic
Carlos MANDUJANO / AFP
-
September 30, 2020
The two aspirers for the presidency of Costa Rica, the evangelical preacher Fabricio Alvarado and the former minister Carlos Alvarado, reach the closing of the electoral campaign for April 1st with a technical draw, according to a poll disclosed this Friday.