A Pilgrimage To Cartago: Keeping The World's Oldest Form Of Travel Alive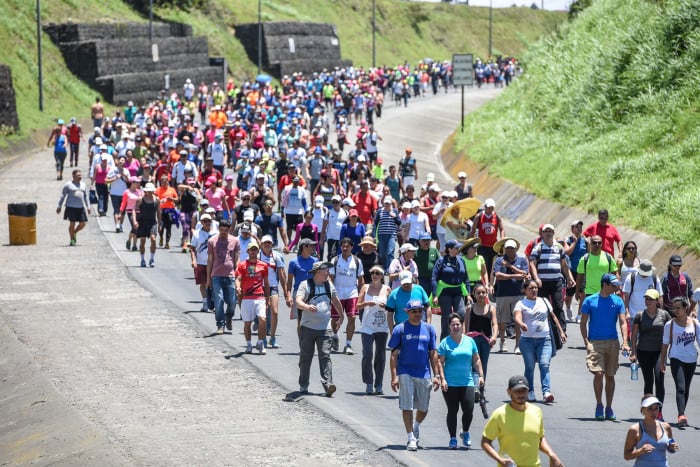 CARTAGO — When looking at them from above, it's impossible to make out their faces. As the masses inch their way toward the sun, climbing the road to Cartago's Basílica de Nuestra Señora de los Ángeles that cuts through the airy valleys east of San José, they mesh together in a steady swell.
Nearly 2 million of them come from all over the country over the course of a few days to migrate to the church that houses a tiny, black statue of Costa Rica's patron saint, the Virgin of Los Ángeles, known as "La Negrita."
I was one of those faces lost in the crowd of thousands when I took part in the pilgrimage Saturday after starting some 15 kilometers away in Curridabat. I didn't travel to the Black Madonna with a prayer in mind, but for me the walk's divinity lied in the gorgeous, ever-shifting landscapes en route to Cartago.
And along the way, I encountered some brilliant characters with some fascinating stories.
Since I had never been to Cartago before, it only felt right that my first time traveling there was by foot. In 2015, there are plenty of easy ways to reach your destination, namely by plane, train, or Uber.
But the pilgrimage is the most time-honored mode of transport there is.
No, you won't be seeing Groupons on religious migrations anytime soon. But that's the great part of the world's most antiquated form of travel: it's free and unregulated. Plus, you have the flexibility to roam around.
No more kids kicking the back of your seat, no more paying for gas, and no more having to sit there with the smell of hot food that the guy in seat 4B couldn't eat in the food court.
Also, as I learned, you don't have to be a zealous follower of Catholicism to make the walk. Many of the people I spoke to during our four-hour hike to the Basílica said they don't even attend regular Mass. An old man from San Pedro making the pilgrimage said he stopped going to church long ago but has done the romería more than 20 times in his life. He refused to give me his name for an article, but instead told me to identify him as a man walking to fulfill a "profession of faith."
He confessed to me that his journey to Cartago was a quiet celebration to honor the miracle of life before he shook my hand and proceeded straight ahead.
I too have a confession to make: After being raised Catholic, I've stepped into a church maybe twice since I was 14. As a kid I could have imagined nothing more boring than sitting down for an hour in front of anything that wasn't an action movie or a video game. And as an adult, there are clear political disagreements that I have with the church.
But the walk to the Basílica is somewhat of a secular event until you pass through the cathedral's large, white-rimmed doors. Some participants run or jog the entire way, while others seem content to be with friends and amid the beautiful scenery offered up throughout the way.
Being a first-timer, I kept asking the more experienced romeros that I met along the walk how the annual hike had changed in recent years. Most said they've seen the pilgrimage cleaned up through the help of the Red Cross' EcoRomería recycling program, which helps mitigate a seemingly daunting footprint left behind by 2 million travelers.
Philibert de Divonne and his family moved from France to Tres Ríos four and a half years ago and have taken part in the walk each year since then. "It's cleaner and every year it's more commercial," he said, alluding to sponsors like Kölbi and Coca-Cola.
His wife Nicole said they make the annual hike to spend time with family and friends, and "to be a little more Tico, too."
A man whose right leg is swallowed under a scarring infection sits on the side of the road and recites words into a microphone. "From the bottom of your hearts, please help me." When a compassionate pilgrim drops 1,000 colones into his bucket, the sick man says, "God bless you."
While blue skies framed the peaking green hills on a clear Saturday morning, the reminder of why many undertake the journey to La Negrita hung over our heads. Invariably, a good number of the travelers are going to Cartago to ask that loved ones, or in some cases themselves, be cured of life-threatening sicknesses.
Dayana Nuñez Quiros walked multiple days from San Carlos because she said she had a promise to deliver to her cancer-stricken mother. The 22-year-old college student made the trek to the Basílica for a second straight year to pray that her mother's illness goes away.
Marco Ramírez, 18, said he was walking the path for his twin brother, who has cancer. Ramírez and a group of 10 friends wore matching T-shirts with the words "Hope, Love, Cure" in bold letters. "My friends and I wanted to do something for my brother, so we're walking for him," Ramírez said.
Once inside the Basílica, those near the altar teared up. In front of their bowed heads, the virgin's black statue is wrapped so heavily in rubies and gold that it's hard to make out what's actually inside.
No matter how long their journey or the reason for coming, each of the travelers marches up to her, even with their knees, to pay their respects. Religious or not, Costa Rica's famed pilgrimage is a spiritual odyssey worth the effort.
Contact reporter Michael Krumholtz at mkrumholtz@ticotimes.net
You may be interested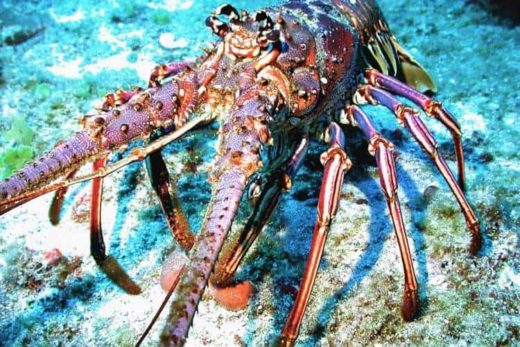 Fishing
1701 views
Central America begins ban to protect lobster
AFP and The Tico Times
-
February 27, 2021
Countries of Central America and the Dominican Republic on Monday will begin a ban to protect the Caribbean spiny lobster…