It's hard to love something that you don't know much about … so I want people to learn a little bit more about sloths!
After some research, I found that the first time that someone EVER mentioned a sloth in a book was in Gonzalo Fernandez de Oviedo y Valdes' 1526 book, "La historia natural y general de las Indias," where he gives a brief description of the sloth. He says that it is the most stupid animal you can find, so slow that it would take a whole day to move 50 feet. The sloth was considered a very weird animal, although interesting and unlike any other. At the time, it was believed that they were fed by the air – that they just climbed trees, turned their heads to the wind, and fed that way. They had such tiny mouths that it was presumed they were not venomous. In the end, he says, "I've never seen such an ugly and useless animal."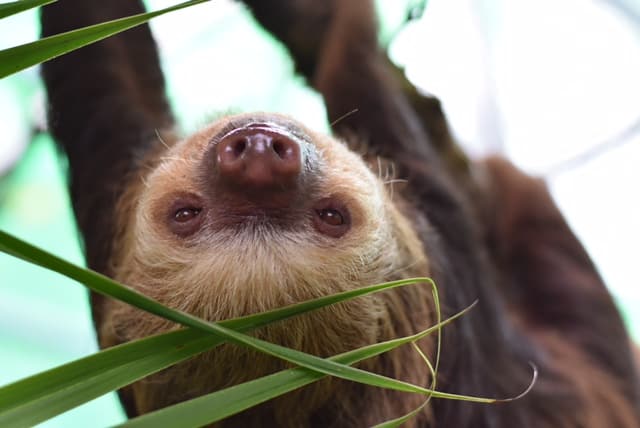 Two-hundred years later, in 1765, a French guy named George Buffon decided to do a more scientific description of sloths where he points out anatomical "errors," like the 23 pairs of ribs, lack of incisors, fur full of algae, no fingers but absurdly long nails, and flightlessness. He continued that they don't dig, they don't swim, they can only climb trees, stating, "one more mistake in their anatomy and they would have been extinct already."
Throughout history, sloths have been bullied by writers, which resulted in an animal no one cared about for a long time. It wasn't until the last two decades that people got more interested in learning about, caring for, and protecting this species.
And yes, they do have a LOT of differences with other mammals. These differences are what makes them more adapted to survive: the 23 pairs of ribs protect all the important organs when they fall, the algae in their fur is an entire ecosystem with moths that helps them as camouflage, they are so slow because their metabolism is pretty low but efficient, and they are very impressive swimmers!
They are related to armadillos and anteaters, and belong to a group called Xernarthras, also knows as Edentata, because they lack teeth (incisors).
Even though they had a rough start among scientists and writers, they found their way to the top. Now VERY POPULAR animals, they even got a spot on one of Costa Rica's bills. There are foundations and big organizations dedicated to researching and protecting these amazing creatures. How incredible it is that sloths didn't merely survive through the years – they "slowly" stole peoples' hearts!
— Janet Sandi Carmiol is the Veterinarian Director at the Toucan Rescue Ranch.
She has been with TRR since 2007, when she helped the founder, Leslie Howle, rescue its first sloth, ever — turning Toucan Rescue Ranch into a fully functioning multi-species rescue center. She obtained her DMV from Escuela de Medicina y Cirugía Veterinaria San Francisco de Asís in 2006. During her studies, she worked with Aviarios Sloth Sanctuary in 2005-2006 and interned with the Dallas World Aquarium in December 2006 (exotics).
Janet interned with the Wimberley Veterinary Clinic in Texas in 2007. She opened her private veterinary clinic in Curridabat, San José in 2008, and became a consultant to the zoo in Playa Bonita, Moín, Limón (Paradero Ecotour) in 2008.
At TRR, she directs the vet team and conducts examinations, medical logs, procedures, and surgeries. She oversees the overall health of all of the animals in the TRR clinic and property. Janet also has an MBA.   

This article was produced by The Toucan Rescue Ranch. The Toucan Rescue Ranch specializes in helping wild animals recover so that they can be reintroduced into the wild. For more information or to donate, visit the Toucan Rescue Ranch website.