Santa Teresa was taken over by crowds, dressed in white and carrying flowers to the beach. They laid them on the sand as a gesture to mourn a woman most of them never knew, but whom they had all heard about: María Trinidad Matus.
Matus, a 25-year-old musician from Mexico who also went by her performer name, Marmaid, was in love with the beach and the town. Like many others before her, she described Santa Teresa as a paradise. But it was on that beach, on a Saturday night that was slowly turning into Sunday's dawn, where she was murdered entering the beach strip with a friend after hanging out at a local bar.
The tragedy made international headlines – especially because it came less than 24 hours after the murder of another tourist, Arancha Gutiérrez López of Spain, across the country in Tortuguero. Suspects have been arrested in both cases – in the case of Matus, two men with the last names Esquivel Cerdas and Sancho Rodríguez are currently in preventive prison awaiting trial – but both communities continue to grapple with the consequences.
The Tico Times recently visited Santa Teresa, a picturesque town at the western edge of the remote Nicoya Peninsula, and explored how the town is continuing to address the topic of security after the murder. As we spoke with residents, we found that a furrow had formed within the community, dividing it into two camps with somewhat conflicting approaches.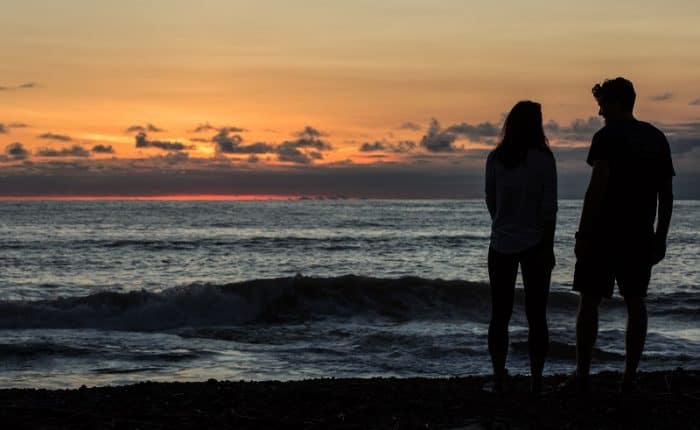 Carlos Méndez, an officer from the tourist police of Santa Teresa, says that the incident was out of the ordinary, especially because of its proximity to the Tortuguero murder.
"It is a coincidental case, we can say, because it's nothing normal here," Méndez said.
Cóbano, the district Santa Teresa is located in, was a rural farming and fishing district before a tourist development started spreading through its beaches. Crime was rare and the Judicial Investigation Police (OIJ), who are in charge of investigating crimes in Costa Rica, didn't even have an office in the district until 2003.
Since the office opened, it's dealt with a maximum of three murders in one year. Most years have had one or no murders. But while the murder rate has remained steady, other violent and drug-related crimes have increased, reflecting an evolving landscape that reflects a broader trend throughout Costa Rica.
Set in a region plagued with civil wars and exploding murder rates, Costa Rica had always set itself as a peaceful haven. But Matus's murder brought international attention to safety in Costa Rica and exposed the fractures in the idyllic image that locals have been grappling with for years.
Costa Rica surpassed the threshold for murder that the UN considers an epidemic in 2015. Since then, it has broken its own record for murders every year. Most of the murders are attributed to drug-related crimes as Costa Rica increasingly becomes a highway and distribution center for drugs passing from Colombia to the United States.
The first quarter of 2018 was the most violent on record, but a new initiative, the "Megaoperativo" – the brainchild of Michael Soto, the Public Security Minister appointed by President Carlos Alvarado in May – has helped curb the murder rate nationwide during the second half of the year.
The Megaoperativo is an operation that happens twice a week. All the nation's police force coordinate to act at the same time throughout the country in high-crime areas at high-incident times.
As of Dec. 1, 2018, Costa Rica registered 541 murders. Soto's goal is to finish below last year's record-breaking 603 murders. But while operations like these help keep the nation's murder rate down, communities like Santa Teresa still find themselves isolated from police forces.
Alexander Villegas / The Tico Times
Some of the residents who were on hand at the time of Matus's murder say the police response was shockingly slow. One resident posted on a community Facebook group that it took the police an hour to be convinced to join him and Matus's friend, a British citizen she had met on the trip and who had been attacked alongside Matus when they went for a walk on the beach, to join the search. Matus's body was eventually found in the surf.
People expect a change in tourist security, but police are struggling. Méndez says that officers are constantly patrolling the main street but that they don't have the means to expand their protection forces further.
"On the police level we have to expand within the limitations that we have," Méndez says, pointing out Santa Teresa's lack of police officers.
Instead, he is advising tourists, especially women, not to walk on the beach at night, to take a vehicle if possible, and not to let their drinks out of their sight. When questioned during our November visit about the effect of the murder on tourism to Santa Teresa, most local sources said it was hard to assess the impact, since it was still Costa Rica's low season for tourism.
Some residents are trying to take matters into their own hands and propose solutions to help keep people safer. One girl operates a Facebook page and WhatsApp group called "Ride para las sirenas" ("Ride for mermaids") that provides female residents or visitors with the protection of other girls, offering rides around town.
"This Whatsapp group is for women to have a safe and accessible option when in need, as it is strongly advised not to accept a ride from random people and walk alone in dark streets and areas (beach)," the page states. "Santa Teresa is a Paradise but with its share of risks just like any place on this earth."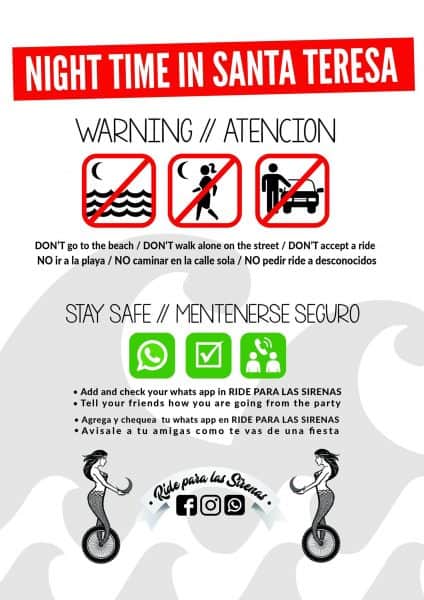 Other women living in Santa Teresa believe this approach is a concession to fear.
"Ride para las sirenas is strengthening the fear instead of addressing the situation from a more distinct perspective like taking back the beaches," said Paola León, a Costa Rican resident who says she is used to spending time at the beach at night.
She says she also thinks it is the wrong approach to exclude men from the movement.
"If there are men who want to participate in the ride, they say no, it's only for women. So it's something a bit closed off," she said, raising the question of trust within the community.
She likes the idea of the movement, but believes that there should be more initiatives to complement it and help recover public spaces in Santa Teresa.
"We need to restore movement from one place to another," León said, "instead of strengthening the signals of danger, danger, danger."
Without a doubt, crime is increasing throughout Costa Rica, and even idyllic places like Santa Teresa are not immune. Residents showed their deep affection and concern following the tragic event that took place on their doorstep with their white march, shouting "Ni una menos!" ("Not one less!") to show their resentment toward femicide and their support of the family of the victim.
"Her father and I are devastated," Matus' mother said at the march, "and we thank you with all of our heart for this great act you are doing for her."
While Santa Teresa finds itself divided in terms of approaches on how to deal with the aftermath of a murder that has scarred the town, it's clear that both sides share a common goal: to preserve the paradise María Trinidad Matus found there.
---
This story was made possible thanks to the donations from Tico Times 5% Club. The TT5% club is a small group of readers who donate at least $2 a month to keep our newsroom operational. That's how we're able to bring you stories like these. Become a member of The Tico Times 5% club and helps us spread more light on issues like these.
Support the Tico Times