Visiting Holiday is like stepping into a foreign land. I'm surprised they don't ask for your passport at the door.
The food is not the only thing that stands out at this authentic Chinese restaurant. The funky interior design made me feel like I was in a Chinese restaurant in Toronto. The view from our table that overlooked the walking street in downtown San José reminded me that I was still, in fact, in Costa Rica. It's a very casual, welcoming setting.
When it's open.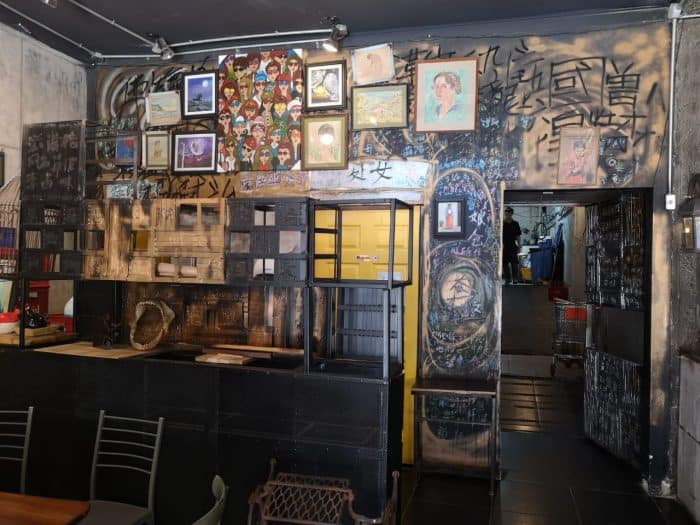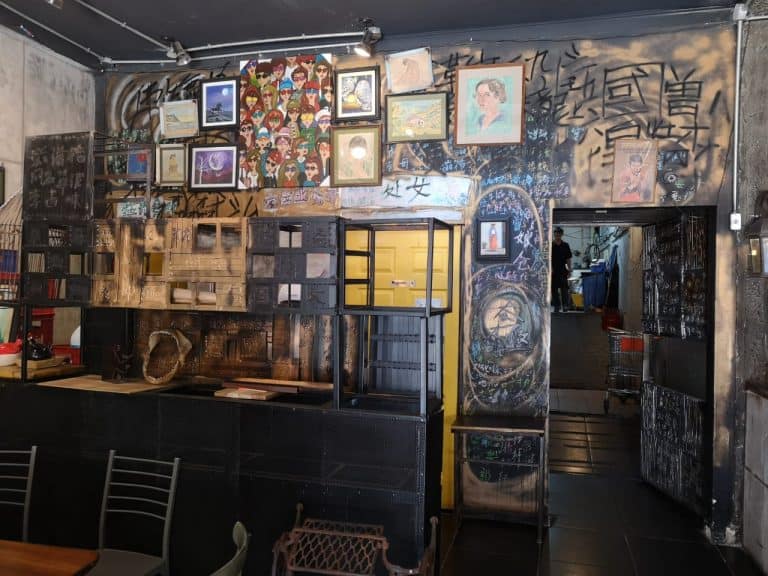 Their schedule says they're open seven days a week, from 1 p.m. until 1 a.m. But when I got there at 1 p.m. on a Tuesday, the windows and doors were still covered by the metal security shutters. With no sign or sound of life, I had almost accepted defeat on my first attempt at having lunch there.
Then a Chinese man appeared from inside the restaurant, opened the black and red storefront, and welcomed me in. Well, I assume he welcomed me in. There was no way to be sure since he didn't speak a word of English or Spanish. None of the people at Holiday seem to. This complicates things when ordering, but it also adds to the experience.
Using a lot of hand gestures, pointing, and the Google Translate app on my phone, I was able to get some recommendations from the waiter on what to order. After browsing their six-page menu, I settled for a beef noodle soup and some fried calamari.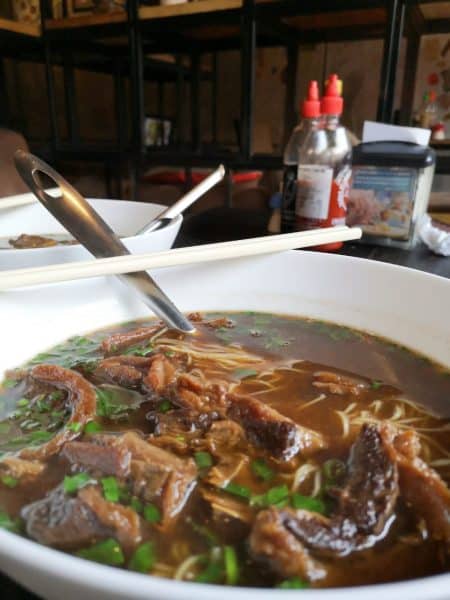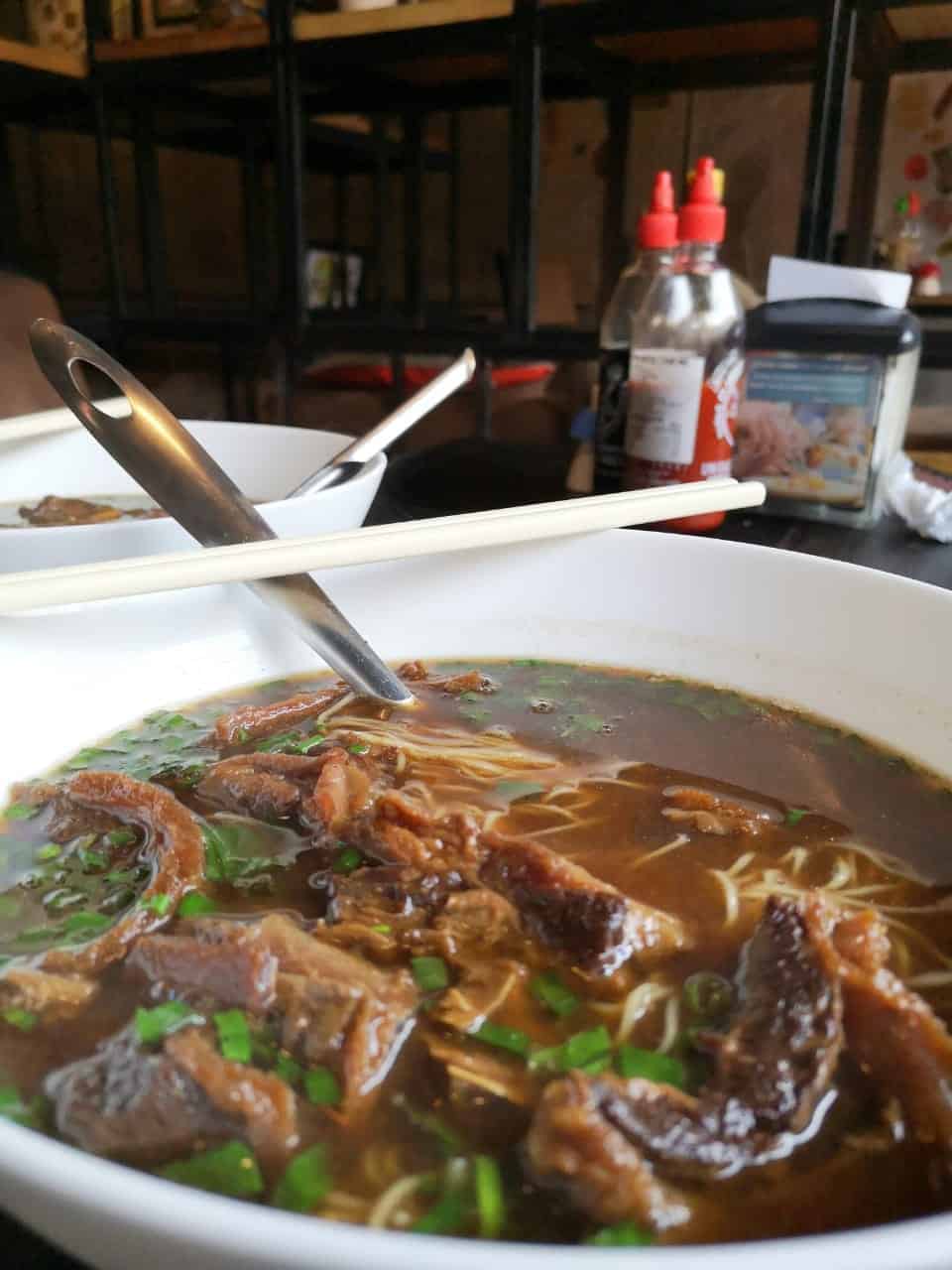 A sign on the front door of the restaurant says ramen, and the waiter assured me that what I had ordered was indeed ramen, but I would disagree. It's not authentic ramen and my guess is that they are just calling it that to ride the wave of ramen popularity.
Either way, it was a truly delicious noodle soup. The beef broth is rich, with the depth of flavor that can only result in a lengthy, slow, simmering process. The chunks of meat in the soup are another testament to the hours of cooking. They're so tender that they fall apart in your mouth.
The portion was insane too.
The soup is served in a massive bowl. It is worth every bit of the 4,000 colones (about $7). The fried calamari, 6,000 colones (about $10.50), are a house specialty and were delicious as well. They were lightly battered and crisp with a side of sweet chili sauce. I was so full between the two of these that I struggled to finish everything. It was a happy struggle though.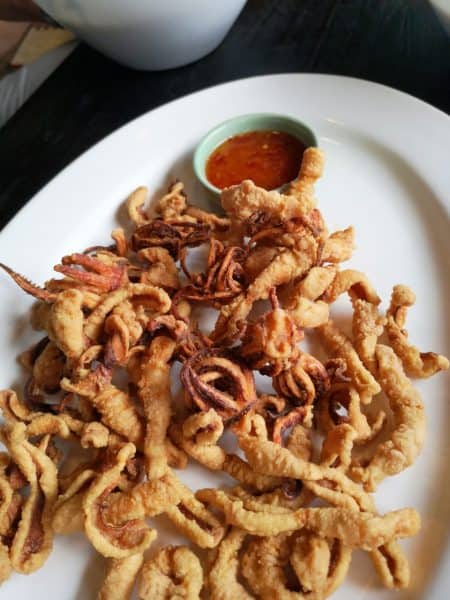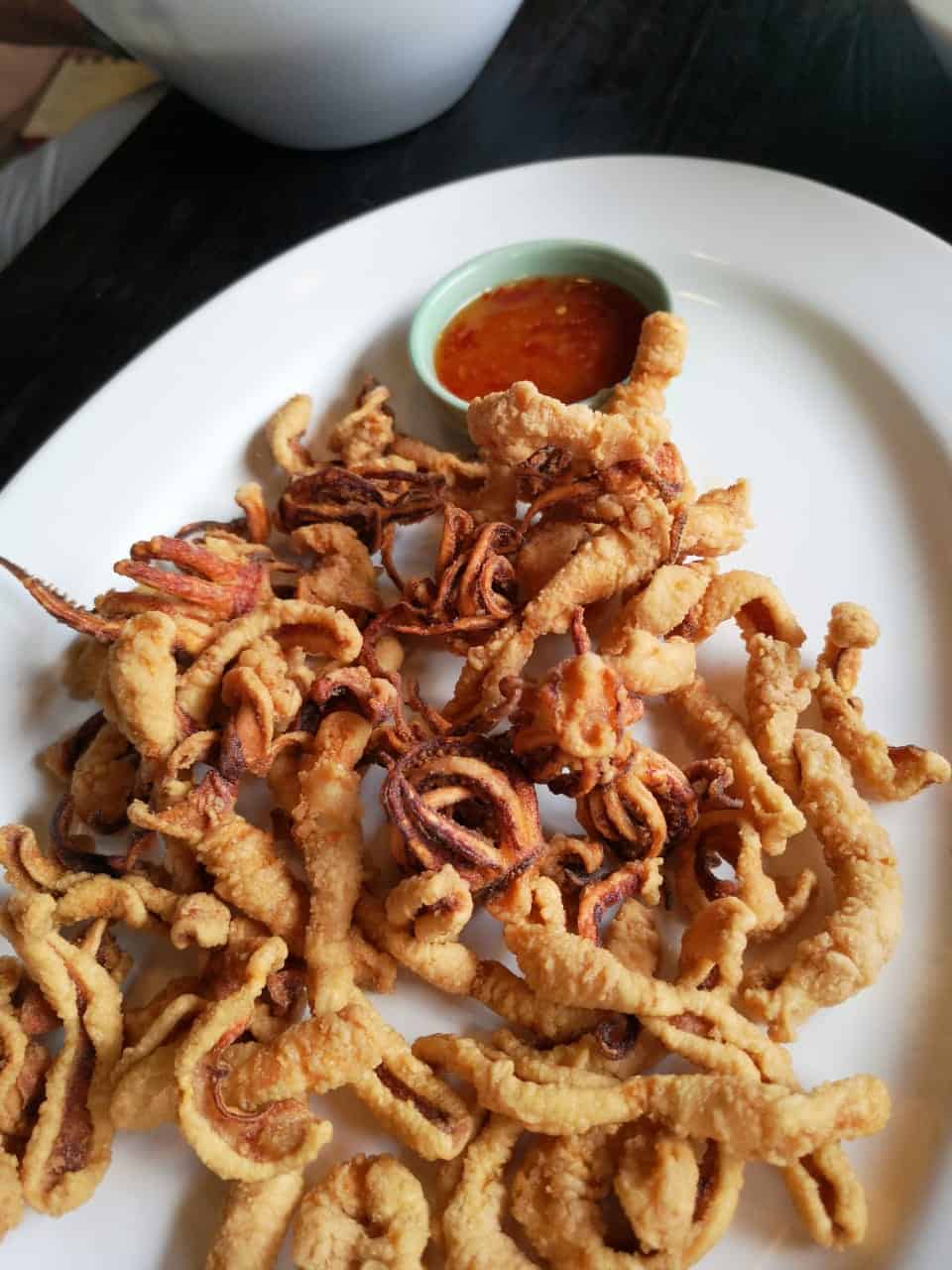 Holiday also has a full bar menu. With the cool, urban vibe, it might actually be a different spot to go for a drink at night with some friends.
Personally, I prefer a casual lunch and so my recommendations to wash down this feast are one of their house-brewed, sweetened, iced green teas or, another sure bet, a 1-liter bottle of Tsingtao beer.
Non-alcoholic beverages range from 1,500 to 2,000 colones each. (about $2.50 to $3.50).
I was hoping to ask their staff a few questions, as I always do, but when I say they only speak Chinese, I am not exaggerating. There is also a lack of online information about this restaurant. I'd say this one's really off the eaten path. I was able to gather was that they have been open for around four years, but not always in this same location. They used to have a "hot pot" or cooking at your table at the previous location, but not at this one.
It's not really missed though.
The hiccup with their punctual opening and the language barrier are easily overlooked. I found the service to be friendly and efficient. Mind you, I was the first and only customer. In my experience, the food arrived quickly, steaming hot and with generous portions.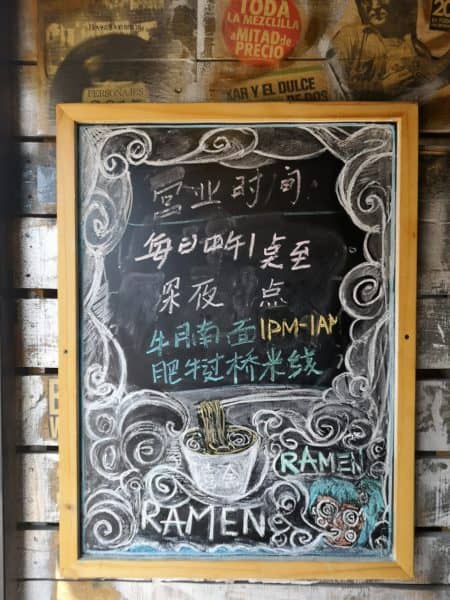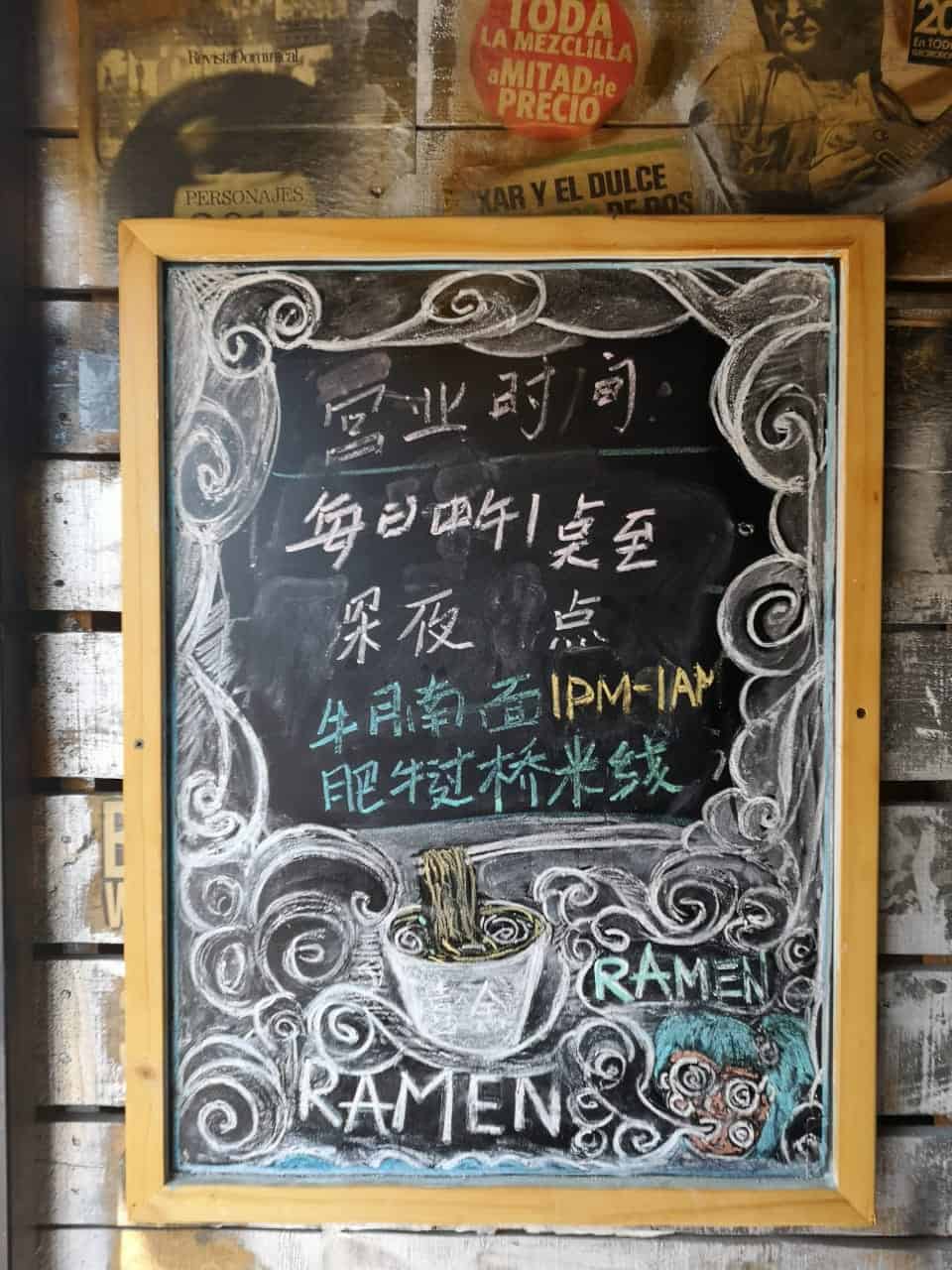 With the price per dish averaging around 6,000 colones ($10.50), for me, it is a great value option for going out to eat something new. The soup only comes in one size, and that's enormous, so if you're going for it, make sure you go hungry.
Holiday is located on Paseo de los Estudiantes along Calle 9 in the Chinatown, San José, just off of Avenida 12. Holiday has seating for 38 total in their restaurant, including sofas.
Vegetarian options are available, but they don't offer private parking. Look for street parking or pay parking lots nearby. All major credit cards are accepted. Search "Holiday Hot Pot" in Waze or Uber to arrive conveniently.
---
William Ayre is a Canadian born chef and restaurateur who has spent the last half of his life doing business in Costa Rica, where he now considers to be home. Inspired by Anthony Bourdain, Ayre's passion of experiencing different cultures through food has taken him to 35 different countries over five continents. Whether it's a 20-course meal at a fine dining restaurant in Toronto, or cantina hopping in search for the best chifrijo here in San José, he fits in just fine.